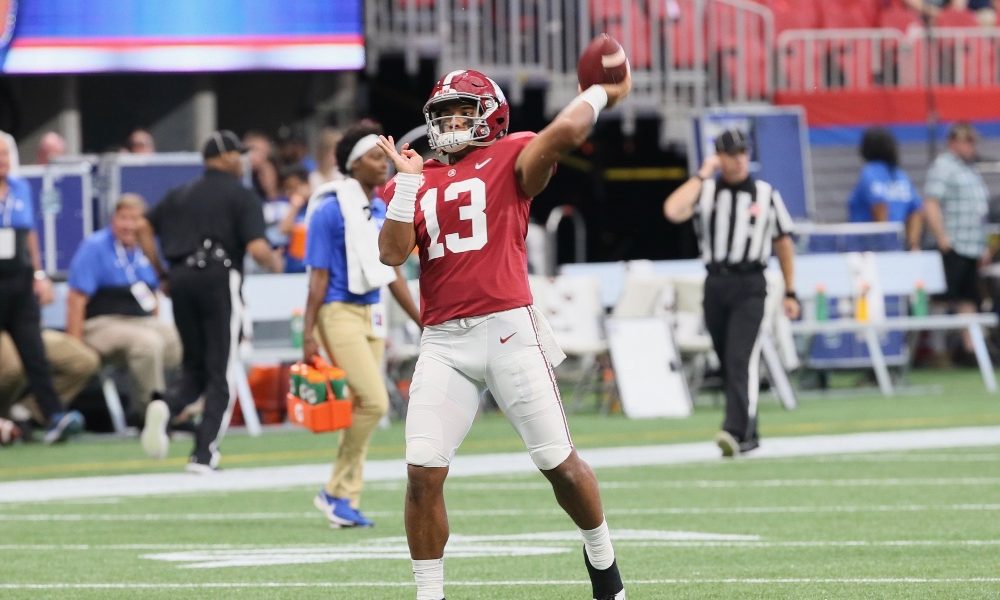 At Alabama, Tua had absolutely everything he needed to succeed. Miami has been a troubled team of late and Tua could have problems there. What are they? Read and see.
Potential problems that could make Tua's time in Miami tough
Tua Tagovailoa may have a hall of fame career in Miami. He may also have some problems. That is life in the NFL and no one is exempt from the potential of problems. Again, this is not an article predicting any problems, just identifying the ones he could have.
To start with, the 700 pound gorilla in the room are injuries. Tua has a history of them and the NFL is a rough place.
If Tua has another major injury or a streak of smaller ones, teams may be nervous to pull the lever and grant him more time in the NFL. NFL owners get nervous over players with a history of injuries and if that happens, Tua could be gone or his next contract could go to bargain basement.
The lack of a Christian surrounding. Tua has been lucky so far in his life to be surrounded by good Christian people with a supportive environment.
In high school, Tua was surrounded by family with a strong Christian faith. His uncle was his pastor and there was many others around him with strong beliefs. In college, Tua had his family and was surrounded by teammates and a head coach who demonstrated a strong Christian faith. Now he'll be surrounded by professional athletes who, at least the majority, are only interested in money, good times, fast women and themselves.
Tua once told me that he loved the Christian atmosphere on the Alabama team. One can speculate that while his personal faith will never waiver, being around a team full of folks that he's not used to could be a distraction.
The lack of talent. Let's face it, in Tua's time at Alabama, he had the best corp of receivers that may have ever been assembled on one team in history.
The Miami Dolphins aren't exactly known as a team full of top flight pass snaggers. Plus Tua had one season as a backup at Alabama to get to know his receivers and get all his timing down with them. He's coming into Miami about as cold as you can be and has no sense of timing with any of them.
If you don't think that could be a problem, you don't know football.
The offensive line. Alabama had a great one and Tua knew how to use them. Miami isn't known for having a great offensive line either. In fact, let's just say it, they've sucked for a while in most positions.
So can this line protect Tua? Maybe, but more probably maybe not.
The lack of a running game. At Alabama, teams couldn't pin their ears back and rush Tua. They couldn't double team receivers. They also had to defend a very good rushing game against very good running backs.
Does Miami have a feared running threat? No not really. A quarterback without a great running threat is playing on one leg.
Too high expectations. Let's face it, much is expected of Tua. Even early last year there was talk in Miami about "Tanking for Tua." That meant, let the team just tank or blow the season to get a high enough draft choice to get Tua and then let him ride in on his white horse and save the day.
That's a lot for a rookie NFL quarterback to live up to.
Whatever happens, Tua will be a fun quarterback to watch. His smile and warmth are infectious. You have to pull for the guy and he does have magic in that arm. What a joy to see it all unfold this fall.
*Get the BEST Alabama football insider information, message board access, and recruiting coverage today! SIGN UP HERE to unlock our subscriber only content!*
Larry Burton is the senior writer here at TDA and has been published in almost every media outlet for college sports, was Bleacher Report's #1 college football writer in reads and comments and now primarily writes here for Touchdown Alabama. Follow Larry on Twitter for inside thoughts and game time comments at https://twitter.com/LBSportswriter