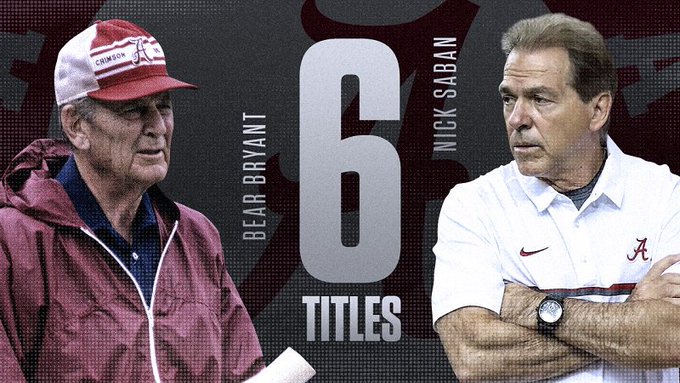 No matter who you think is the "Greatest Of All Time" in college football, Saban or Bryant, Saban still has many records he may not be able to break of Bryant's. See what they are.
"Bear" Bryants records Nick Saban may never break
While there still may be arguments in some corners of the Alabama Nation on who is the greatest coach of all time, to the most rational, Nick Saban edges out Paul "Bear" Bryant. Saban did his championships in less years, was in the hunt for the national championship every year at Alabama except for his first once the ball got rolling, the dynasty just kept on going.
But with that said, Bryant still owns some records that Saban may never break and we should evaluate them and see what Saban's chances are of maybe breaking them.
SEC CHAMPIONSHIPS
Brant had 15 conference championships to his credit, 14 SEC championships and one in the Southwest Conference at Texas A&M. Now granted, that was over a 38 year coaching career.
Saban has 8 SEC championships and 1 MAC championship when he coached Toledo. This is over a 24 year head coaching career so far.
Bryant earned a conference championship every 2.7 years he was a head coach.
Saban has earned a conference championship at about the same clip, earning one every 2.66 years.
Given those same stats continue, it will take Saban 16 more seasons to overtake Bryant and few people see Saban coaching until the age of  84, so this seems to be one record that is safe for Bryant, now and for the foreseeable future.
SEC COACH OF THE YEAR
Bryant earned this honor 12 times in his career. Saban has so far amassed 4 of those awards. Saban will never be likely to break this record for 3 very important reasons. The first is his age, the second is that there are more teams in the SEC now than when Bryant started coaching the SEC and third, the award now is most usually given to a coach that has turned a program around or did unusually well in a season. That works against Saban who does well all the time.
WINNING A NATIONAL CHAMPIONSHIP AS A PLAYER AND AS A COACH
Well, Saban's playing days are over, so this is a record that will forevermore be in Bryant's column. Pound for pound, Saban may have been as good a player as Bryant was, but Saban never played on a contending team. Bryant played at Alabama as "The Other End", a mostly unsung role. Saban was a defensive back for Kent State.
TOTAL WINS AS A HEAD COACH
In 38 years, Bryant amassed a 323-85-17 record for a winning percentage of .780.
In 24 years, Saban amassed a 248-65-1 record for a winning percentage of .791. That's a 75 game difference. For Saban to eclipse Bryant, he'll have to continue to win at the same pace his now for just over six more seasons. This could happen depending on how long Saban wishes to coach.
BOWL RECORDS
Bryant took 29 teams to bowl games and ended up with a 15-12-2 record. That gave him a bowl game winning percentage of .552 (at major schools)
Saban has taken 25 teams to bowl games and so far has a 15-10 record. That gives him a bowl game winning percentage of .600 (at major schools) Since there are so many more bowls today than when Bryant started, this is a record that will in all likelihood fall should Saban stay five more years.
MOVIES THAT STARRED PEOPLE PLAYING THEM
Well here, Bryant is certainly in the lead. The main ones about Bryant are "The Junction Boys" and "The Bear" and some may want to include "Woodlawn" the story of Tony Nathan that centers mostly on his time at Alabama and coach Bryant, but since the focus of the movie was about Tony Nathan and not Bryant, we won't count it, but give it this mention. We won't even mention the "Forrest Gump" movie.
To date, no movie has been made about Saban, but you can bet somewhere someone is working the first screenplay. Saban did play himself in "Blindside".
But no matter which side of the debate you take sides on in the Bear vs Saban "Greatest Of All Time" award, stop and think how lucky Alabama was to have them both.
*Get the BEST Alabama football insider information, message board access, and recruiting coverage today! SIGN UP HERE to unlock our subscriber only content!*
Larry Burton is the senior writer here at TDA and has been published in almost every media outlet for college sports, was Bleacher Report's #1 college football writer in reads and comments and now primarily writes here for Touchdown Alabama. Follow Larry on Twitter for inside thoughts and game time comments at https://twitter.com/LBSportswriter