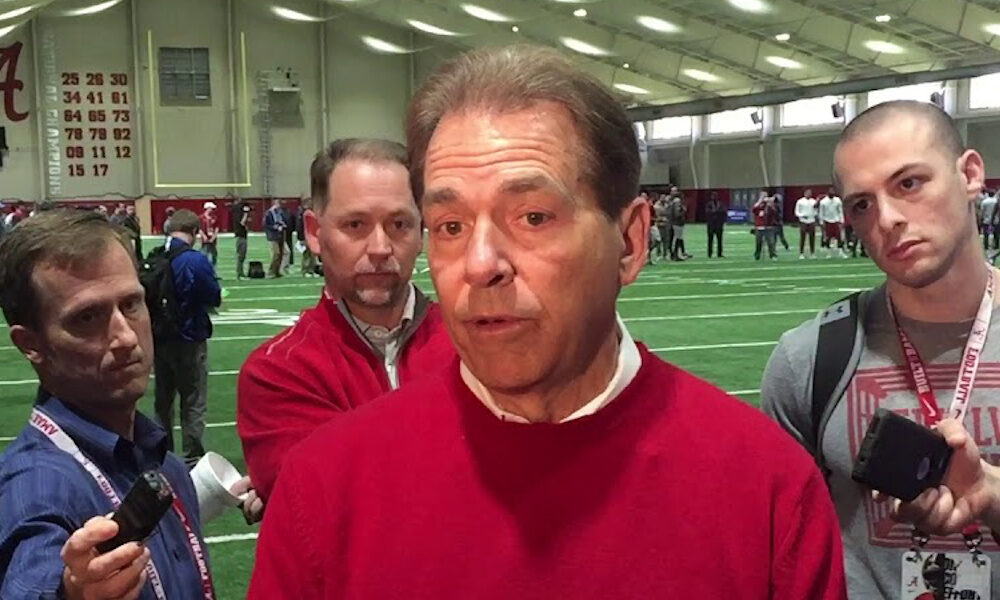 No one can deny that Nick Saban may be the greatest college football coach of all time, but a nagging flaw is his lack of perfect seasons. See why that's so.
Nick Saban's lack of perfect seasons is glaring but easy to explain
Coach Paul "Bear" Bryant had four undefeated seasons and is considered by most perhaps the second best coach in college football history. Nick Saban, the consensus best coach of all time among current thinking has just one undefeated season.
Since Nick Saban started his head coaching career in 1995, 25 teams have had undefeated seasons and only one of those was Nick Saban's. That's the same number of undefeated seasons as Gene Chizik, Larry Coker and even Robert Pruitt had and those aren't names you'd think would be in the same area of Saban in any category.
No team has dominated college football as Alabama has during the Saban era. No one has even come close to putting up shut a run. So why has Saban had such a hard time sealing the deal for a perfect season? Let's look at some of the reasons.
Forget Michigan State and LSU, they were total rebuilding jobs and the same could be said for Saban's first season at Tuscaloosa in 2007. So for the purposes of the article, we'll examine his 2008 season to present day, the time frame that established him as perhaps the best college football coach of all time.
2008
Sometimes you don't just have to make up an excuse, sometimes you play your best and you're just beaten by a better team. Such was the case when Tim Tebow and the Florida Gators defeated the Tide. Tim Tebow was just a man among boys on that day and simply put that team on his back and made them win. No shame in that loss. Florida was riding the best streak they'd had in many years and the Tide was just getting on track.
However the next game in the Sugar Bowl, Alabama just failed to show up ready and got railroaded by a very hot Utah team they should have been able to handle. Some say there were just too many distractions. There was the suspension of their best lineman, Andre Smith, the All American left tackle. There was just the heartbreaking loss to Florida still under their skin. But most of all it was the stupid feeling among the players that Utah wasn't going to beat an SEC blue blood like Alabama. It was a lesson they'd get tired of hearing about.
2009
Saban's only undefeated season and only because Terrence "Mount" Cody blocked two field goals to preserve a 12-10 win. No other win was near that close that season.
2010
Perhaps the year where the team just had the big head and let teams that weren't as good beat them. The South Carolina Gamecocks who finished the season 9-5 was the first upset in a 21-35 loss that was rarely in doubt. A close 24-21 loss to LSU was a game they could have and should have won, but they didn't play hungry  and played more like a team that just thought they were supposed to win. Then there was the loss to a Cam Newton led Auburn team they also should have won, but they lost a heartbreaker 28-27.
2011
I interviewed AJ McCarron early in this his first season as a starter and he told me the team was upset at how they didn't do the little things the season before and that they were going back to work to be the Alabama team they were supposed to be. They did and won another national championship, but not before losing a heart breaker to LSU on a last second field goal to LSU in the regular season 6-9. They lost that game being way too conservative and trying to win a defensive battle.
They did manhandle them in the rematch in the national championship game.
2012
Not for lack of trying, but the Tide's only loss this season was to a red hot Texas A&M team led by Heisman Trophy winner Johnny Manziel. Once again, a mobile quarterback with a great arm took the Tide apart in a close 24-29 loss. They were ready and should have won, but Manziel just had too much magic in the bag on this day.
2013
This was the season of the famous "Kick Six" game. With one second left on the clock Auburn ran a missed field goal back for the game winning touchdown. This loss was due to poor concentration in thinking that such an unthinkable thing could happen.
Then just like in 2008, the Tide showed up in the Sugar Bowl with a heartbreaking loss still fresh in the minds that kept them from playing for another national championship and they got rolled by a team they were supposed to beat, Oklahoma in this case.
2014
Lack of concentration, a badly timed fumble and a late interception of Alabama's Blake Sims caused the Tide to stumble against Ole Miss in a 27-24 loss. Ole Miss was a team this Bama squad should have squashed.
Their final loss in the championship game was no head hanger. They met a red hot team and it was a war they simply lost and Ohio State upset them 42-35.
2015
Once again a pedestrian Ole Miss Squad simply outscored a befuddled Bama defense and shocked the football world with yet another loss, this one even more shocking with a 37-43 win for the Rebels.
However, Alabama managed to use this as a learning lesson and go on to win yet another national championship with a little late season help to make it to the big game.
2016
The Tide made it through the regular season and SEC Championship Game without a loss and looked invincible until Clemson clipped their wings with a late game drive that killed Alabama's chance at another championship and another perfect season with a 31-35 loss.
2017
I was there in the press box when Auburn's home fans made Jordan-Haire Stadium electric. It was the noisiest game I've ever attended and the Tigers fed off the energy of the fans. Alabama was the better team, but honestly on that day the fans just kept Auburn on fire for most of the game and Alabama just couldn't get it going.
They did recover for another national championship that year, so it proves they were the best team for most of the year.
2018
Once again Alabama rolled through the regular season and SEC Championship game undefeated for the third time in the same era only to fall when it all mattered the most. In the championship game, the Tide was steamrolled by a red hot Clemson team 44-16. In this all important game, the Tide just seemed to be sleep walking. They had the talent to have put up a better fight.
2019
This was a season where the Tide was loaded with top tier talent, but injuries to linebackers and then the starting quarterback Tua Tagovailoa were only part of the problem in their two losses. Most fans didn't realize that only three of the Tide's position coaches and coordinators had two consecutive years with the Tide, the other seven were in there first year at their respective jobs.
A combination of all these things helped create two close losses, a 41-46 loss to eventual national champion LSU and a head scratching loss to Auburn 45-48. In that game Alabama dominated the stats but two turnovers proved to be the difference. With stats like this, the Tide should have won, but they just couldn't finish the game on top.
| Statistics | Alabama | Auburn |
| --- | --- | --- |
| First downs | 28 | 23 |
| Total yards | 515 | 354 |
| Rushing yards | 180 | 181 |
| Passing yards | 335 | 173 |
| Turnovers | 2 | 1 |
| Time of possession | 35:52 | 24:08 |
Now you know which games the Tide lost during the glory years that have been the Saban era and you know some of the reasons why they did, but let's also figure in some of the other reasons Alabama has had such a hard time getting another perfect season in the books.
Alabama has been the "Gold Standard" for the last decade in college football. They have been rated #1 in the weekly polls as much as the rest of college football put together! Wrap your head around that fact for a moment. They have been in the college football championship every season and have won more championships than all the other conferences put together. What that means is when you play any team, it's their Super Bowl moment. They're going to play over their head and pull out every stop to beat the cream of the crop and try and make a name for themselves. That's hard to face every week of every season.
Plus, they play in the SEC and no one with any sense of football knowledge can deny that this has been the toughest conference in the nation for the last decade. The SEC has won more national titles than every other conference combined in this time frame.
Plus there's the old adage that when you're on the top and no one can deny that Alabama has been there, that there is no where to go but down. It's really hard to keep that focus every week, season in and season out. AJ McCarron told me in 2011 that the 2010 team was just so full of themselves for being champions the year before and bringing back all that talent that they felt they were just going to mow down everyone again and didn't have to work as hard to do it. That lack of focus cost them three losses.
Even coach Bryant knew this could happen when he said, "Winning a championship is hard, but doing it again the next year is twice as hard."
It does indeed take a hungry team to win them all and let's face it, nobody's been fed better than Alabama. Maybe that's why one of Saban's most used lessons is "Finish!" Finish every play, finish every game, finish every season.
*Get the BEST Alabama football insider information, message board access, and recruiting coverage today! SIGN UP HERE to unlock our subscriber only content!*
Larry Burton is the senior writer here at TDA and has been published in almost every media outlet for college sports, was Bleacher Report's #1 college football writer in reads and comments and now primarily writes here for Touchdown Alabama. Follow Larry on Twitter for inside thoughts and game time comments at https://twitter.com/LBSportswriter