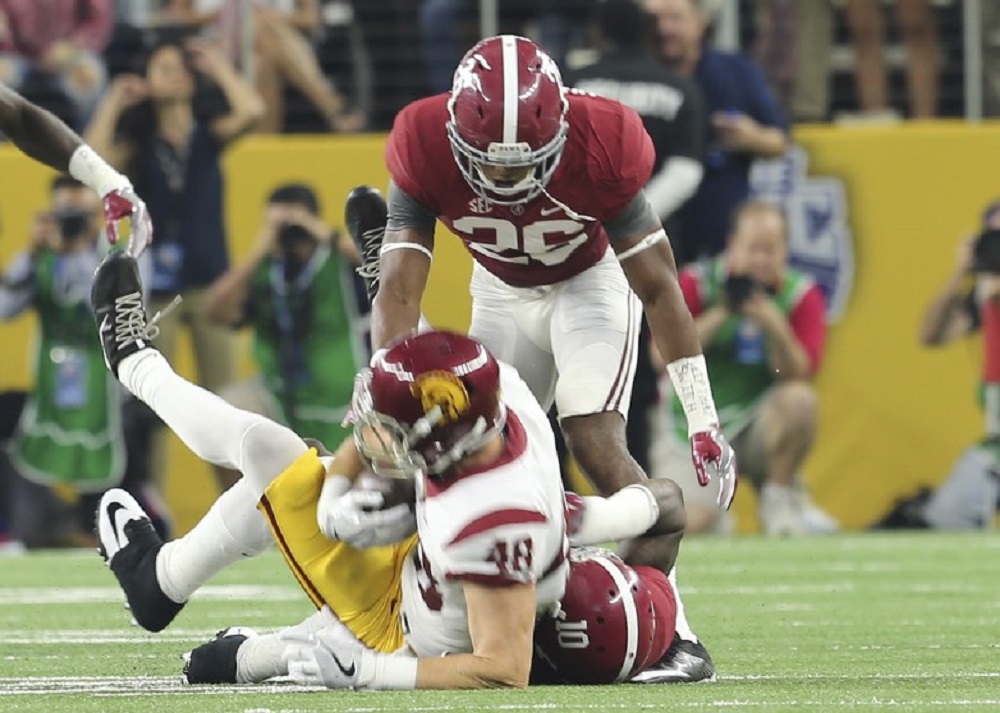 In their last meeting Alabama beat that season's Rose Bowl Champions 52-6. Now five years later will the Tide embarrass USC as badly this time? Read why we think so.
Alabama vs USC's 2016 meeting was a 52-6 embarrassment. Get ready for another one.
In 2016, USC was thought to have all the makings of a great team. They did in fact put together a great season that year. They won 10 games, made it to the Rose Bowl and defeated a good Penn State team. Normally this would have the Trojan fans remembering this as a banner year.
Except for one thing, USC was Alabama's sacrificial lamb for the big first game of the season. In the Nick Saban era at Alabama, it has been Saban's intent to open the season with a high profile good team once he got to start having input on the scheduling. He likes to test his men early on, give them a target to focus on during the spring, summer and fall practices. He also likes to win those games and Nick Saban is undefeated in all his opening day games at Alabama.
He not only wins those games, but he wins them big. In thirteen seasons at Alabama Saban's teams have won their first games by a combined score of 529-144. That's an average of winning the first game by a score of 40.6-11.
In 2016 USC was beaten by a score of 52-6, tying the worst opening day slaughter of an Alabama opening day opponent since the 2007 meeting of Alabama and the Western Carolina Catamounts.
For USC, the outlook doesn't get much better when they consider their prospects of once again opening up against the Tide to start the 2020 season.
Alabama brings back more that just the nucleus of their juggernaut offense from last season and every sharp eye in sports reporting knows the 2020 defense will be several notches up from the one they put on the field last season.
On top of that, the Alabama fans, coaches and players are ticked at the way the 2019 went down. They lost two games they could have / should have won and missed the college football playoffs for the first time. They are ticked and they want to prove a point and for USC, unfortunately for them, they are in the cross-hairs for Alabama to make a statement game and finish week one at their typical spot as the nation's top rated team.
Then there's continuity and that will hurt the Trojans. Yes they have a ton of folks returning from last season on defense and on offense, their red hot QB Kedon Slovis returns after taking over for an injured J.T. Daniels. But can you say sophomore slump for Slovis? With two new tackles coming in and a sputtering run game, this could get ugly quickly.
Continuity for Bama? With so much talent returning including many receivers that Jones has been throwing to in practice for three years and a great running attack, Bama is sure to keep the scoreboard operators busy. The lack of spring football won't hurt Alabama like it will USC. Bama is just a well oiled machine.
Also Bama offensive coordinator Steve Sarkisian won't mind running up the score against the team that showed him the door in his last head coaching job.
Yes, USC will have some good players and they may just win the Pac 12 again this year, the PAC 12 South for sure, but they had all that and did all that in 2016 too and still got steam rolled by the Alabama team who made them look like a JV scout team.
In the end, USC may just try and make a good showing of it and that will be the difference. That's because Alabama is not coming in just to make a great showing, they are coming in to make a statement that the Tide is high this season and they're going to roll. If Alabama is a 28 to 35 point favorite, bet on the Tide. All indications point to another embarrassment even though this is a really good USC team.
*Get the BEST Alabama football insider information, message board access, and recruiting coverage today! SIGN UP HERE to unlock our subscriber only content!*
Larry Burton is the senior writer here at TDA and has been published in almost every media outlet for college sports, was Bleacher Report's #1 college football writer in reads and comments and now primarily writes here for Touchdown Alabama. Follow Larry on Twitter for inside thoughts and game time comments at https://twitter.com/LBSportswriter