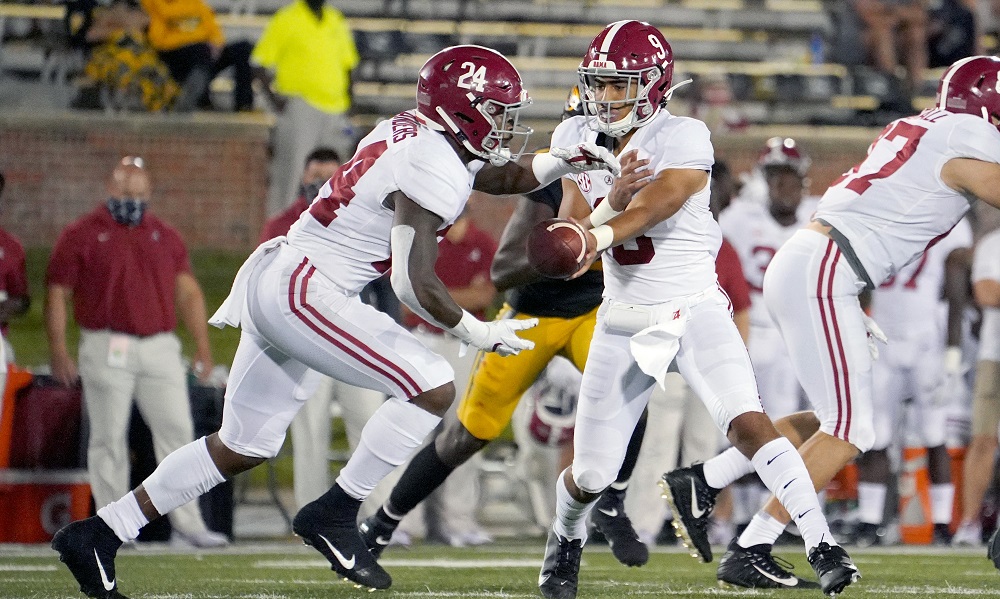 Alabama's true-freshman quarterback, Bryce Young was able to show glimpses of what he can do in the Crimson Tide's win over the Missouri Tigers despite fumbling the ball once.
Young made his college debut in the third quarter of Saturday's game. The California product was accompanied by most of the Crimson Tide's starting offense along with redshirt freshman, Trey Sanders. Young completed five of his eight passes en route to passing for 54 yards
Nick Saban said Alabama's coaching staff felt Young needed to get some in-game experience heading into Saturday's matchup.
"We did get Bryce in the game, which was his first college game," Saban said. "We thought he needed to get some experience and I think it will be helpful in terms of his learning curve. He is the backup quarterback so we got to get him ready to play as well. We probably sacrificed a little bit by giving him the opportunity to do that. He was obviously a little anxious out there in terms of how he played, but it will be something that he can learn from."
Alabama's offensive coordinator Steve Sarkisian attempted to give Young an easy pass completion via a screen route on his second play in. Due to a bad snap, the play did not go directly as designed, but Young was able to show off his ability to adjust and make a quick decision as he managed to pick the ball off the ground and hit Smith for a six-yard gain for the first pass completion of his career. Smith would catch two more of Young's passes during that drive before Young fumbled the ball on 3rd and 19.  Sanders and Waddle would catch Young's other two pass completions.
Young's elusiveness when scrambling was also on display saturday as he ran for one first down and had another rush for eight yards.
Alabama football will take on Texas A&M Saturday for its home opener. The Tide's coaching staff is expected to use Young in a similar way in that matchup as he will most likely only see the field if Alabama is up big on the Aggies. However, it is safe to say the excitement surrounding Young is still warranted.