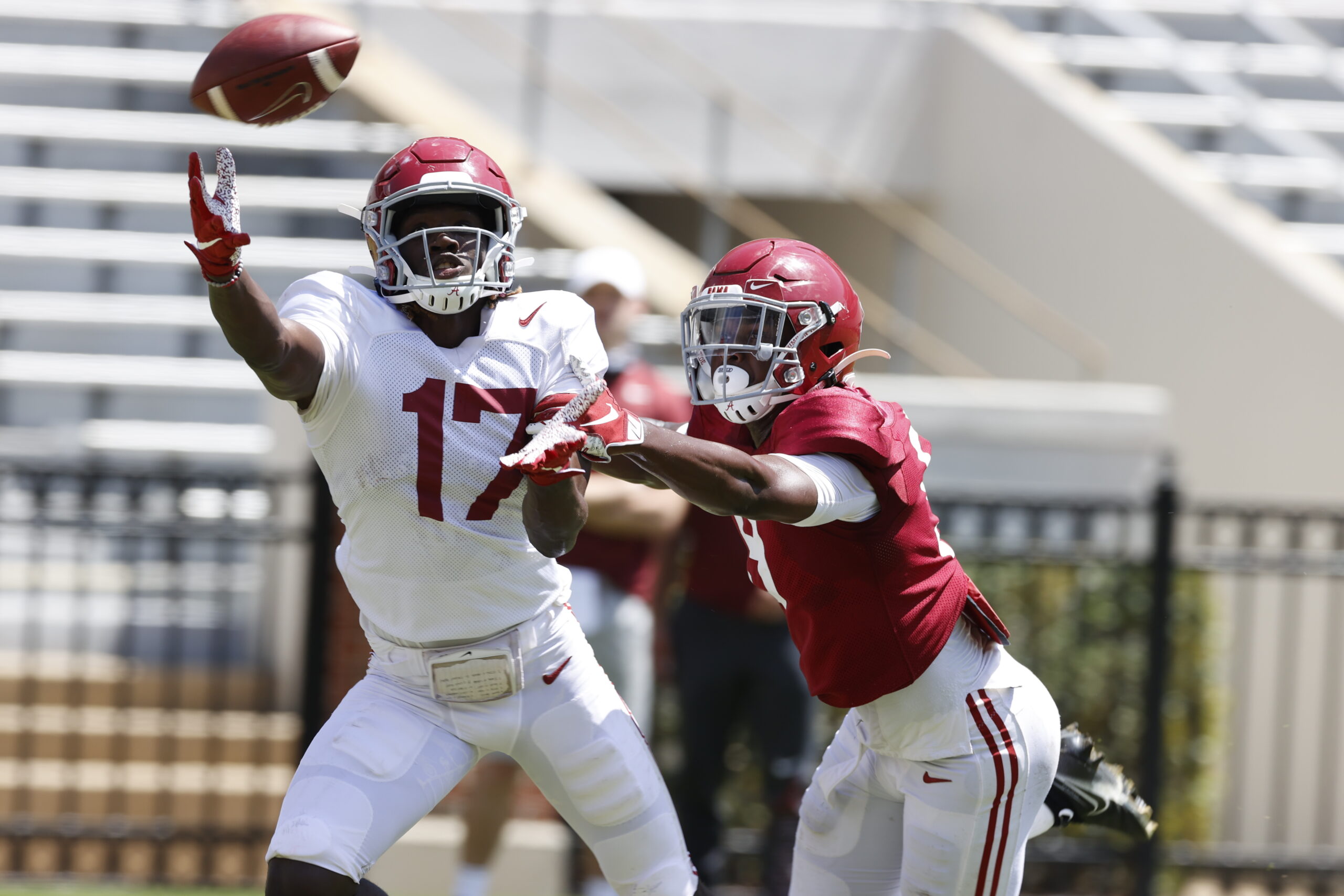 The days of Alabama football having average height wide receivers may be put on hold for a bit as two big-bodied young wide receivers made their presence felt on A-Day.
Agiye Hall and Traeshon Holden were both able to show what they bring to the table in Alabama's spring game. The 6-foot-3 wide receivers were the leading pass-catchers in this year's matchup. Holden pulled in nine catches for 89 yards in the White's team victory, and Hall finished the game with 72 yards and four receptions.
Holden was targeted heavily by Alabama's sophomore quarterback, Bryce Young throughout the day. The sophomore wide receiver saw very limited playing time in 2020 but could be on his way to changing that in 2021 after a solid spring.
Hall, who is a true freshman, has also put himself in a good position to work himself into the Crimson Tide's wide receiver rotation next season. Saban said he feels the former five-star recruit had a good spring.
"He is a young player, he is getting better every day, and I think he has a lot of ability," Saban said in his press conference after A-Day. "I think that he is not 100 percent sure sometimes about what he is doing. To get him to play fast all the time is something he wants to do and something he naturally does, but like any player, most of the time when they are not sure what they are doing, they do not play fast. He has made significant improvements throughout the spring. He is someone we think has a lot of potential. He makes a lot of contested catches. He has great size and explosive speed. We need Metchie out there and a couple of guys to compliment what he does when he gets backs. We are pleased with his progress. He had a really good spring."
John Metchie III and Slade Bolden will lead this young wide receiver group next season. With both players standing 6-foot or shorter, taller wide outs like Holden and Hall should give Alabama some new flavor next season.