Alabama fan reactions
College football world and Alabama fans react to Will Anderson not being a Heisman finalist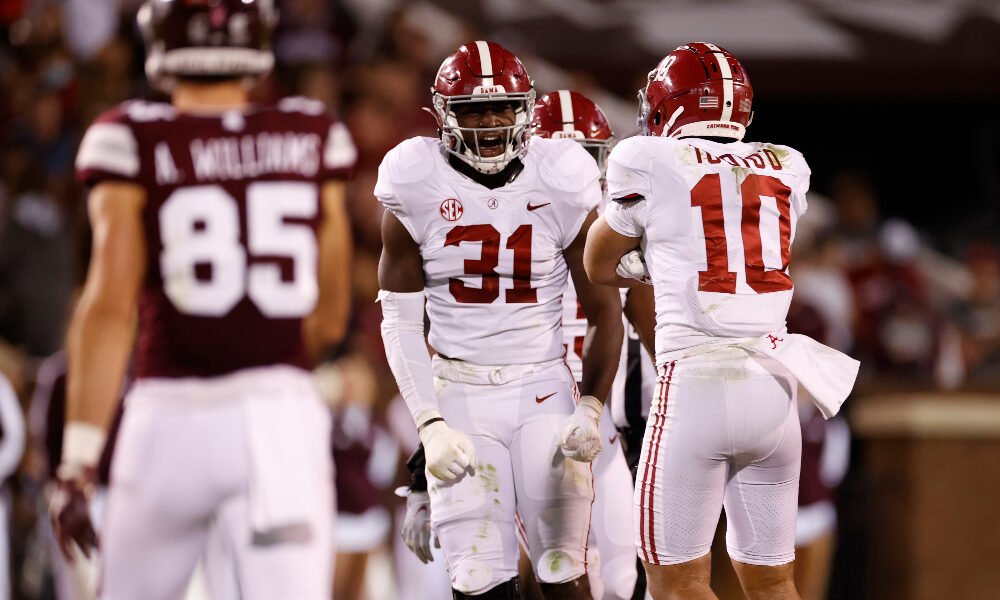 The college football world and Alabama fans are in shock right now.
Four finalists were chosen Monday for the Heisman Memorial Trophy presentation. The coveted bronze award that goes to the most outstanding player in college football will be presented Saturday in New York City. Bryce Young (Alabama), C.J. Stroud (Ohio State), Kenny Pickett (Pittsburgh), and Aiden Hutchinson (Michigan) are the finalists.
Three quarterbacks and a defensive lineman make up the group, but the best defensive player was left off. Will Anderson, a sophomore linebacker for Alabama, has been the most dominant defensive player in college football.
He leads the nation for sacks (15.5) and tackles for loss (31.5).
Anderson is the most impactful player in the sport; however, he is not a finalist for the Heisman.
Tide fans, current players, and college football reporters took to Twitter to voice the disappointment of Heisman voters.
No Will Anderson? How? Do yall even care about football? Is this a joke? Imagine if a Bosa brother put up the numbers Will has.

— Casual Bama Fan (@SHANKK50) December 6, 2021
Disgusted

— Javion Cohen (@cnoivaj) December 6, 2021
Sooo Will must've stopped playin football Lmaoo https://t.co/FxyOrXBsSO

— TRAESHON HOLDEN🤞🏽 (@300_Sh0wtime) December 7, 2021
Really missed a chance to honor some defensive players in a wide-open year. @will_anderson28 might be the best player in the country at any position.

Destroyer of worlds, can't get in the room. https://t.co/ggq4ThrsAh

— Coach Dasch 🏈⚾️ (@CoachDasch) December 6, 2021
It is criminal that Will Anderson isn't going to New York.

— Bryant-Denny Stadium (@BryantDenny_UA) December 6, 2021
Dear @HeismanTrophy committee:
What criteria do you use in your selection? This is pure disrespect! pic.twitter.com/zUq4gIkf3A

— misty haynes (@mistyrhaynes) December 7, 2021
The fact that Will Anderson is not a Heisman Finalist has many fans shaking our heads at the snub. Personally, I think we're about to see the rest of his time at Bama be nothing short of a man on a mission and something the younger generation has ever seen. Think Derrick Thomas

— Dave (@DCLucky101) December 7, 2021
Will Anderson numbers are off the charts compared to any other defensive player this year… Alabama fatigue is as real as it gets.. it sad he is being penalized for Alabamas unprecedented run in college football 😡😡😡😡

— Greg (@GregfmAlabaster) December 7, 2021
They must have forgotten Will Anderson plays football https://t.co/GZSu1qXPkx

— Geoff Schwartz (@geoffschwartz) December 6, 2021
Will Anderson not being a Heisman finalist is pretty ridiculous. Voters did a bad job.

Anderson and Hutchinson should both be finalists. Dudes are awesome. But Anderson had better numbers.

Anderson: 31.5 TFLs, 15.5 sacks
Hutchinson: 15.5 TFLs, 14 sacks

— Chris Vannini (@ChrisVannini) December 6, 2021
Saw a lot of people asking for a stats comparison between #Alabama OLB Will Anderson Jr. and #Michigan DL Aidan Hutchinson, so I thought I would oblige: pic.twitter.com/GE5BYNBRZL

— Joey Blackwell (@BlackwellSports) December 6, 2021
Will Anderson is not a Heisman finalist.

Call the thing off.

— Stewart Mandel (@slmandel) December 6, 2021
Can't get past this Will Anderson thing. Can't say I'm surprised though. Somehow, the most dominant OLB in years — who *plays for Alabama* — has not gotten nearly the attention Chase Young did in '19, or even Hutchinson (who is perfectly deserving himself) this year.

— Stewart Mandel (@slmandel) December 6, 2021
My 11 year old asked me to Tweet that the Heisman voters are "so dumb" for not inviting Bama's Will Anderson to New York. So here it is.

— Clay Travis (@ClayTravis) December 7, 2021
Will Anderson has better numbers in every category than Aidan Hutchinson but Hutchinson is the finalist for the Heisman. Lol Bama Fatigue is so real

— Austin Randolph (@austinsrandolph) December 6, 2021
*Get the BEST Alabama football insider information, message board access, and recruiting coverage today! SIGN UP HERE to unlock our subscriber-only content!*