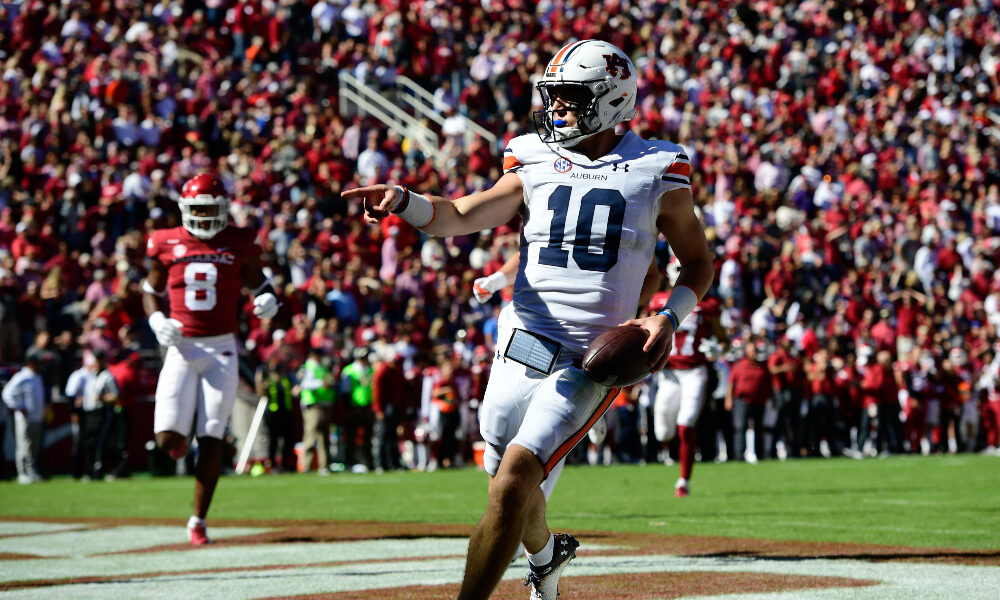 Alabama opens the College Football Playoff on New Year's Eve versus Cincinnati in the Cotton Bowl.
The Crimson Tide is pursuing its seventh national championship under Nick Saban.
Alabama is expected to beat the Bearcats after winning the SEC Championship, but Bo Nix sees an opportunity for Cincinnati to win. He provided an analysis of the matchup via the JBoy Show. Nix knows how talented the Crimson Tide is, but he said Cincinnati has enough veterans in certain places to give it a chance. Alabama fans reacted to Nix's statement on Twitter.
He in the transfer portal to become an analyst or something? Nobody gives a shit what this dude says. https://t.co/eEsQdzhenB

— Nick (@SARDOG81) December 10, 2021
Who the hell cares what this loser believes 🤷🏼‍♀️ https://t.co/k22NQ9Tngb

— Lauren Tucker (@blaurentuck) December 10, 2021
He believed in Auburn over Alabama. How'd that work for ya Bo? https://t.co/GXunFcErMZ

— Debra❤️Bama ❌ (@tci92) December 10, 2021
Poor little red haired stepchild little brother so desperate to churn up some negative pub on BAMA. What was their record this year? Oh yeah…they won a chance to play in the prestigious Birmingham Bowl –not the playoffs At least they save on gas expenditures. Roll Tide Roll! https://t.co/FwdBXyqGh9

— KUARTR! (@WORKOUTWOMAN22) December 10, 2021
Oh @BoNix10. No one gives a sh*t for your opinion. Enjoy sitting at home in the off season. https://t.co/4GxicfGNTw

— FroFroFroYo (@MamaFro719) December 10, 2021
when is this guy going to learn to shut his mouth??????? https://t.co/U6byGizU55

— thatgirlsteff (@thtgirlsteff) December 9, 2021
he's obsessed. https://t.co/sAlhnyaoSc

— erin ♡ (@nicolerinnn) December 9, 2021
Bo just needs to worry where his gonna work when he graduates cus his days as QB are numbered https://t.co/3SG4Uyy2bT

— Bryce young for heisman 🏆 (@Rolltide2007) December 9, 2021
— Cole Dobbins (@coledobbins29) December 9, 2021
He'll look like a genius or a typical loyal Barner either way.. good move. https://t.co/NX5Do9iVGE

— George RN (@R44195628Rose) December 9, 2021
The Tide is trying to win back-to-back national titles since the 2011 and 2012 seasons.
*Get the BEST Alabama football insider information, message board access, and recruiting coverage today! SIGN UP HERE to unlock our subscriber-only content!*