Alabama fan reactions
Alabama players, fans troll Texas A&M player who says beating Alabama was his dream over playing for Alabama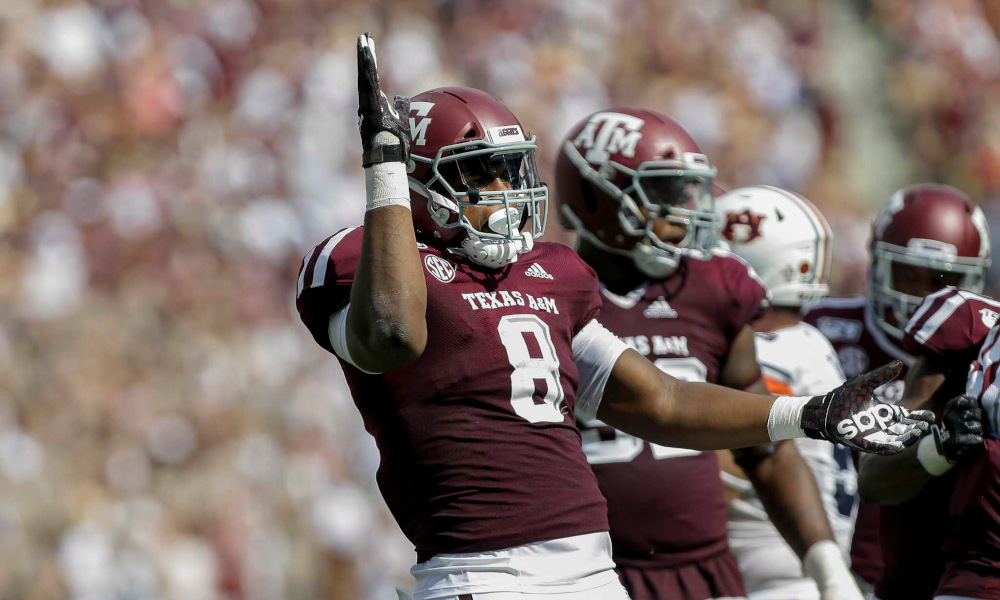 DeMarvin Leal is getting trolled and roasted by Alabama players and fans.
As a standout on Texas A&M's defensive line, Leal is a projected first-round pick for 2022.
He came in the Aggies' 2019 recruiting class and has one victory over the Crimson Tide. Leal got his first win against Alabama on Oct. 9 at Kyle Field in College Station, Texas. Texas A&M earned a 41-38 victory over the Tide, and Leal thoroughly enjoyed it.
In an interview with Tailgate, he said 'so many kids dream of playing for Alabama. I dreamed of beating Alabama.'
DeMarvin Leal's dream became a reality 💪 pic.twitter.com/PRUnZSRCZu

— PFF College Football (@PFF_College) December 22, 2021
Leal made the dream a reality, but the Aggies finished at 8-4 and not in the College Football Playoff. The Crimson Tide won a Southeastern Conference Championship for an eighth time under Nick Saban. Alabama is in the CFP, and its players and fans continue to remind Leal of it. The Tide is after a seventh national championship under Saban, and a second shot at back-to-back national titles.
DeMarcco Hellams, Alabama safety
I dreamed of playing and winning natty's. #RollTide https://t.co/QcgIMlsh7g

— DeMarcco Hellams ② (@DHellams2) December 23, 2021
Javion Cohen, Alabama offensive lineman
Weird flex but ok.. https://t.co/uXnW7Qq8se

— Javion Cohen (@cnoivaj) December 23, 2021
Traeshon Holden, Alabama wide receiver
My dream was to win a national championship 😌 #RollTide https://t.co/3wOvVQBBEY

— TRAESHON HOLDEN🤞🏽 (@300_Sh0wtime) December 23, 2021
Alabama Football Fans
guess bama is the closest thing to a natty or SEC championship these guys will ever get 💀 https://t.co/z29CCoDjVP

— 🧝🏾‍♀️ (@itschrisk_) December 23, 2021
Everyone plays to beat bama but no one plays to win a championship…..😂😂😂😂😂 https://t.co/gNSfIY167B pic.twitter.com/ggdit5Jq6C

— Mr.Carter (@bigmoneyheavywe) December 23, 2021
Damn Bama really got niggas down bad like this?? Lol https://t.co/qUXD5fo608

— KC HNDRXX™ 🏚🖤 (@Dreadss__) December 23, 2021
Thanks for the weird recruiting pitch saban can now give. https://t.co/dW4Vapeek1

— Nick Newton® (@nicknewton13) December 23, 2021
This is exactly why @AlabamaFTBL is on a totally different level than all of college football. https://t.co/THs4lR2DHE

— Diamond Dave💎 (@Percy_David02) December 23, 2021
Beating Alabama and going 8-4. Every young man's dream https://t.co/ZV77FEM9FO

— Taylor Chase (@TaylorChaseFL) December 23, 2021
Free promo 🤡 #RollTide https://t.co/6F6D5QiEWj

— Sergio Marquina (@dont_bdj) December 23, 2021
@AlabamaFTBL measures itself against perfection. All other teams are measured against @AlabamaFTBL . We are not the same. #RollTide https://t.co/N16fpC1KgQ

— John Denney (@thejohndenney) December 23, 2021
That's a nasty dream to have. You ain't dream of winning a Natty? Lmao https://t.co/6OZBQrIa5B

— Hub (@KenHeLive) December 23, 2021
Won yall super bowl and y'all wanna drop out of the bowl game 😂😂😂 https://t.co/wA496QlGBr

— Grayson (@smithgray__2) December 23, 2021
Fuck a natty or a conference title! 😂 https://t.co/ncBlw2Z6KK

— Shane (@shane_lewis1) December 23, 2021
https://t.co/5rWVgHUEP9 pic.twitter.com/rdjioF1FyA

— Travis (@narchy4all) December 23, 2021
Congratulations on going 1-3….. I guess . https://t.co/ubTVV0zPwV

— Just Josh (@Jsheff001) December 23, 2021