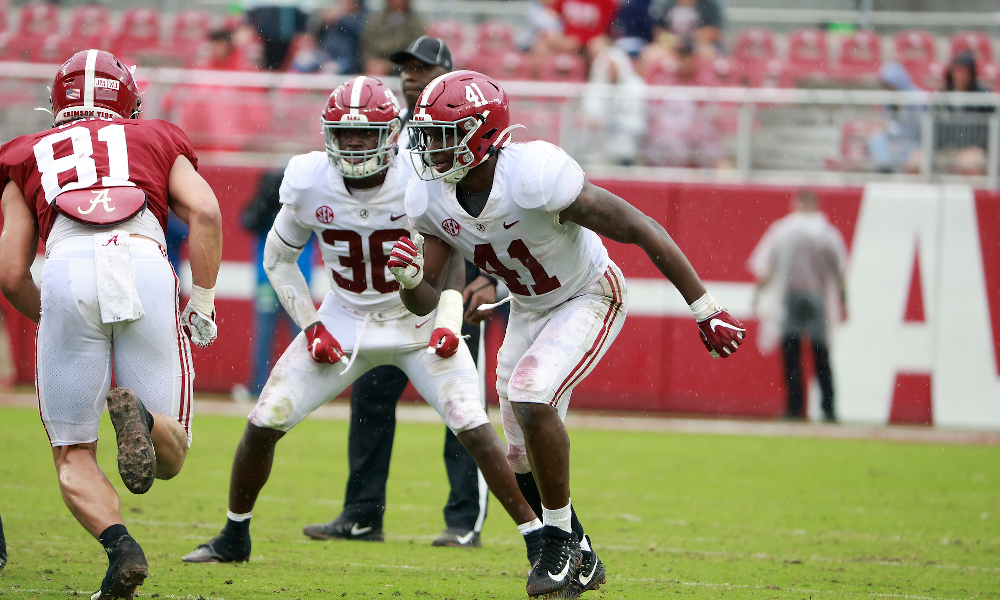 Alabama football kicked off fall camp Thursday, Aug. 4.
Fans of the Crimson Tide are excited for this edition of athletes taking the field, as Nick Saban and the program look to reclaim the crown of national champions. With the start of college football quickly approaching, the staff writers for Touchdown Alabama Magazine will provide in-depth previews of the top 30 players on Alabama's roster.
After reviewing Seth McLaughlin at No. 28, we look at junior outside linebacker Chris Braswell at No. 27.
Chris Braswell
-Classification: Junior
–Position: Outside Linebacker
-Hometown: Baltimore, Md.
-Height: 6-3
-Weight: 240 pounds
–Strengths: Length, Ability to operate in space, Backside pursuit, Comfortable dropping back in coverage, Quick get off
–Weaknesses: Limited experience, Has not shown a wide array of rush moves
Summary:
Chris Braswell is primed for a breakout season in an outside linebacker room led by Will Anderson.
Braswell signed with the University of Alabama during the 2021 recruiting cycle as a five-star recruit and one of the nation's top edge-rusher prospects. After not seeing any action as a freshman, the St. Frances Academy product earned his first career playing time against Miami to open the 2021 football season.
At 6-foot-3 and 240 pounds, Braswell possesses great length and has long arms to go along with his frame. His quickness off the snap of the football was one of his biggest strengths coming out of high school, and he was able to flash that quickness as a sophomore. He is also good in space as the Crimson Tide have allowed him to drop back in coverage during his limited playing time.
Alabama's defensive coordinator Pete Golding spoke highly of Braswell during his press conference Saturday.
"You talk about Will and you talk about Dallas, which Will had a great year and Dallas toward the end of the year really started coming on, but Chris Braswell has been (a) very strong, heavy handed, good pass rusher," Golding said."We have a lot of depth at that position to where we have to do a lot as coaches to get our best players on the field and what package allows those players to stay on the field regardless of the down and distance and regardless of the personnel you are going against."

After having two exciting edge rushers in Anderson and Dallas Turner last season, Braswell could give the Crimson Tide a three-headed monster pass-rushing attack if he takes the next step in his development this season.