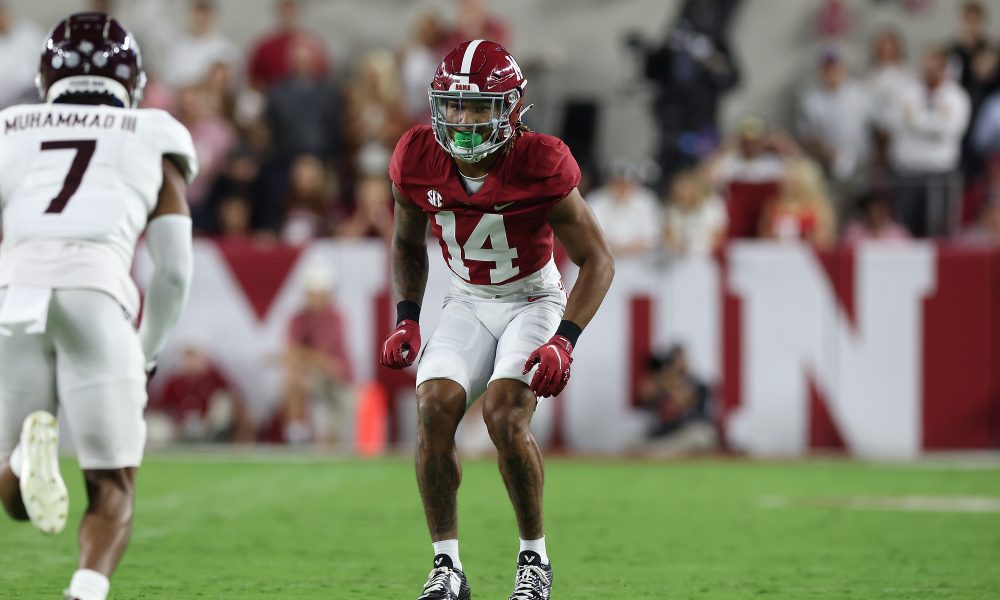 Multiple Alabama football players have the potential to have a bigger impact during the second half of the college football season.
Here are five Crimson Tide players who could make a difference in Alabama's push for a SEC Championship and a playoff berth.
Eli Ricks
Ricks started in his first game for the Crimson Tide against Mississippi State last week, and he put together a memorable performance. The Bulldogs tested him 10 times during Alabama's win. He gave up one reception and forced five incompletions. Many expect Ricks to start at cornerback for the Tide moving forward. His next test will be in familiar territory when Alabama travels to LSU to battle the Tigers in a night game.
Brian Branch
Branch is currently projected by some to be a first-round draft pick in the 2023 NFL Draft. The remainder of Alabama's season could determine his future beyond his college career. The Georgia native is Alabama's third-leading tackle, and he is tied for third in sacks with two. Similar to Ricks, his best performance was his last. He had two pass deflections, four tackles and a sack in Alabama's win over Mississippi State. He recently said he was working on becoming a pass rusher when blitzing.
Ja'Corey Brooks
Brooks leads Alabama in receiving yards, but he has yet to cement himself as the Crimson Tide's No. 1 wide receiver. The remainder of the season will give him that opportunity. Bryce Young has shown trust in the Florida product at pivotal points this year, but he is mostly known for his late-game catch in the 2022 Iron Bowl. Brooks could change that over the next few weeks.
Roydell Williams
Williams is Alabama's third running-back option. He sits behind Jase McCellan and Jahmyr Gibbs on the Tide's depth chart, but an argument can be made that he is as good of if not a better downhill runner than Gibbs and McClellan. The Hueytown product recently said he feels great again after suffering a knee injury last season.
Jamil Burroughs
Burroughs is expected to get more opportunities with Justin Eboigbe out for the season. He earned major playing time during the Crimson Tide's win over Mississippi State. He finished the game with five total tackles and a half-sack. Alabama is in desperate need of an interior defensive pass rush, and Burroughs will has a chance to help with that.