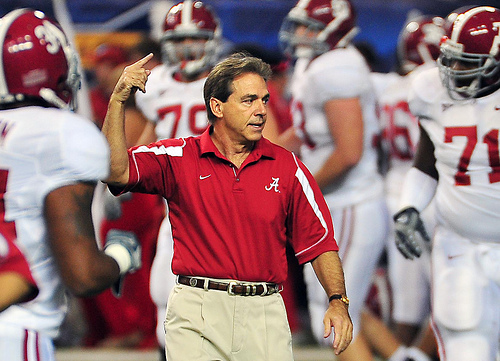 Nick Saban loves a big opening day game for a lot more than one reason. Read why. (Photo Touchdown Alabama)
Why Nick Saban Loves Tough First Games
By: Larry Burton
If you look at the schedules of some teams, it's easy to see that there are two different camps of thoughts when it comes to opening day games. Some like to schedule a creme puff team, get that first win, hopefully build some momentum and work out the kinks against a team that isn't going to beat you even if your own team has a lot of kinks to work out and even plays a bad game. Others, like Nick Saban, like to schedule tough games.
Why does Saban do that and why does he love tough first games? It's something he's addressed many times before and it's something that he's not likely to change for the remaining years of his coaching career.
In 2007, Saban inherited a team with problems and a schedule that started with a cupcake game against Western Carolina. They beat the Catamounts 52-6, but it hardly set the stage for a successful season. Alabama went on to a 6-6 regular season record and limped into the lowest bowl game an SEC team could go to at the time, the Independence Bowl in Shreeveport, Louisiana.
Former player Rashad Johnson told me once in an interview the mood of Saban about going to that bowl. "It was cold and rainy, not a nice day, but it seemed to reflect Coach's (Saban) mood. As we started to get off the bus, he said to take a good look around, because as long as he was head coach, they'd never come back here!" Said Johnson and indeed they haven't.
They won that game over Colorado, 30-24 in a lackluster win and Saban went into the off season knowing that he needed to force some serious changes, the first of which was starting off the season against a highly rated team to motivate his team during the entire off season. There would be no more "tune up" games for Saban's squads. Not only was this a big gamble for Saban in the win column, but in the recruiting wars too.
Saban knew that way to win on a consistent level you had to have top talent and taking on a top team in Atlanta would payoff big with a win. Not only would his troops enter the SEC season battle hardened, recruits in the talent rich Georgia area would have a chance to drool over what playing for the Tide would be like. It was a gamble in some things, but not in money. The Chick Fil A Kickoff Classic guaranteed Alabama more revenue than a home game, a national spotlight in prime time and a chance for Alabama to come away with a little swagger. He just had to sell it to his boss, Athletic Director Mal Moore and that was an easy sell. Mal was not just an administrator, but a former coach himself and he could see all the good it would do.
In that first game of this kind, Saban was taking a big gamble. The opponent was Clemson, preseason ranked at #9 and a team that was even talked about being a ACC Champion. Alabama entered the season ranked at #24. Many thought Saban, in going for the big headlines, was biting off more than his team could chew in this match up.
During the off season, Saban and his staff told the troops that nobody thought they had a chance, that most thought they were going to be embarrassed and a very large chip was firmly on the shoulders of the boys in Crimson by kickoff. The game was never in doubt and Alabama not only won, but slaughtered Clemson 34-10. The result was so unexpected that this was the game that ultimately cost Clemson head coach Tommy Bowden his job.
Alabama won the game, got the swagger, signed some great players from Georgia and had Sports Illustrated to proclaim, "Bama's Back!" They went on to be a contender for the national title right until the losing the SEC Championship game to Florida and Tim Tebow.
The dice were cast and Alabama won and won big with that first big opening game and they would never look back. That first game did indeed get "Bama Back" and they've never really lost being in the national title talk since.
Saban knew he had struck gold and the next year he started the season against #7 Va. Tech, a game they also won, this time the final score was 34-24. That 2009 season saw them sweep all the games and be one of a just a few undefeated national champions in the last few years.
In 2010, Saban wasn't able (despite much trying) to get into one of the big kickoff games, but they did face a Penn State team in game two which they won 24-3. 2011 saw them back the same predicament with a return game with Penn State which they also won, this time by 16 points, 27-11.
By 2012, Saban was able to arrange a game against a preseason top ten Michigan team who came into that game ranked 8th. This game was a new kickoff classic game in Dallas, Texas and Saban lobbied hard for a spot in that venue. Many thought this could be a tough game for the Tide, but Saban's squad crushed the Wolverines 41-14 and could have beat them much worse. The spotlight, swagger and recruits were all back, though most of that never left to begin with.
2013 saw them back in Atlanta taking on Virginia Tech yet again and once more, the Tide rose to the occasion, 35-10. This was not a great Tech team but still Alabama reaped all the same rewards and Saban was a happy man.
Last season, Alabama fans entered the game not knowing which quarterback would be the one to start and finish the season against a good West Virginia team that would go on to beat #4 Baylor and ironically help Alabama get into the first major college football football championship. It was a close contest, but Alabama left a winner 33-23.
Saban has not lost an opening day game since becoming the head coach at Alabama, or the first "big" game in a season in that time frame either, as in the cases where the second game was the big game.
The other added benefit to scheduling big opening day games in a neutral site is something few talk about. Saban utilizes a lot of freshman players on special teams and in supporting and backup roles. These boys, who have never been to a true bowl game atmosphere feel like they have been after playing in one of these games. In interviews I've been told by players just how much it feels like playing in a post season bowl. There's the travel to a neutral site, all the national attention, weeks of preparation leading up to the game as well as being awed playing in a professional football stadium. By bowl season, such things are now "old hat" for these freshmen from Alabama, while freshmen from other teams may spend the game in "awe" of the surroundings and circus that is bowl week.
"There's a time and a place for scheduling opponents with lesser talent," Saban said in an meeting with Alabama fans on the "Crimson Caravan" talking circuit, "But the first game is not that that time and not the right place in the schedule to put them. It's nice to open the season and make a statement against a quality team." Saban said. And that statement could be taken many ways, such as, "Yes, we're back" or "Anyone, anytime" or "Beware future opponents, this is what you can expect and more". But clearly that big opening game is something that was all Nick Saban, a guy not afraid to roll the dice and show the world that when it comes to preparation, it's hard to beat a Saban coached team. And when the dice roll the way as they have with Saban and come up winners, what's not to like?
Larry has been published in almost every media outlet for college sports and now primarily writes here for Touchdown Alabama. Follow Larry on Twitter for inside thoughts and game time comments at  https://twitter.com/LBSportswriter
Thanks for sharing the link to this story on your Facebook page
Come to the "Points After" Forum on the Touchdown Alabama site and discuss your feelings on this article.