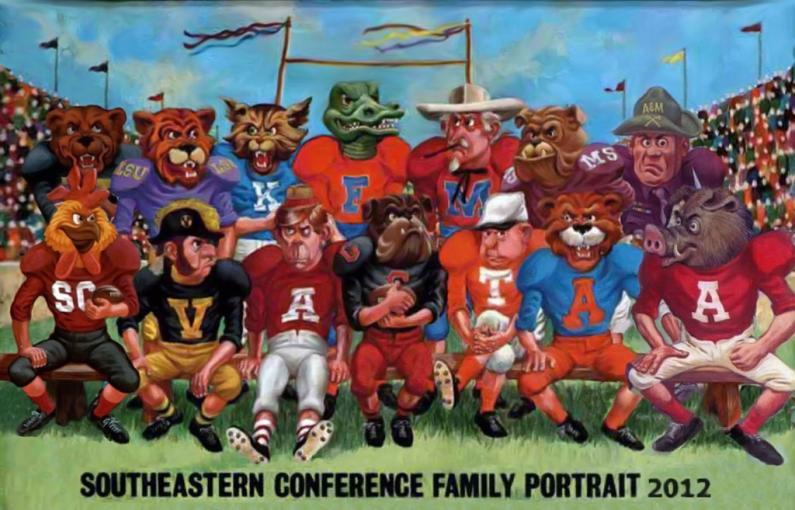 While it ain't the best week for watching SEC, there's two good games to gander and both could be doozies!
Larry's Losers in the SEC – Week 2 – 2015
By: Larry Burton
Well folks, one down, many to go and at least this week we finally get a little SEC on SEC action. Bacardi the Wonder Dog and I like that for two reasons, the games are usually more interesting and the articles are significantly shorter. It does however, make the pickin' and little more panicy though, because as we all know, anything can and usually does happen in the SEC.
As for last week, the pigskin pickin' pooch and I want to pat ourselves on the back for prognosticating perfection in our pleasing performance in the premier week. Yes, we correctly picked the upset of Vandy, that number 15 Arizona State would go down to unranked Texas A&M and that even the Auburn – Louisville game would be close.  We picked everything correctly except the number of hot dogs Vern Lundquist from CBS would eat in Atlanta, we passed on that one because we weren't sure if that second truck supplying buns would make it. So that makes it a perfect 14-0 so far this season and yes, we're counting the canceled LSU / McNeese State game because the Tigers would have won that game with the band and cheerleaders playing those broken down Cow Pokes.
So with all the back pattin' from last week over and done, let's jump into this week and hope for for prediction perfection.
Jacksonville State at Auburn – Starting the Saturday off with a noontime kickoff, Auburn goes cupcake like most of the SEC did last. This week this battle of birds pits the Gamecocks against those War Eagles and it doesn't take a rocket scientist to know that an Eagle trumps a Kentucky fried Clucker, especially one of the little poor brother category.
Since grand talking Gus thinks he should have hung 60 on Alabama last season, it'll be fun to see if he can even hang 60 on this poor little brother school from up North. If he doesn't hang 60 on all the weak teams this season then we'll know that old Gus just makes a fuss for the press and he's more full of hot air than hot air balloon. He sure didn't hang 60 on Louisville last week.
This one won't be worth watching, so go grill the burgers, heat those hot dogs and get ready for the real games to come as the sun get hotter. Larry's loser – Jacksonville State
Fresno State at Ole Miss – At 3:30 the California variety Bulldogs come to Oxford to raise their legs on the Grove and mark their territory. But this ain't the Bulldogs from years gone by and this 6 win wonder better mind their manners and be on their best Bulldog behavior to keep from getting severely spanked.
This is another yawner and in fact most of these day games are gonna leave a lot to be desired, so if this isn't your favorite team, enjoy the last of the summertime weather and get ready for the nighttime games which have some you gotta be glued to. Who knows the Rebels may score as much as last week on these belittled Bulldogs.
So for this one, you could do a drinking game and do a shot for each Ole Miss score and by the end, you won't care the game wasn't worth watching. Larry's loser – Fresno State
Georgia at Vanderbilt  – Another 3:30 kickoff and I'd like to say these song city sailors will valiantly defend the home waters, I'd like to say they could make it close and I'd like to win the lottery. Sadly the chances of all those things happening are about the same.
Mark's mutts have a lot to prove this season and they'll prove a lot of it this weekend. Something tells me a lot of their highlight film may come from this game and even though this is an SEC on SEC contest, it's still a cupcake game. Still if you have to watch one of these afternoon games, this could the most interesting just to see how bad an SEC can lose to another as these Bulldogs have their snappers in mid-season form already.
And on that sad note, we hope the Commodores brought their life jackets. Larry's loser – Vanderbilt
Middle Tennessee at Alabama – At four o'clock, the Middle Tennessee plow horses plod into Tuscaloosa and hope the beating they'll get won't be as big as the check they'll get.
By now, the quarterback should start feeling a little more comfortable and I'm sure he'll enjoy scrimmaging against the blue hued horses instead of the defense they see everyday in practice, so the only interest in this game is to see how comfortable they really are. Last week neither quarterback really dazzled us and this could be the game that finally makes them look like the leader.
The only other thing that could make this game interesting is to see if Middle Tennessee has more total yards of offense than points scored by Alabama. Yes, it's that bad a game. Larry's loser – Middle Tennessee
Toledo at Arkansas – The other four o'clock kickoff has the Rockets shooting into Arkansas in hopes of lighting up the sky and the scoreboard. Meanwhile Beilema's Bovines have a plan to use these Rocketboys as fireworks to celebrate their second victory in a row.
There was a time when Toledo could have given these Hogs all they could handle, but those teams are gone and this team is about as burned out as last Fourth of July's fireworks so this is just a scrimmage game for the Razorbacks to sharpen their tusks on before playing a real team soon. Last week the Hogs proved they could move through the air and when they steal Toledo's rockets, they'll do it again.
But don't get down on the football flub contests that have gone on so far, there's better things coming at night, but in this one, it's another cupcake eaten up by the Hogs. Larry's loser – Toledo
Oklahoma at Tennessee – Finally at 6:00pm, a game we've been waiting for all day. The Boomer Sooners roll the old covered wagon into Neyland Stadium and hope to pitch camp in unfriendly surroundings and stake out a win over one of the SEC's up and coming clubs. Last week they bullied a really bad team, but now they're in SEC country.
But ex band man Butch has built his boys up this season into believing that they can take on the biggest and best of the bad boys out there and he's aiming to use this game as his national coming out party, but old Bacardi is worried about the 30 points they gave up last week to bunch of birds. In fact, we've gone back and forth on this game for days.
Lots of people in the media believe the Vols can stop the Sooners, but they sure didn't last year in that 34-10 blasting. Personally we think the Vols will make it a much better game this time around, but neither the prognosticating pug or I think they're 24 points better this year than last year, but we do think it could be a very close game. Larry's loser – Tennessee
East Carolina at Florida – at 7:00pm Eastern time in the first of the 7pm kickoffs, we get a rematch of last year's bowl game where the Gators finally sank the Pirates 28-20 in a game that could have gone either way.
Now with the rematch with only one game played since the last meeting, these Pirates want the plunder they came close to getting last January, a win over an SEC school.
But new head coach Jim McElwain is making the offense less offensive this year and the defense could be just as strong so this year's version of this contest will have the same outcome but maybe with a bigger hole in the Pirate's boat this year. Larry's loser – East Carolina University
Ball State at Texas A&M – At 7pm, just like what happened so much last week, some feather head footballers flap their way into the SEC for a big paycheck and an even bigger butt whipping. This is just the game that new defensive daddy, John Chavis needs to keep fine tuning that defense into a unit that can finally do more than just slow down an opponent from marching up and down the field.
Not that many people will be wanting to watch this one with the other good game on the other channel, but if you're a die hard Aggie fan, the thing worth watching is if the defense can pitch a shutout against a bad Ball State Bird. If it does, maybe this team will be one worth watching. Larry's loser – Ball State
Missouri at Arkansas State – Usually the big bad SEC boys have the small fry come to their town, but at 7:00pm the mighty men from Missouri  meander down to Arkansas country to take on the ever dangerous dogs in the guise of Red Wolves.
But coach Pinkel has his Pussycats ready for these canines and he's not going to let these Sun Belt ball players to sully their season with such a slight and slipping here in this game.
These Tigers and been overlooked and underestimated too many times and though they're rebuilding this year, they won't disappoint in this game. Larry's loser – Arkansas State
Kentucky at South Carolina – It took all day, but finally at 7:30pm Eastern time, we finally get one of the two games worth watching when the Kentucky Mildcats come calling at the Carolina Clucker's henhouse.
Last week these Mildcats looked at least a little wild, but this ain't some poor boy Cajun cousin they're playing this week. Steve Spurrier wants to have a pack of mean peckers this year and improve his total on the end of year tally. But he's gonna have to squeeze a little more offense from his feathered footballers to win this contest.
While the Mildcats are improving, it's doing so at a slower rate than these coop full of cluckers and while this win won't make up for all the Chickens that got Kentucky Fried, it won't hurt any either. Larry's loser – Kentucky
LSU at Mississippi State – It took all day, but at 9:15pm, we finally have a good game with a questionable outcome when the Bayou Bengals hike North to try and bust a Bulldog on his home turf.
Dak Prescott was almost everybody's #1 SEC quarterback pick in the preseason and if he plays up to those standards tonight, it could be a terrible time for the Tigers tonight.  But something tells me, that even on the road Les Miles ain't gonna let Mullin's mutts catch his Kitties catnapping and me might just get this bunch of Bengals to put enough points on the board to put his pussycats in the win column in this one.
I expect this one to be close contest and certainly worth to watching to the end and while it could go either way, the Bayou Bengals pull this one out and starts the Dogs on a downhill slide. Every Dog has it's day, these Dogs had theirs last year. Larry's loser – Mississippi State.
Well that's it for this week folks, the pigskin pickin' pooch and thank you for coming back each week and looking over the list of likely losers with us. With one week in the books we're looking like downright geniuses and we think after this week you'll have to agree. The only games we're nervous with this week is the Vols and Sooners and the LSU-Mississippi State game and only because the Tigers didn't a chance to scrimmage last week against the Cowpokes in the lightning game, so they may be rusty.
Soon folks we'll be into the heart of the SEC schedule and the games will get better as the cupcakes start drifting away and while that'll make our job harder, it'll be a lot more fun to watch. So till then, on behalf of old Bacardi the Wonder Dog and I, we wish you happy footballing and that your favorite team won't wind up on Larry's Losers list too much this season.
Larry has been published in almost every media outlet for college sports and now primarily writes here for Touchdown Alabama. He writes is a colloquial and irreverant style for this series of articles. Larry's views and sense of humor may offend, but he aims to offend everyone equally. If he hasn't insulted your favorite team with Larry's Losers, just wait. Follow Larry on Twitter for inside thoughts and game time comments at  https://twitter.com/LBSportswriter
Thanks for sharing the link to this story on your Facebook page
Come to the "Points After" Forum on the Touchdown Alabama site and discuss your feelings on this article.