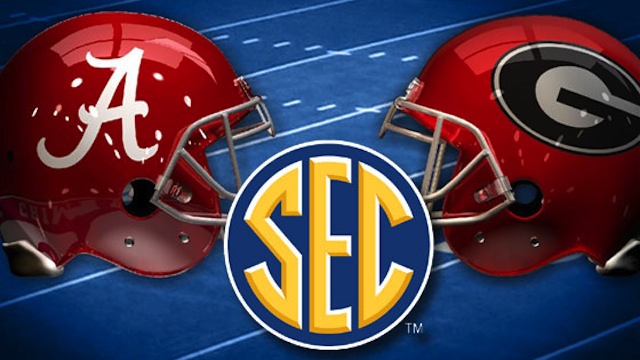 Each team has an identity, core beliefs and strengths that they feel they can rely on. Here they are.
Alabama vs Georgia – Five Things Each Team Believe are the Keys to Victory
By: Larry Burton
For any team to go into an important contest as this, you have to not only have put in the hours in the weight room, countless days on the practice field and God given skills, but you have to have faith. So what is it that each team has faith in and what do the feel that beyond doubt are the keys to their victory in this game?
Let's start with Georgia –
We can run on anybody – Yes Alabama has a great defensive front, you may stop our running game every other play, but we'll get our yards and Chubb will bust at least two long runs on Alabama.
We can pass – Though we haven't shown it very much, it's only because we were not wanting to show all our cards. But we'll catch Alabama focusing on the run on burn them badly in the passing game. We can be productive passing the ball on offense.
We win against Alabama in the special teams department – We'll make the field goals when we need to, Alabama just won't. In a tight game, that could be the difference.
We'll win the turnover battle – Alabama looks sloppy in the passing game and is ripe for interceptions and they fumble far too much. We're going to focus on helping them continue that by stressing stripping the ball.
We've peaked at the right time and Alabama is having a down year. This is just our year and our time.
Now what Alabama believes –
Georgia can't run the ball and win against us – We're too physical, too fast and too big. They just haven't played a team with athletes like us standing across the line from them. We're going to make this rookie QB have to beat us with his arm and he hasn't shown he can do that.
Our quarterback play will improve – Jake finally gets into a rhythm and does enough to make the running game work.
We will out rush Georgia – We've heard that crap before about Georgia's great running game and we stuffed it. We will have success right up the middle where our offensive linemen show their muscle. Georgia is fast covering the outside, but weak in the middle. We simply wear them down and win the rushing game hitting them with up to three different running backs and fresh legs all day.
Our depth is far superior to theirs. Georgia has a few good players no doubt, but we have twice as many. We're by no means a one man show. Georgia loses Chubb and they are toast. We lose any one player and it's next man up with little drop off.
We are just more physical – In looking at each man on man matchup Alabama has the decided advantage in size and strength. Sooner of later a man gets tired of being punched in the mouth and starts to wilt. This is Saban's "Make their ass quit" game plan at it's finest.
In the end, it doesn't matter what each team believes, it's what they're able to do that will matter. This isn't a contest of ideals and beliefs, it's a battle of man on man, it's a game where the first one to make a mistake can lose and a game of muscle and sweat in the trenches. This is where the game will be won or lost and may the best team win.
Larry has been published in almost every media outlet for college sports and now primarily writes here for Touchdown Alabama. Follow Larry on Twitter for inside thoughts and game time comments at  https://twitter.com/LBSportswriter
Thanks for sharing the link to this story on your Facebook page
Come to the "Points After" Forum on the Touchdown Alabama site and discuss your feelings on this article