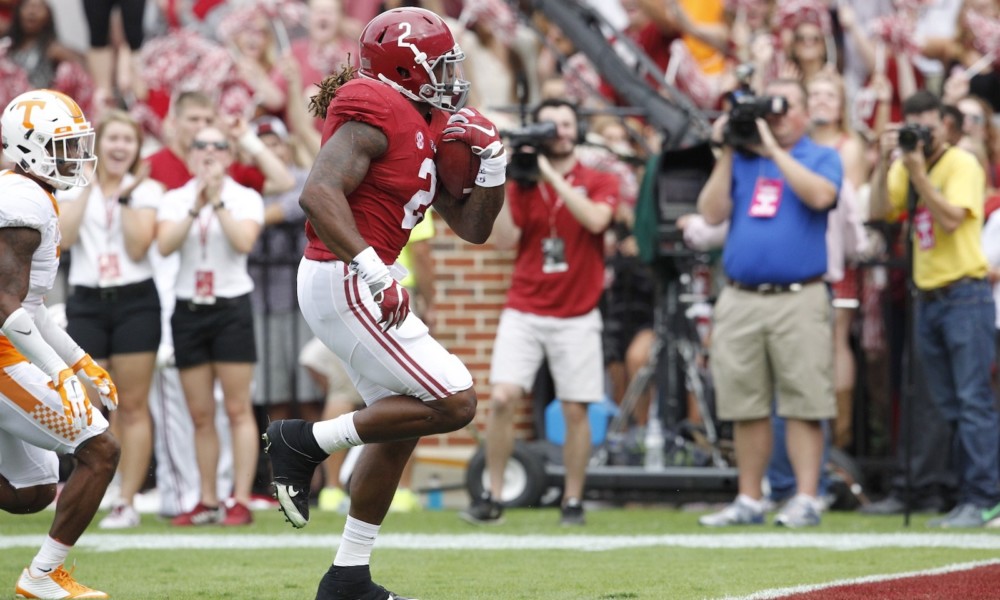 A win is a win. It is the code that Alabama head coach Nick Saban and this team lives by. Tennessee fought hard last week at Bryant-Denny Stadium, but quarterback Jacob Coker led the Crimson Tide on an eight-play drive in the fourth quarter to win the game 19-14.
Running back Derrick Henry capped off the drive with a 14-yard touchdown run, continuing his streak of consecutive games with a rushing touchdown. Outside linebacker Ryan Anderson ended all hopes for a Tennessee comeback with a strip sack of quarterback Joshua Dobbs in the fourth quarter. Yours truly of Touchdown Alabama Magazine with week eight grades.
Defensive front–Overall [B]
Summary: Linebackers Reggie Ragland and Reuben Foster anchored the group with a combined 23 tackles. Ragland had 12 tackles with one for loss, while Foster totaled 11 stops, two tackles for loss, a pass breakup and a sack. Alabama's front seven sacked Tennessee's Joshua Dobbs five times; however, it allowed 132 yards rushing. Defensive tackle Jarran Reed led the defensive line with five total tackles. Linebacker Ryan Anderson forced the lone turnover of the game for Alabama, a strip sack of Dobbs. Defensive lineman A'Shawn Robinson recovered the fumble. The Crimson Tide did limit Tennessee to 3.4 yards per carry.
Defensive backfield–Overall [B]
Summary: Dropped opportunities is why Alabama's secondary has a B this week.
Defensive backs Ronnie Harrison and Minkah Fitzpatrick both had interceptions in their hands, but could not finish the play. Senior cornerback Cyrus Jones was victimized on a touchdown pass from Dobbs to Josh Smith, but he did total four tackles. Fitzpatrick led the bunch with seven tackles and a pass breakup. Safety Geno Matias-Smith had four tackles. Dobbs completed just 59.1 percent of his throws (13 of 22), giving Alabama its seventh game holding an opponent to under a 60 percent completion mark.
Offensive Line–Overall [D]
Summary: Sophomore left tackle Cameron Robinson has played through injuries this year and last season, but Alabama's offensive line as a whole has been inconsistent. It gave up five sacks, four of which came on plays where Jacob Coker did not have time to throw the ball out of bounds. Center Ryan Kelly guided running back Derrick Henry to 143 rushing yards and two touchdowns, yet Tennessee's front line gave the Crimson Tide problems.
Special Teams–Overall [A]
Summary: Placekicker Adam Griffith and punter JK Scott both excelled last week against the Volunteers. Griffith, a junior, nailed both of his field goal attempts (19 yards, 28 yards) and executed four touchbacks on kickoffs. Scott, a sophomore, averaged 49.8 yards per boot and dropped two punts inside Tennessee's 20-yard line. He had two punts in excess of 50 yards.
Wide Receivers–Overall [A]
Summary: Wide outs Calvin Ridley and ArDarius Stewart along with tight end O.J. Howard all stepped up for Alabama against Tennessee. Ridley and Stewart each totaled 88 receiving yards. Ridley caught seven passes, while Stewart brought in five, including a 29-yard reception on Alabama's game-winning scoring drive. Howard recorded seven catches for 55 yards and accounted for two critical blocks on Derrick Henry's two touchdowns.
Quarterback Play–Overall [B-]
Summary: It was not pretty, but senior Jacob Coker found a way to win. He achieved his highest completion percentage at home and on the season last week, connecting on 77.8 percent (21 of 27) of his throws. Coker threw for 247 passing yards with an interception.
The senior was poised and efficient on Alabama's game-winning drive in the fourth quarter. He targeted Calvin Ridley and ArDarius Stewart on pinpoint passes. Avoiding bad sacks is still a looming concern, but four of those five sacks came from the offensive line not holding up.
Running back Derrick Henry earned himself an A this week for his performance against Tennessee. The junior has now gone 13 consecutive games with a rushing touchdown.
He averaged 5.1 yards per carry and totaled 143 yards with two scores.
Alabama improved to 7-1 on the season and 4-1 in Southeastern Conference play. The Crimson Tide will be off this week to rest and recover. An SEC West showdown with LSU is set for Nov. 7 at Bryant-Denny Stadium. Head coach Nick Saban and company will honor the late Kenny Stabler.
Stephen M. Smith is a senior analyst and columnist for Touchdown Alabama Magazine. You can "like" him on Facebook or "follow" him on Twitter, via @ESPN_Future.