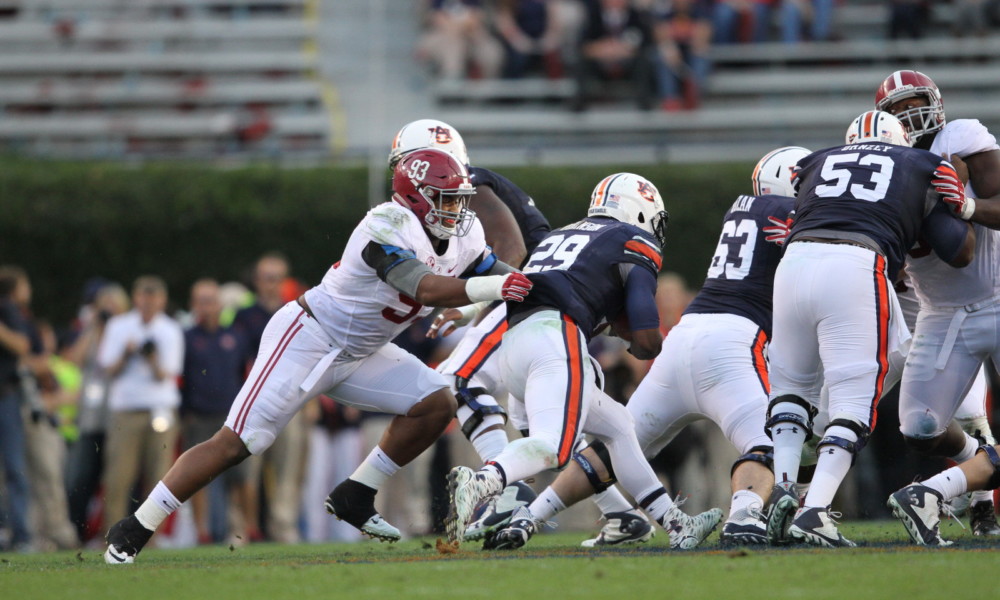 Alabama head coach Nick Saban clearly has his best defensive unit since taking over in 2007.
The Crimson Tide eclipsed 40 sacks last week in its 29-13 win over Auburn. Three takedowns of quarterback Jeremy Johnson put Alabama at 41 sacks, after it entered the game with 38. Linebacker Tim Williams and safety Maurice Smith were both credited with a sack. The Tide's entire defense was given a sack on a play in which Johnson slipped and fell. Ex-Alabama coach Dennis Franchione saw his 2002 bunch total 44 sacks.
William "Bill" Curry, who coached Alabama's 1988 team, guided a defense that sacked 60 quarterbacks. While Curry's regime has the school-record, Saban's unit stands sixth all-time in this department for a season.
Alabama is second in the nation, behind Arizona State (44) and Penn State (44).
A Southeastern Conference title showdown is set for next week in Atlanta between Alabama and Florida.
Inside Alabama's sack numbers
DE Jonathan Allen: 9.0 (team lead)
LB Tim Williams: 6.5
LB Ryan Anderson: 4.0
DT A'Shawn Robinson: 3.0
Alabama linebackers: 18 of 41 sacks (43.9 percent)
Williams and Anderson combined: 10 sacks
Alabama's secondary: 4 sacks, CB Minak Fitzpatrick- two sacks
Stephen M. Smith is a senior analyst and columnist for Touchdown Alabama Magazine. You can "like" him on Facebook or "follow" him on Twitter, via @ESPN_Future.