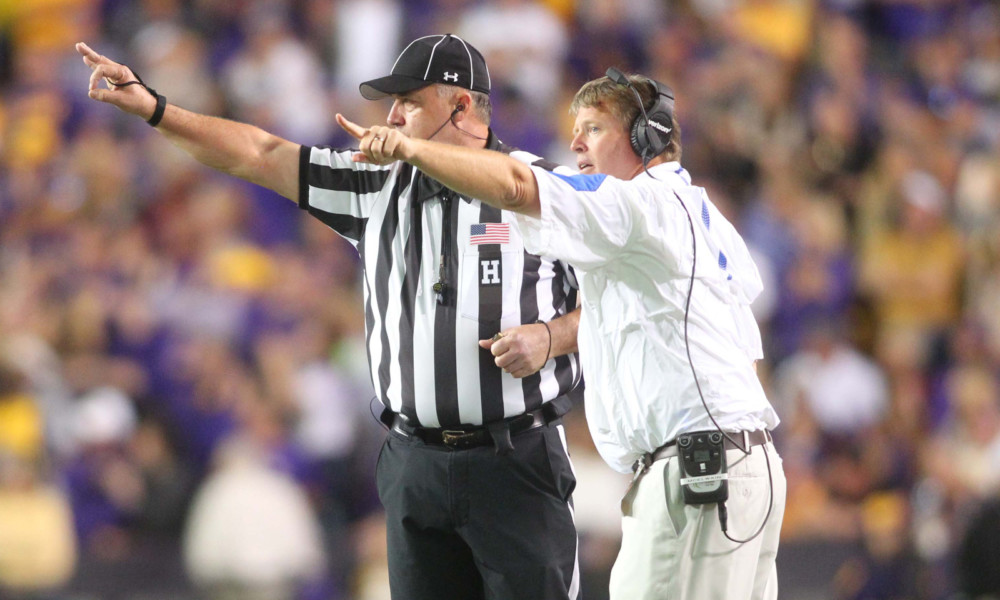 Florida head coach Jim McElwain held his weekly press conference on Monday and he showed a lot of excitement about the Florida football program. The former Alabama offensive coordinator will be facing the Crimson Tide for the second time as a head coach – he lost his return trip with Colorado State by a score of 31-6.
McElwain is in his first season as the head coach of the Gators and not many people saw them being in this position at the beginning of the season. His team is coming off of a disappointing 27-2 loss to Florida State but he wanted to make it clear that he is still proud of what his team has accomplished so far this season. Throughout the season, McElwain's motto of "Restore the Order" has already been accomplished in one season. He wanted to make it clear that the rebuild still is not done.
"It's going to take time," McElwain said when asked about getting the program back to where it used to be. "But let's celebrate what these guys have done in the short time that we've been here."
The Gators got just one first-place vote at SEC Media Days in July and were not expected to compete against the likes of Georgia and Tennessee. They ended up beating both of those teams and McElwain said that is something that should make all Gator fans proud. He called the loss to Florida State "disappointing" but the players still had a good mindset through the whole game and were committed to working on being the best team they can be.
"It's the way it should be. It's Florida and Alabama in Atlanta for the SEC Championship," McElwain said on Monday. "We don't have time to pout. We are getting ready to play arguably the best team in all of college football."
The coach continued to talk highly of Alabama and the football program that Nick Saban has established. He said it has to be "undoubtedly the best program" over the last eight years. He spoke of his time in Tuscaloosa and how much he learned while working under the Crimson Tide's head coach.
"Whether he'd believe it or not, I sat there and soaked every second and every word that he had," McElwain said. "I wrote notes and tried to learn as much as I could."
McElwain also had a lot of good things to say about the staff behind Saban, specifically defensive coordinator Kirby Smart. The Florida coach said that he knows how to locate the opponent's best tendencies and figures out how to shut them down.
"What Coach Saban and Kirby do on that side of the ball, it is rocket science," McElwain said. "The way they break it down, and what they know before you know, is fascinating."
McElwain did not stop the compliments on that side of the ball as he compared Alabama running back Derrick Henry to a run-away train. He said that Henry's ability after contact is the most impressive piece of his game.
With all the good McElwain said of the Crimson Tide, he said his team will be ready to play no matter what the experts say.
"We deserve it," McElwain said as he closed the press conference. "We will be ready to play."
Caleb Turrentine is a contributor at Touchdown Alabama Magazine. Follow him on Twitter, @CalebTurrentine.