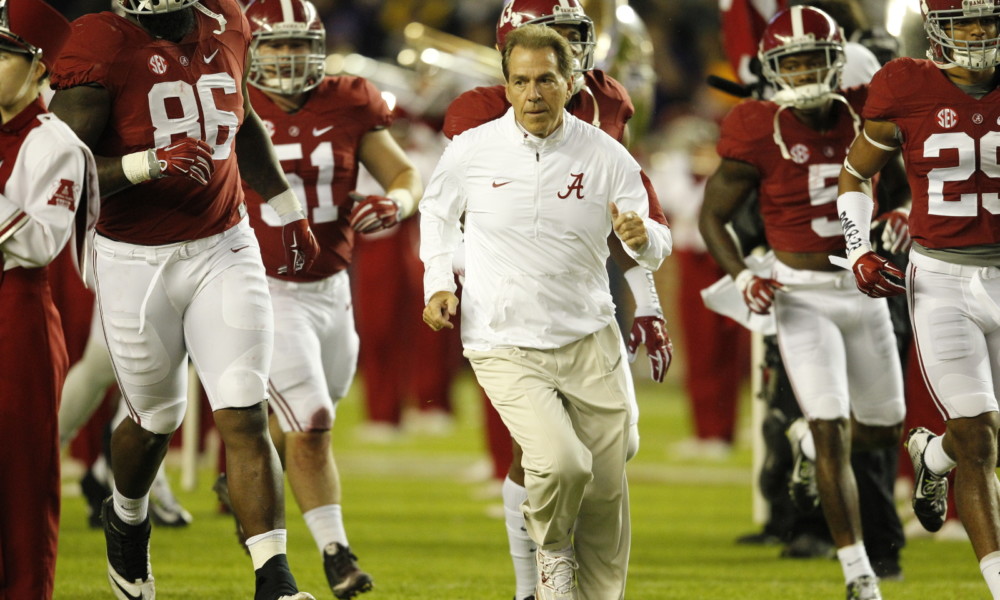 Alabama head coach Nick Saban held his weekly press conference on Monday afternoon to quickly recap the Iron Bowl and preview the SEC East Champion Florida Gators. Saban's team clinched their second consecutive trip to the SEC Championship Game in Atlanta and will likely be playing for their spot in the College Football Playoff.
The Crimson Tide are coming off a 29-13 victory at Auburn that allowed them to finish the season 11-1 overall and 7-1 in SEC play. They will be matched up against a 10-2 Florida team that has had the SEC East clinched for more than three weeks. According to VegasInsider.com, the Gators are currently a 17-point underdog but Saban wanted it to be known that this will not come easy for the Tide.
"If anybody out there thinks this isn't going to be a challenge or a real test to our team, I don't know what you're thinking," Saban said in his opening statement on Monday.
Saban called Florida both "extremely talented" and "well coached." He spoke highly of many of the offensive players including quarterback Treon Harris, who Saban compared to former Tide quarterback Blake Sims. The Alabama head coach also said that Kelvin Taylor is as good of a running back as the Tide has faced all season. Saban went on to talk about the Gator defense and focused on the secondary. He called Jalen Tabor and Vernon Hargreaves III two of the most talented cornerbacks in the league.
In the Iron Bowl, Alabama heavily relied on the run game, specifically Derrick Henry. Saban said that it is a team effort when one guy gets that kind of production but the offense still needs more guys to contribute.
"It wasn't our intention to run Derrick that much," Saban said of the one-man backfield. "It is just how the game evolved… We need (Damien Harris and Bo Scarborough) to mature, be what we need them to be in terms of their confidence and how they execute."
A full quarter of the 16-minute press conference was used to discuss the state college football coaches. There has been a lot of movement around the country in some of the major jobs and a reporter asked Saban if it might have to do with the standard that the coach has set since being at Alabama.
"I would be concerned about, from my perspective, when we lose three games, what's going to happen to me," Saban said. "Look, I'm an old school. I believe in college football and what it's all about. We're supposed to help develop people who have a better chance to be more successful in life because they were a part of the program."
Saban went on to say that he does not know the standard for each individual school or what they look at in terms of success. He mentioned that there are coaches with high graduation rates who go out and lose three games and end up being fired.
"I do think there's a lot of negative energy sometimes for whatever reasons get created when you don't have success and I think you all set us up for that sometimes," Saban said of the media.
Caleb Turrentine is a contributor at Touchdown Alabama Magazine. Follow him on Twitter, @CalebTurrentine.