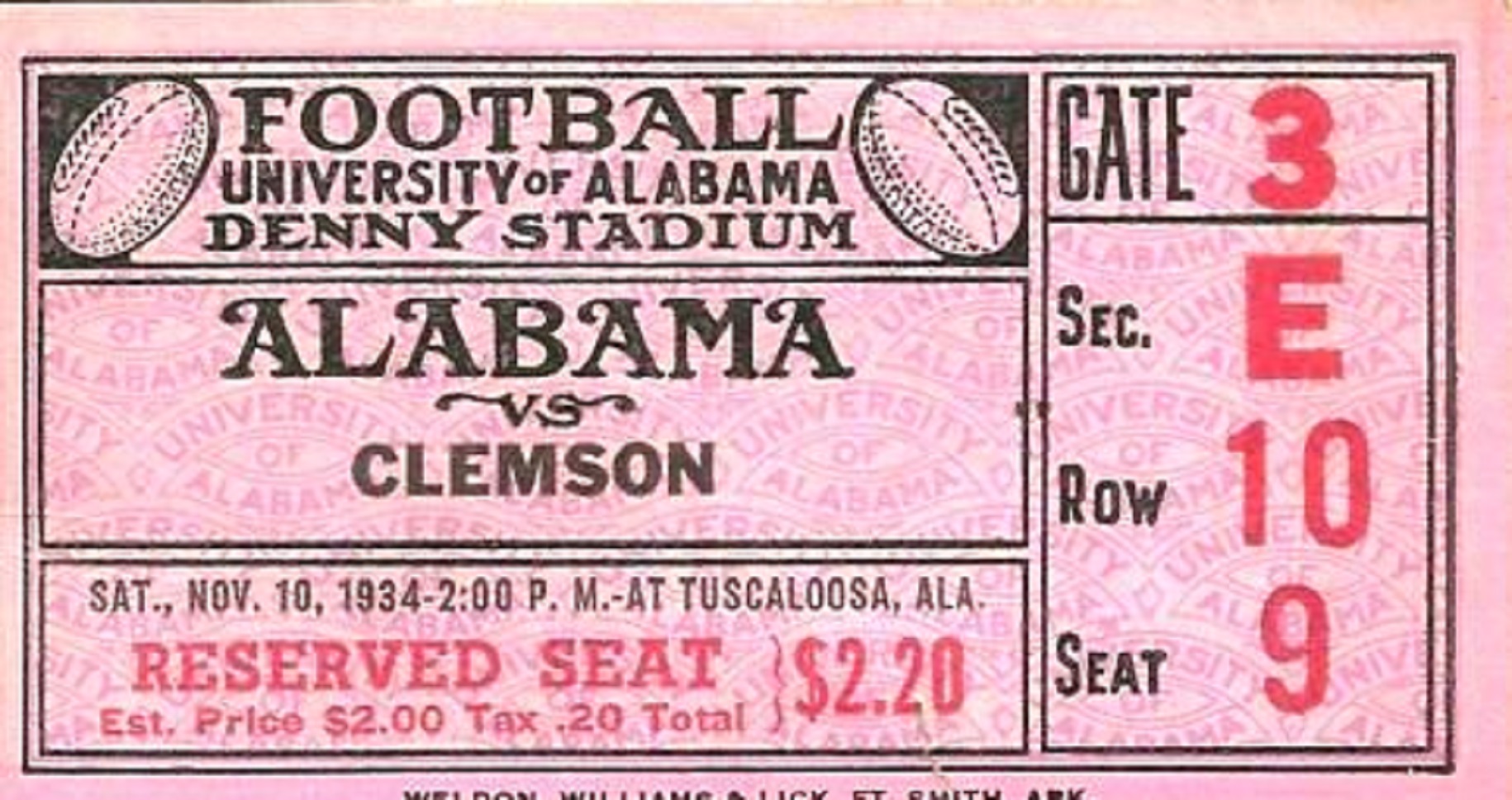 A Short History of Alabama vs Clemson
By: Larry Burton
Clemson formed its first football team in 1896, four years after Alabama fielded their first team in 1892. The two teams first met in 1900, some 116 years ago with Clemson winning the inaugural game 35-0. In fact for the next two games Clemson continued to shut out the Tide, 18-0 in 1904 and 25-0 in 1905.
The early dominance that Clemson enjoyed would soon be over as in 1909 Alabama won a defensive slugfest 3-0, then went on to win the next 11 contests in a row until today. Few fans realize that Alabama has played Clemson 15 times.
All games are listed below:
2008/08/30 Alabama 34 – Clemson 10 W
1975/09/20 Alabama 56 – Clemson 0 W
1969/10/25 Alabama 38 – Clemson 13 W
1968/10/26 Alabama 21 – Clemson 14 W
1967/10/28 Alabama 13 – Clemson 10 W
1966/10/08 Alabama 26 – Clemson 0 W
1936/10/03 Alabama 32 – Clemson 0 W
1935/11/09 Alabama 33 – Clemson 0 W
1934/11/10 Alabama 40 – Clemson 0 W
1931/11/14 Alabama 74 – Clemson 7 W
1913/10/11 Alabama 20 – Clemson 0 W
1909/10/16 Alabama 3 – Clemson 0 W
1905/10/25 Alabama 0 – Clemson 25 L
1904/10/08 Alabama 0 – Clemson 18 L
1900/11/29 Alabama 0 – Clemson 35 L

The average score is Alabama 26 – Clemson 8.8 and games have been played in Columbia, South Carolina, Birmingham, Alabama, Montgomery, Alabama, Tuscaloosa, Alabama and Atlanta, Georgia. While Alabama dominates both the home and away records, in neutral site games, Alabama leads by a small 3-2 margin.
This is the first time in all 15 contests that they have met in a post season bowl. The two coaches have met once in a contest, with Dabo Swinney as an assistant coach for Clemson and Nick Saban as head coach at Alabama in the 2008 Chik Fil A Kickoff Classic in Atlanta. Clemson was a slight favorite, but the Tide won handily. That game helped get Clemson coach Tommy Bowden fired and paved the way for Dabo Swinney to land the job. This is the second time the two teams have met while ranked, the other was the same 2008 game when Alabama was ranked 24th and Clemson started the season ranked 9th. That game propelled Alabama back to national attention and was the first of Saban's big opening day opponent games he's done ever since.
It's interesting to note that all three Clemson coaches of note in Clemson history, were all from Alabama. Frank Howard and Danny Ford both played and coached at Alabama before becoming the Clemson coach as did current coach Dabo Swinney. "Howard's Rock" is planted at the current football stadium and is the shrine that all Clemson football players rub on their way from the locker room to the field before each game. Ford and now Swinney are the only two coaches to lead Clemson to a national championship game. So you could say all Clemson's glory years are directly due to Alabama football players.
Now what does this have to do with the game that will be played in just a few days? Absolutely nothing. It doesn't matter who owns what streak against who. No player in this game ever participated in a game against the other. Most players were in jr. high school the last time these two teams played everything that's happened in the past has no significance to this game, but at least now you know the history.
Larry has been published in almost every media outlet for college sports and now primarily writes here for Touchdown Alabama. Follow Larry on Twitter for inside thoughts and game time comments at https://twitter.com/LBSportswriter
THANKS FOR SHARING THE LINK TO THIS STORY ON YOUR FACEBOOK PAGE