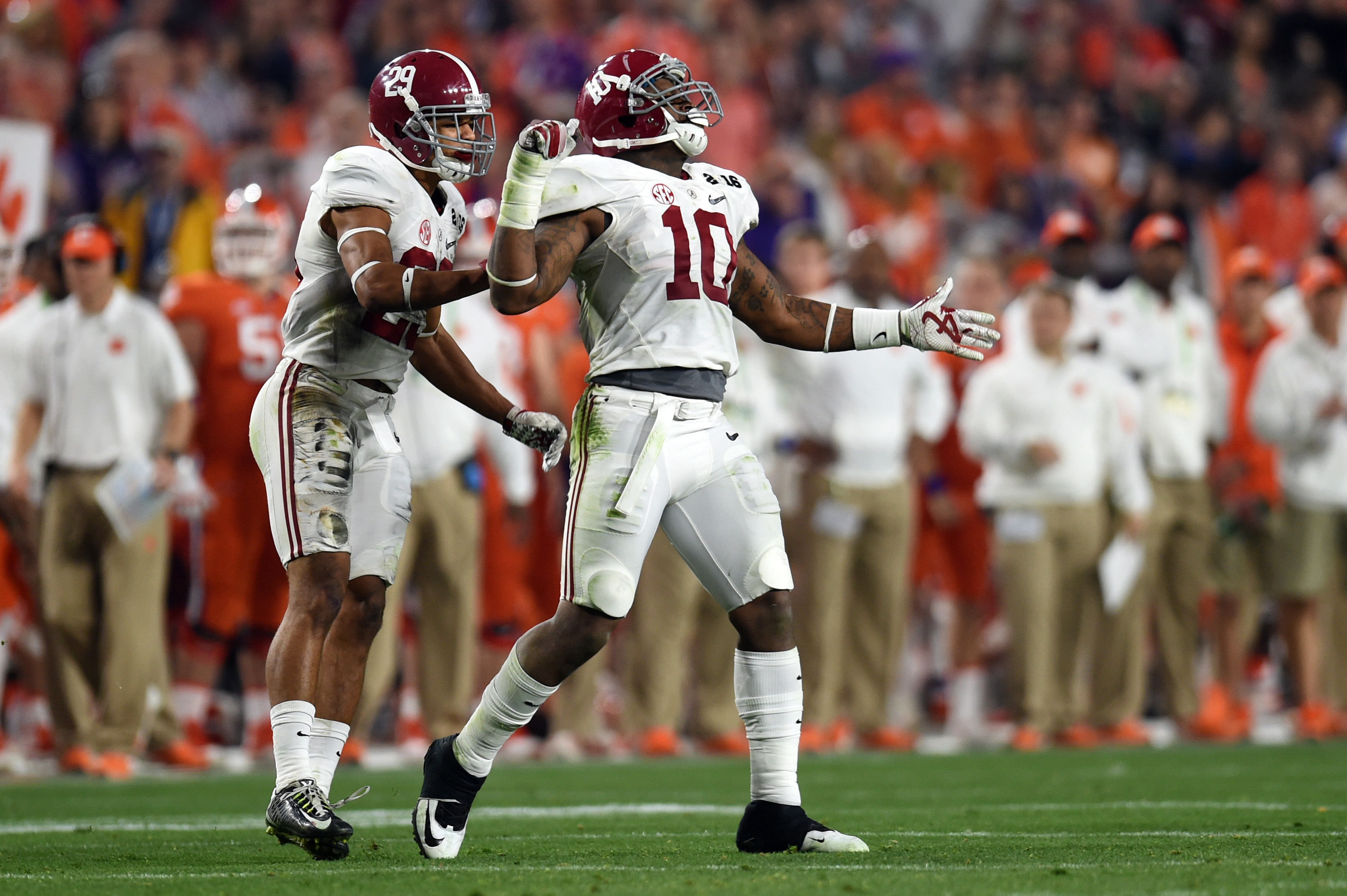 The winning of a national championship is a feeling only a select few can speak towards. Many times, the lore of a huge victory is enough to cloud the judgment of many underclassmen believing a trophy will help propel them to greater heights in their next journey. For Alabama's Reuben Foster, the decision had to be a tough one, but in the end, a return back to the Capstone will pay dividends in more ways than one.
Foster finally got the chance to start in 2015 after being lauded as one of the top 10 best players in the nation in 2013. The talented middle linebacker wowed the crowd many times with crashing hits on special teams and had fans salivating at the chance to see him line up full-time on defense. Well, he did this year, and did not disappoint.
While lining up next to eventual first-rounder Reggie Ragland, Foster showed just why Nick Saban and Kirby Smart could not wait to showcase his true talents as an every down linebacker, and not just a crowd-pleasing special teams head hunter. He was second on the team in tackles behind his mentor with 73, and contributed eight tackles for loss.
The production he showed this year was enough to convince NFL personnel the 6-foot-1 245 pound physical specimen can play on the next level, and be a force for years to come. However, just like Ragland proved in 2014, he too knew there was still more to learn and while a second or third round draft position would have been nice, his worth was far greater — and he proved that and more this season.
For Foster, the decision to return had to be tough in some ways. I get it, the possibility of changing one's financial position is enough to sway any young player. However, the idea is to have a sustaining career and not a temporary paycheck. One more year at Alabama will do exactly what it did for Ragland that it will do for Foster — make him a very rich man, and for a long time. The opportunity to learn, grow, and mature under Saban is priceless. Expounding on leadership skills is a trait that will allow Foster to go into any NFL locker room and make grown men follow him.
In addition, having the opportunity to repeat is a special feat, and the supporting cast he has returning I'm sure didn't hurt. Eddie Jackson, Marlon Humphrey, Jonathan Allen, and Ryan Anderson to name a few are still on the roster, and if there is a drop off in production on defense, it will be minimal.
Only time will tell whether Foster's decision will pay off or not. But for now, it appears he made the right one.
Brandon Williams is an Editor and Columnist for Touchdown Alabama. You can follow him on Twitter, @BWilliamsTDAL, "Like" him on Facebook, or add him to your network on Google.