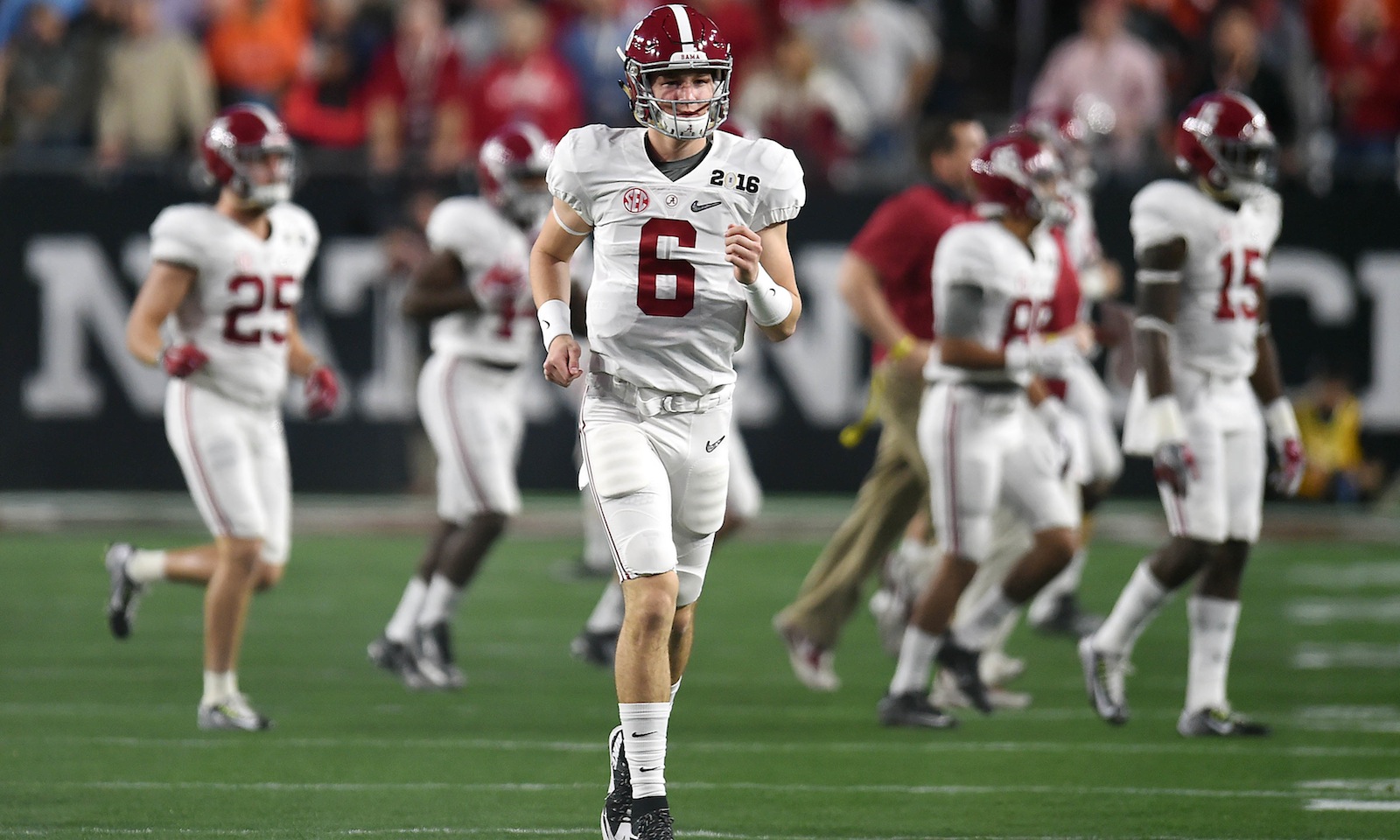 For three years, Nick Saban and the Alabama Crimson Tide were spoiled when Mobile, Alabama native AJ McCarron steadied the ship as Alabama's signal-caller. During his tenure, he became Alabama's winningest quarterback and led the Tide to back-to-back national championships, and a fluke play away from a possible three-peat. While Saban eventually struck gold in 2015 with the emergence of Jake Coker, the decision for 2016 may be far more difficult.
Since McCarron, the Tide has relied on two fifth-year seniors in Blake Sims and Coker to operate the offense and lead their teams respectively. While many believed Coker would be the successor to McCarron in 2014, similar to their high school days, Sims had other plans and wrecked the homecoming party for Coker by eventually beating him out and starting the entire season.
Coker's struggles began to mount in the offseason last year as he never quite garnered the complete trust of Saban and offensive coordinator Lane Kiffin to be named the outright starter heading into the season after spring practice. With constant reports that redshirt freshman David Cornwell was nipping at his heels, many believed Coker's days were done as a quarterback for the Tide. Luckily for Coker, the Cornwell talk subsided, but two new names rose to the top in Cooper Bateman and Alec Morris.
While Coker eventually began the season as the starter, shaky play early on forced the hand of Saban to look for a spark from Bateman, who took the opening snaps against the Ole Miss Rebels. Bateman looked to be up for the challenge in the onset, but after a costly interception in the second quarter, Saban quickly pulled the plug and turned to Coker — for good. Despite a loss to the Rebels, Saban found his quarterback and the team found their leader after witnessing one of the gutsiest performances from an Alabama quarterback in recent memory.
Now, Coker is gone. There are no more upcoming fifth-year seniors to turn to, and Saban must look to what is on the roster to put the Tide in the best position to not only repeat, but do what McCarron did during his time on the Capstone.
The most likely to succeed Coker candidates? That would have to go to Bateman and redshirt freshman Blake Barnett.
Bateman makes sense due to him being in the program for four years now. He's a redshirt junior and for the most part held his own against a tough Ole Miss defense. He has a good understanding of Kiffin's offense, as well as having good mobility. A solid spring is all that is needed for him to sow up the quarterback battle that will ensue shortly.
The most intriguing candidate, and one Alabama fans will flock to the annual A-Day game this spring is Barnett. Coming in as a mid-year graduate last January, Barnett did not look the part yet of an SEC quarterback due to his frail 6-foot-5, 200-pound frame. A year in Scott Cochran's strength and conditioning program is sure to do wonders for Barnett and his confidence. For those who know little about Barnett, he's been raved by from many analysts as well as quarterback guru George Whitfield who has worked with him in the offseason. He plays very confident, has a good strong arm, and is quite mobile for his size.
However this battle plays out, I would bet that Saban would prefer to figure it out a lot sooner than he did last year when he had five starters listed on his preseason depth chart. Who knows, if Cornwell stays, he may very well win the job or even true freshman Jalen Hurts.
Many prognosticators will choose Alabama as an early favorite for next year's national championship. They are literally a quarterback away from repeating.
Brandon Williams is an Editor and Columnist for Touchdown Alabama. You can follow him on Twitter, @BWilliamsTDAL, "Like" him on Facebook, or add him to your network on Google.