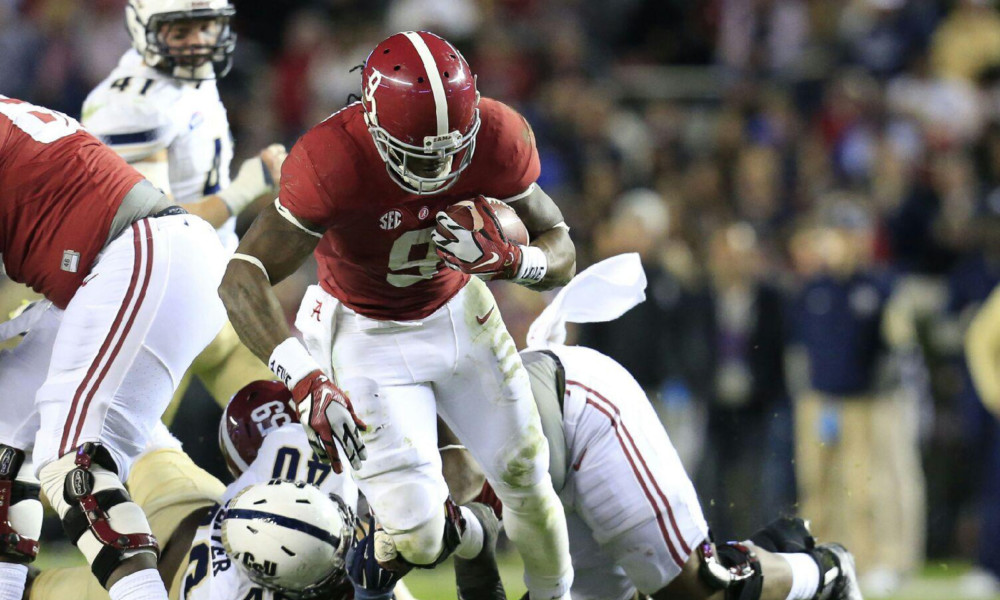 The running back position for the Alabama Crimson Tide has consistently been one of the most prestigious and scrutinized positions in its history. In the span of just seven years, the Tide has produced two Heisman winners — both running backs — to go along with four draft picks selected in the first two rounds. Last year's workhorse was none other Derrick Henry who set out a goal to be a dominant force in the game, and he did not disappoint. For a program with such esteem attached to one position, it's only fitting this elite fraternity add one more name as a possible candidate to their group. The name, which has been something of a legend — even a folk tale — is Tuscaloosa native Bo Scarbrough.
If there were ever a man to replace Henry — who stood every bit of 6-foot-3 and 242 pounds of freakish athleticism — that man would be Scarbrough. Standing himself at 6-foot-2 and around 240 pounds, he too possesses uncanny athleticism and speed for his frame. For those who've watched him play in person, you'd think they were talking about former Oklahoma Sooners star Marcus Dupree, who was dubbed "The Best That Never Was" according to the "30 for 30" documentary. Just like Dupree, high school teams were no match for Bo and while he took a detour on his journey to get into Alabama, fans constantly stalked his every move and anticipated anxiously for his arrival back in T-Town.
The passing of this torch has some significance, and one many Alabama fans will hold close to their hearts. It has been a long time since a hometown kid has graced the backfield for Alabama, and one who is as highly touted as Scarbrough. Former Central High School standout Dennis Riddle was the last Tuscaloosa native to be a feature back for the Tide, and that being 20 years ago.
Now, before we get ahead of ourselves, I'm not suggesting that Scarbrough will just step right in and have a Heisman-like season akin to Henry's. However, the fact of the matter is that history has shown us the next man up for Alabama running backs typically bodes well. Don't believe me? Just look at the numbers.
2009 – Mark Ingram – 14 games, 271 carries, 1,658 yards, 17 TD's
2011 – Trent Richardson – 13 games, 283 carries, 1679 yards, 21 TD's
2012 – Eddie Lacy – 14 games, 203 carries, 1322 yards, 17 TD's
2013 – T.J. Yeldon – 13 games, 207 carries, 1235 yards, 14 TD's
2015 – Derrick Henry – 15 games, 395 carries, 2219 yards, 28 TD's
The numbers as you can see, don't lie. The gaps in between suggest years where a tandem was more prevalent in the backfield as opposed to a more feature back role. With fellow five-star back Damien Harris looking to battle for major reps, nothing is for certain for Scarbrough. Be that as it may, if history is on the side of Alabama running backs, Bo time could be the right time in 2016.
Keep an eye on this one.
Brandon Williams is an Editor and Columnist for Touchdown Alabama. You can follow him on Twitter, @BWilliamsTDAL, "Like" him on Facebook, or add him to your network on Google.