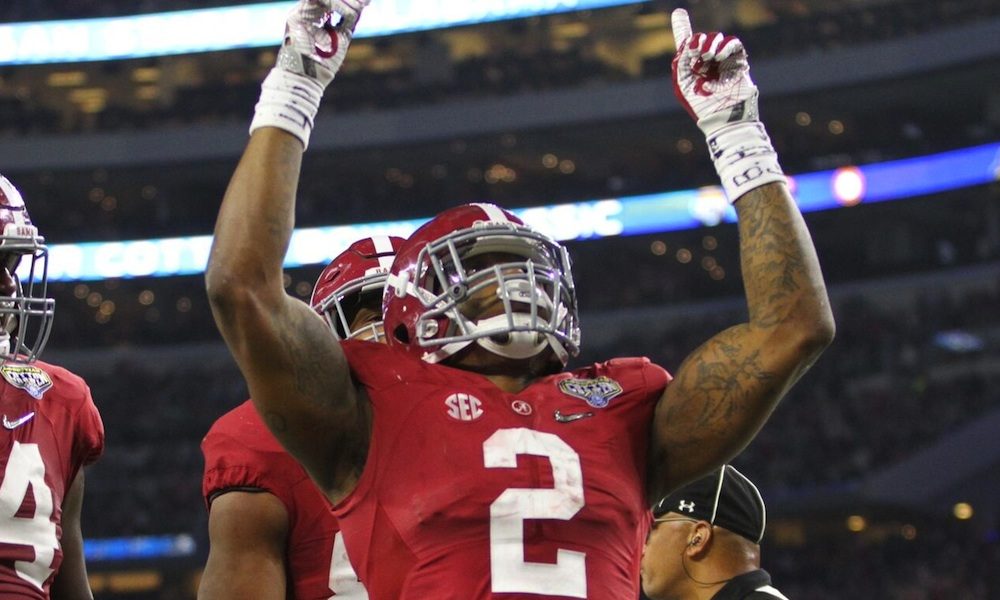 The 2016 season was a dream come true for Derrick Henry. The Yulee, Florida native did what very few have, which is to win both a Heisman trophy and national championship in the same season. With all of the awards and accolades on his resume`, he is still looked at by many to fall to the second round of the 2016 NFL Draft.
For all of the analysts and scouts around, it is surprising how so many seem to be lost on exactly what it takes to be considered an elite prospect for the draft. Whether or not the powers that be actually played the sport or not, for all of the wrong reasons, players like Henry tend to slide in these drafts in favor of someone who tests well in drills that have very little to do with the game itself.
Without fail, every year, someone will rise to the first round after the sports world has a collective orgasm when said prospect runs sub 4.4 in the forty-yard dash or boasts an epic broad-jump. Forget whether or not the prospect has excellent character, leadership skills, and impacted his team greatly by his mere presence on the field — those don't seem to matter as much.
Even still, Derrick Henry embodies these characteristics.
At 6-foot-3 and 242 pounds, his frame is not exactly ideal being his long legs and towering torso make him more of a target for tacklers. Wait a minute…lest we forget this same tall running back managed to run for over 2,000 yards this season — many of them coming against respectable competition.
For just a moment, I'll play the game with the analysts. Let's toss out the numbers, and look at exactly what NFL teams are looking for in a running back.
The difference between college and pro is glaring. Many top players flame out due to not having the ability to translate their college game to the NFL. Running backs nowadays are found off the street to fill in on a weekly basis for players who become injured throughout the season. To be an effective runner in the NFL, one must be durable (check), have good vision (check), possess great strength (definite check), an efficient pass protector (check), and have top-end speed (check). Hmm…
Now, before anyone thinks I'm questioning whether these analysts believe he can play in the league or not is obviously not the case. He's been given a universal second-round grade, so it's clear these same people believe he has the ability to come in and start for a NFL team. However, the notion that he's a second-round caliber running back is absurd. While he doesn't check all the boxes like an Adrian Peterson — he most definitely has the makings of a first-round back.
I'm predicting things will eventually change — as they often do when players begin to interview, workout, and put on a show for prospective teams. Henry will test well. He will run faster than what is predicted, and he will immediately change the scope of what people think of him in a matter of months.
But, just with any player, it only takes one team to fall in love with you. There are a few teams who could use a running back early, and if I were a betting man, I'd say the New England Patriots will find a way to steal him late in the draft by trading from the second round to get him.
Some people may believe he's a second round talent, but smart general managers won't let him get away that easy.
Brandon Williams is an Editor and Columnist for Touchdown Alabama. You can follow him on Twitter, @BWilliamsTDAL, "Like" him on Facebook, or add him to your network on Google.