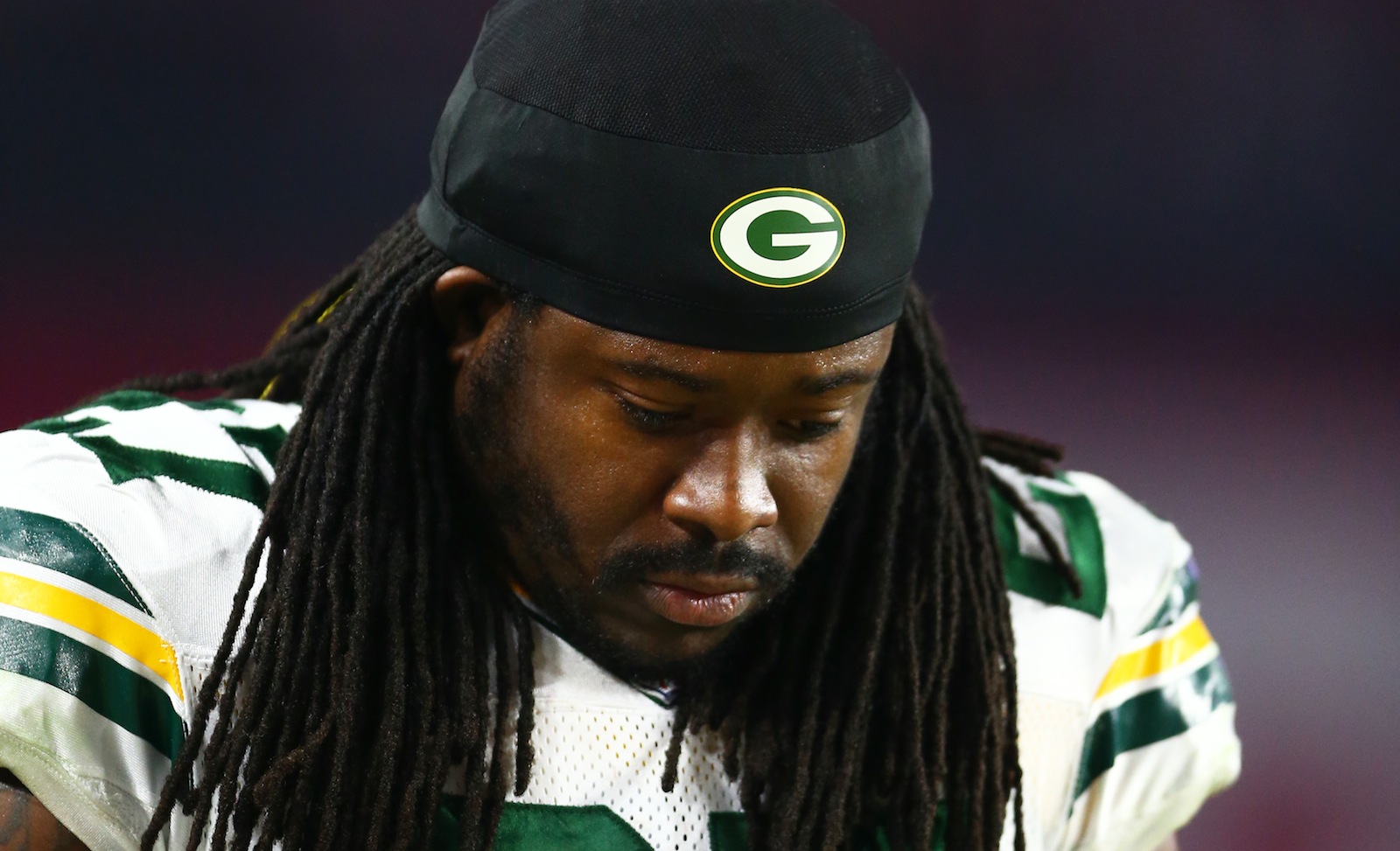 Year three for Eddie Lacy was supposed to be a true breakout year. After a stellar rookie season in which he was named the NFC Offensive Rookie of the Year after rushing for 1,178 and 11 TD's, he followed that up with a sophomore season just as impressive with 1,139 and 9 TD's. With an assumed much larger role in the offense this year, Lacy was primed for a huge year, yet nagging injuries and what coach Mike McCarthy noted a weight problem — derailed those plans completely.
Since entering the league in 2013, Lacy has been scrutinized for his weight and when unflattering training camp photos surfaced of Lacy appearing to be overweight, the internet dubbed the former Alabama star as "Fat Eddie" and from then on, speculation ensued as to whether that would be an issue. Well, for the first two years, it wasn't — until this year.
According to Lacy's profile, he's listed at 5-foot-11 and 234 pounds. However, a report over the summer had him listed at 242. Even still, it appeared someone was being a tad bit generous to Lacy as many times he looked north of 250 and the decrease in carries and overall production seemed to factor into his size.
After a season in which Lacy failed to match the production of the previous two, McCarthy let his frustrations known publicly about his star running back, and did not hold back with some scathing comments. According to an NFL.com report, McCarthy stated, "He's got a lot of work to do. His offseason last year was not good enough and he never recovered from it. He cannot play at the weight he played at this year."
The latter remarks almost suggest McCarthy would be willing to reinforce more punishment in decreasing playing time should Lacy not take his weight as seriously as he needs. While many young players struggle with the importance of taking care of their bodies — seemingly still believing they can eat whatever they want — that is far from reality.
In order for Lacy to please McCarthy and his Green Bay Packers teammates, he must change his diet dramatically. If there's a tendency to eat fast food or even fine dining more often, it is time to curb those urges and look into hiring a private chef who is professionally trained to cater meals around his appropriate and desired weight.
The decision to do this will have to come from Lacy. The maturity it takes as a professional athlete is one that separates good players from average players, and great players from good players. Lacy's first two seasons highlighted his potential as a possible great player, however, his 758 yards last season should serve as a wake-up call to what average looks like.
Lacy is not the average type. If he wants it bad enough, he'll do what is necessary and show up to training camp a new man.
Brandon Williams is an Editor and Columnist for Touchdown Alabama. You can follow him on Twitter, @BWilliamsTDAL, "Like" him on Facebook, or add him to your network on Google.