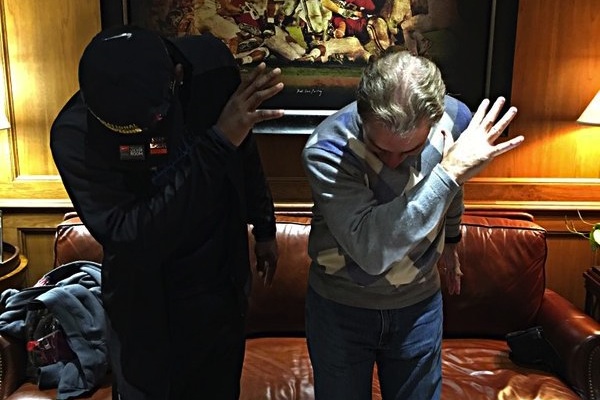 For years, Alabama's Nick Saban has been viewed as a Scrooge by many outside of the Alabama football complex. His all business approach has rubbed many outside of the Crimson Tide fanbase the wrong way, and even caused a few within the Tide community to scratch their heads wondering if the hall of fame bound coach would just relax a little. Visions of the 2009 BCS Championship game against the Texas Longhorns bring to mind Saban frowning terribly when being doused with the Gatorade bath. Now, in 2016, Saban is doing much more, he's adding "The Dab" to his repertoire and that's not all.
So far this year, Alabama fans have seen Saban crack a huge smile after a win — that was not a national championship, as well as bust a small move. While many are just getting used to the lighter side of Saban, this is not the first time he's let loose a bit and let his hair down. Alabama fans may remember this gem back in 2007 when Coach Saban busted out the "Cupid Shuffle" and did a mighty fine job at that.
Coach Saban Cupid Shuffle
For those unfamiliar with "The Dab" it was made famous by former Auburn quarterback and now NFL MVP Cam Newton. The craze has gone viral and kids all over as well as grownups have taken to the phenomenon.
This weekend is a huge weekend for Alabama as they are hosting tons of recruits, many looking to make their college decisions soon. Carver High School five-star linebacker Lyndell "Mack" Wilson is one of those recruits Saban and company would love to land and if this is considered pulling out all the stops, you better believe it goes a long way with recruits. Check out the form.
Everybody been waiting on this!!!! Now who the livest coach in America🇺🇸 ?? #RollTide pic.twitter.com/WS0tJOlz8f

— Mack Wilson Sr. (@5mackwilson1) January 24, 2016
This is pure speculation, but I'm sure Saban feels pretty confident about this recruit to put himself out there like this, but we shall see.
Brandon Williams is an Editor and Columnist for Touchdown Alabama. You can follow him on Twitter, @BWilliamsTDAL, "Like" him on Facebook, or add him to your network on Google.