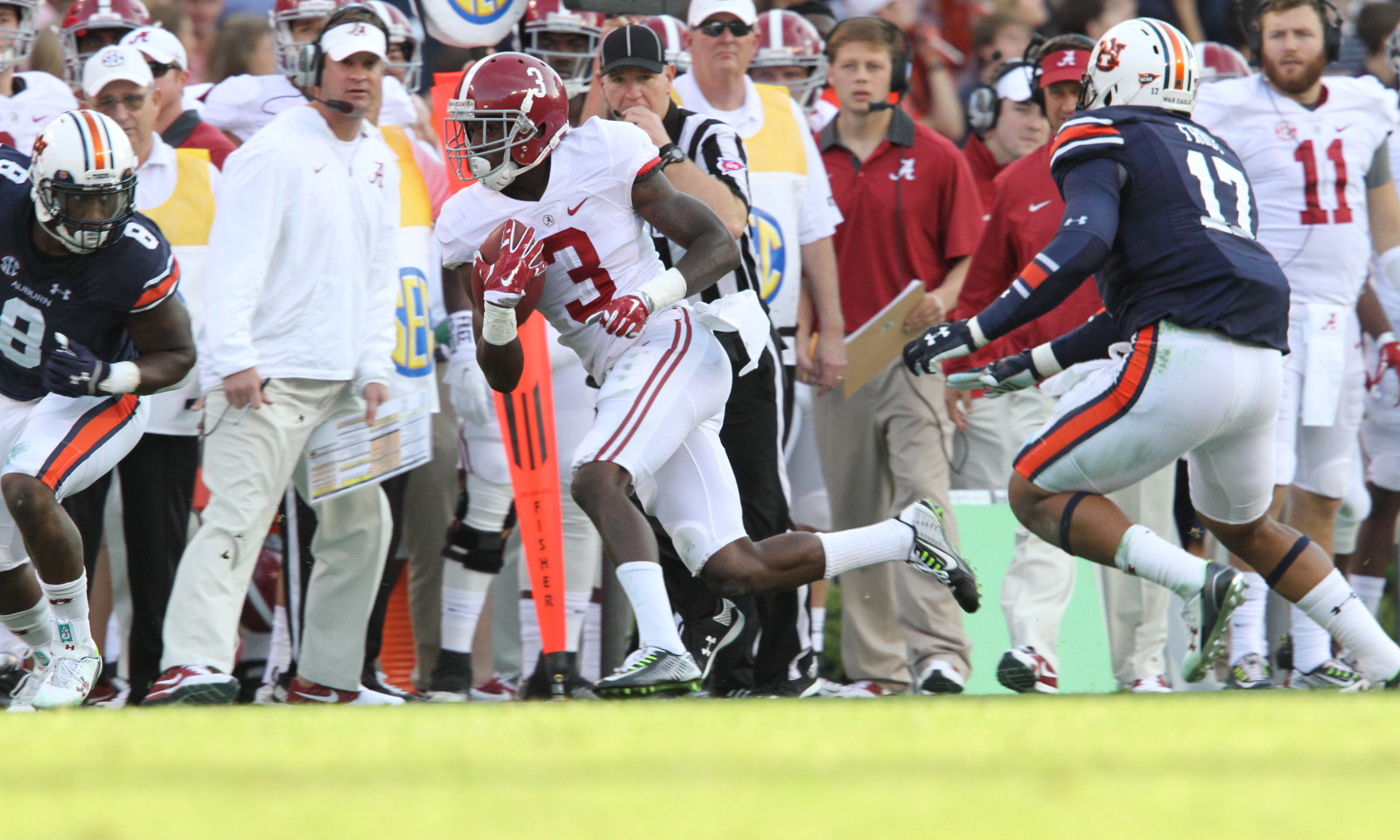 It is a real issue that only occurs to headline names.
The term "sophomore slump" means when a athlete's second effort fails to reach the success of its first. Injuries and a boosted ego from various media outlets are the usual suspects causing this problem. For Alabama, it had four players that were instrumental in its national champion run in 2015.
Yours truly of Touchdown Alabama Magazine provides a breakdown of all four individuals and how each will look to continue its success from last season.
4. Ronnie Harrison, Defensive back
Harrison was one of three freshmen that earned playing time in the secondary last season.
A former four-star prospect, he played in all 15 games and recorded 17 total tackles. Harrison added six pass breakups, a quarterback hurry, a forced fumble, a blocked punt, a sack and a tackle for loss to his stat sheet. He recorded two of Alabama's 19 interceptions in 2015.
Geno Matias-Smith, Harrison's predecessor, had a solid freshman campaign in 2012, but struggled in the following year. He was picked on a lot by opposing quarterbacks and also dealt with off-field issues (two charges of driving under the influence). He ultimately was able to rebound during his junior and senior years, with last season being his most productive one.
Size is not a troublesome for Harrison at 6-foot-3, 218 pounds. With Eddie Jackson returning, he will have someone to take cues from as he steps into a starting role at strong safety.
3. Marlon Humphrey, Cornerback
The departure of Cyrus Jones to the National Football League gives the baton to Humphrey for next season. Turning to face the football should become more of a routine for him as Alabama enters spring practice and other sessions.
He finished seventh on the team in tackles (45), while adding 3.5 tackles for loss, eight pass breakups, two forced fumbles and three interceptions.
All three of Humphrey's takeaways came against Southeastern Conference competition—Georgia, Mississippi State and Florida—in 2015. He got the key block in Jackson's 50-yard interception return touchdown against Georgia and made the most pivotal play in the national championship game, recovering Adam Griffith's onside kick in the fourth quarter.
Humphrey, unlike Jones, has more size at 6-foot-1, 192 pounds. Couple that with his exceptional speed as a track athlete should prepare him for a strong redshirt sophomore season in the fall.
2. Minkah Fitzpatrick, Cornerback
People knew Fitzpatrick was good, yet seeing the New Jersey native in person opened a lot of eyes last year. He pushed both Humphrey and Tony Brown during fall camp, earning a starting role at "Star" in the Crimson Tide nickel defense.
His size (6-foot-1, 192 pounds) and mental preparation led to 45 total tackles, three tackles for loss, a quarterback hurry and a blocked punt.
Fitzpatrick led the unit in pass breakups with 11 and chimed in with two sacks, leading all defensive backs. Both of his interceptions came against Texas A&M at Kyle Field.
He became the first Alabama defender to return two interceptions for touchdowns in the same game.
Brown's demeanor heading into spring ball is what separates Fitzpatrick from moving opposite Humphrey at corner or remaining at Star. Having Fitzpatrick opposite Humphrey would give Alabama two corners that are over 6-feet and nearing 200 pounds. A chance to display physicality and be a lockdown defender is something that should intrigue Fitzpatrick.
Brown was hardly seen on the field last season, despite totaling 10 tackles and a pass breakup as a freshman in 2014.
He collected 16 tackles as a sophomore, with a majority coming on special teams. Temperament issues led to Brown's decrease in production. A strong outing from Fitzpatrick during this offseason could led to Brown being pass on for a second time.
1. Calvin Ridley, Wide Receiver
Ridley graciously accepted the crown left behind by former Crimson Tide standout Amari Cooper. Offensive coordinator Lane Kiffin slowly worked him into the offense and it paid off with Ridley's first touchdown reception in the SEC against Georgia. He, like Cooper, showed last season that size is not the lone factor in being a stellar target. His hands, speed and route running capabilities made him almost impossible to defend. Ridley led Alabama with 89 receptions for 1,045 yards and seven touchdowns. He became the first freshman wide out in school history to record over 1,000 yards receiving (Cooper- 1,000 yards in 2012). Ridley had four outings in which he totaled 100 yards, with three occurring against Georgia, Florida and Arkansas.
He came up huge for quarterback Jacob Coker in the Goodyear Cotton Bowl against Michigan State, grabbing eight passes for 138 yards and two touchdowns. His efforts earned him a spot on both Sporting News and SEC All-Freshman teams.
Cooper and ex-Alabama superstar Julio Jones are two of the more beloved wide receivers in school history. Both players were exceptional as freshmen; however, a sophomore slump hit them during the following season. Jones caught 58 passes for 924 yards and four touchdowns in 2008, while a broken hand limited him to 43 receptions for 596 yards and four scores in 2009.
Jones would have his best season as a junior in 2010, bringing in 78 passes for 1,133 yards and seven touchdowns. A metal plate was inserted into his hand during the 2010 offseason, prior to him playing.
A toe injury would cause much frustration for Cooper as a sophomore in 2013.
He caught 45 passes for 736 yards and four touchdowns, after having 59 catches for 1,000 yards with 11 scores in 2012.
The toe problem would force Kevin Norwood and DeAndrew White to step up, while Cooper did not feel completely healthy until late in the year. He return with a strong game against Auburn, amassing 178 receiving yards and a touchdowns on six catches.
Cooper ended up having a phenomenal junior year in 2014, collecting 124 catches for 1,727 yards and 16 touchdowns.
He was the recipient of the Fred Biletnikoff Award and a finalist for the Heisman Trophy.
Stephen M. Smith is a senior analyst and columnist for Touchdown Alabama Magazine. You can "like" him on Facebook or "follow" him on Twitter, via @ESPN_Future.