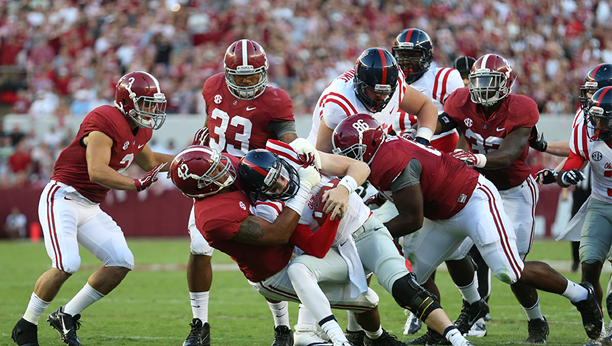 Alabama's First Three Games Will Show How the Season Will Go
By: Larry Burton
Many in the sports writing business have pegged Alabama as a main contender to possibly make it to a third straight College Football Playoff game. For most teams, you aren't really sure if that's a possibility until the games in October have passed, but with Alabama, you'll pretty much know all you need to know after the first three games in September.
The first game will be against PAC 10 power who won the Southern Division of that conference last season. Though the boys in Las Vegas have them pegged as a double digit underdog, it will still be a daunting game for one huge reason, both teams replace their quarterbacks. Therefore, one could shine, the other bust and any outcome now becomes possible.
All Alabama fans know that a competition is still raging in Tuscaloosa and that whoever wins the job will be playing in his first college start. They may not know that USC replaces Cody Kessler, who is now a Cleveland Brown. Speaking of replacements, USC won't be looking for many of them, especially on offense, where 9 of the 11 starters return including a pair of running backs who have both run for 900+ yards and all the linemen who made that possible.
In fact, pretty much everyone that knows football has picked USC to be one of the best offensive lines in the country this year. Every position is experienced and good and they work as a group without a glitch. Therefore, expect the Trojans should have a good running game and we can gauge just how good this defensive front is really going to be. Shutting down a veteran group like that who has posted big numbers means that the Tide indeed could have a better defense than last season and that is saying a hell of a lot.
They also bring back all of their receivers from last season and it is a very talented group and very deep too. Last season they had 13 players who caught passes and they're all coming back. They can test the Alabama secondary as they run precise routes and have shown the ability to improvise well if the QB is in trouble. Believe me, this is a team that can move the ball and if their quarterback gets hot, can present Alabama with a lot of problems.
On defense, USC returns just six starters, but USC was like Alabama last season and rotated many people in and out. In fact, they return 84 players from last season and 61 of those saw action and 35 of them had started a game.
Specifically on defense, they return three of their four top tacklers and their interception leader. But they will have a problem trying to stop the Alabama running game. They have pretty much lost most of their front line defensive staff and while this year's starters have had game time experience, this is a tough first game trying to stop Alabama's one two punch of Scarbrough and Harris. This is the main reason many have Alabama as a double digit favorite.
However they are fast and agile and will have their moments to be sure. USC head coach Clay Helton feels he has some future All American talent there and this could be a coming out party for maybe one or two of them.
The defensive backfield however should be a good one and they will make a rookie quarterback pay for any questionable or errant throws. Whoever wins that starting quarterback job in Tuscaloosa will find a group that has great closing skill and experience in disguising coverages.
If the new quarterback does well against this group, then you can expect him to light it up even more as he gains more experience and confidence. If he struggles here, he could struggle even more against Ole Miss.
As a team, should Alabama handle USC with relative ease, you will know that this is indeed a team with the possibility of making another run in the playoffs again.
The second game is a cakewalk against Western Kentucky. Yes I know they were a bowl team last season and a pretty fair team, but this is after all Western Kentucky and this is after all Alabama. This is a game where Saban will feel comfortable enough with the outcome to loosen the reigns on the quarterback. This game will show the Tide fans just how good he can be, but don't expect this kind of day against the next opponent, Ole Miss.
Even though Alabama has lost to Ole Miss the last two seasons a row, they'll win this next contest, Ole Miss just too many losses including all their front five offensive linemen. But there will be much to learn about this Alabama team by watching the game closely.
Questions to be answered will be:
Will they pour it on Ole Miss, or play down to the level of the competition and just skate by?
How will the offense and more importantly this new quarterback do against a still tough and stingy SEC defense?
Can the Alabama offensive line contain a true SEC stud, Maquis Haynes, Ole Miss' defensive end who will be an SEC sack leader and arguably the Rebels best defensive player.
When he isn't running for his life, (given they lost four of five offensive line to protect him and Alabama's SEC best defensive front) how will Chad Kelly, the SEC's top quarterback, do against this defensive secondary at Alabama? How will they hold up if he gets hot?
Things to know about Ole Miss that haven't already been covered is the fact that Ole Miss will have a true SEC defense that will be among the top four SEC defenses. They secondary is really full of talented folks and has lots of depth. If Tony Connor recovers from his knee injury as expected, they should be a very dangerous unit. Up front, the lack big names, but have a group of linebacker sized, fast and agile guys up front in the line and linebacker corps.
Therefore, if Alabama proves to move the ball against this group, they can do against anyone and that would bode well for the rest of the SEC schedule
The Ole Miss offense as we discussed has a huge obstacle to overcome, the replacement of every offensive lineman but one. They also lost their best receiver and other supporting pass snaggers, so there's a lot to rebuild there. It's basically going to be the Chad Kelly show on offense and even he is coming off hernia surgery and with their schedule, they aren't going to have a lot of time to develop before they are thrown to the wolves.
Alabama should win the game because of the Ole Miss offense vs the Alabama defense, it's just too big of a mismatch this season, plus there's there's the revenge factor. But if Alabama easily puts away the Rebels, that should send a shiver down the spines of the rest of the SEC.
These first three games will tell a lot what the rest of the season can expect from this team. In each of the past few seasons, they've stumbled near the beginning of the season while breaking in a new quarterback and new players. They've also suffered some incredible bad luck like this.
That touchdown was the seven points that Alabama needed to win the game last season, but none of us in the press think that there will be another miracle play like that will happen again this season to save the Rebels. Still, as stated earlier, this game will tell us much about Alabama in how they win this game. If they squash them by not taking their foot off the gas on both sides of the ball that will tell us that this is a team set for another playoff year. If they struggle and do just enough to pull off a win, that will tell us that there could be trouble down the road.
So the first game against USC will tell us if the new quarterback is going to be able be part of a championship team and show if this defense in Tuscaloosa can live up to the hype building around it already. The second game will show if the new quarterback can start dazzling fans due to the lack of quality on this Western Kentucky defense and the third game will show how this offense deals with a true to life SEC quality defense.
Passing these tests will show fans that this Alabama team has what it takes to make another serious run toward another playoff and most think that this will be accomplished.
Larry has been published in almost every media outlet for college sports and now primarily writes here for Touchdown Alabama. Follow Larry on Twitter for inside thoughts and game time comments at https://twitter.com/LBSportswriter
THANKS FOR SHARING THE LINK TO THIS STORY ON YOUR FACEBOOK PAGE OR A FACEBOOK GROUP YOU BELONG TO, FACEBOOK RESTRICTS HOW MANY PLACES WE CAN POST IT ON, SO PLEASE SHARE!