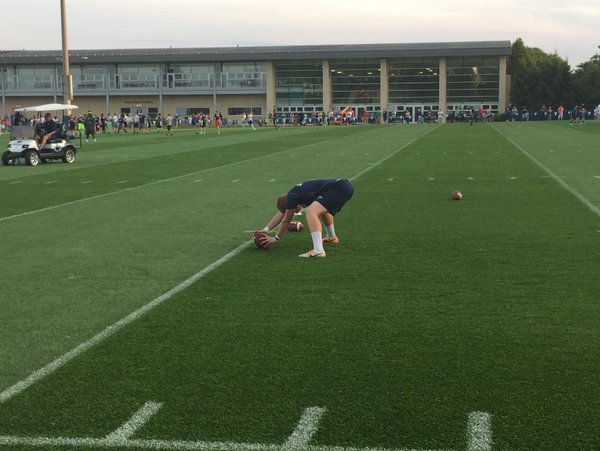 Thomas Fletcher is the top ranked long snapper in the country according to Chris Sailer Kicking's rankings and plays for IMG Academy, the nation's premiere program for athletes looking to get to the next level.
Fletcher recently committed to play in the U.S. Army All American Bowl in San Antonio and now has decided where he will play his college ball at. Fletcher committed to Alabama over Florida State, Oregon, Texas A&M and Portland State.
He made his commitment via his Twitter account.
Blessed and honored to announce that I have committed to THE University Of Alabama! #rolltide #snapperU 🅰🐘💸 pic.twitter.com/IpcvbwAP78

— Thomas Fletcher (@longsnapfletch) June 23, 2016
Alabama has seen success from the long snapper position with senior Cole Mazza, who has been a consistent starter for the Crimson Tide since he joined in 2013. With his departure approaching, the opportunity to make an immediate impact is there for Fletcher.
Even though the Tide have a long snapper in Scott Meyer who was a preferred walk-on in the 2016 class, Fletcher's services are on high demand and for a good reason. Chris Sailer went on to praise the IMG senior. "I am tempted to say I have never had a Long Snapper this polished at this age. he said. "You will not find a better 2017 Long Snapper in the country. He has it all, speed (zero wasted movement), accuracy (his misses, few and far between, are within inches), consistency (he is like a machine), he can block (steps are excellent) and he handles pressure better than anyone I have ever had. He is the epitome of a no brainer."
This is a much bigger commitment than people are making it out to be as Alabama's special teams will be taking some drastic changes through the next two years. As Ole Miss graduate transfer Andy Pappanastos will compete with fifth-year senior, Adam Griffith for the starting spot in the fall, Alabama has also added the nation's top kicker, Brandon Ruiz of Gilbert, AZ. to its class. With Cole Mazza graduating this year, it also looks like Fletcher will compete with Scott Meyer for the starting spot. The only true constant staying for Alabama on special teams is All-American punter J.K. Scott.
Fletcher becomes Alabama's fifteenth commitment in the 2017 class and the second specialist in the class.
Justin Wagner is the Lead Recruiting Analyst for Touchdown Alabama. You can follow him on Twitter at @jwag718.