Stephen's Report
Georgia coach Kirby Smart dominates in first SEC Media Days presser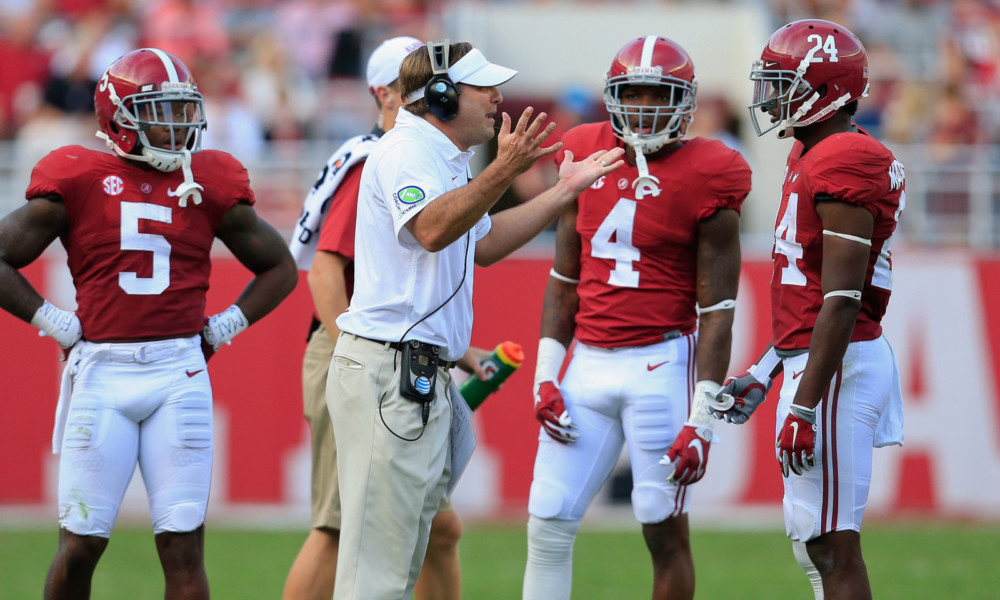 He served as Nick Saban's right hand man for nine seasons but on Tuesday, Kirby Smart took his first step in being a head coach on SEC Media Days during his opening statement for Georgia.
A preseason candidate for the 2016 Bobby Dodd Coach of the Year Trophy, Smart was a pivotal component in four national championships at Alabama as defensive coordinator/linebackers coach.
Kirby Smart's open statement at SEC Media Days as Georgia's head coach. pic.twitter.com/YqNN07H5PQ

— Stephen M. Smith (@CoachingMSmith) July 12, 2016
He has a young team to work with (63 percent, sophomores and under), nevertheless, Smart is neither new to Georgia nor the Southeastern Conference. He said his first objective after being hired in December of 2015 was to assemble a strong staff of character driven coaches.
"Every guy that I hired has been in an SEC school in some capacity," Smart said.
"They have some part of the SEC attached to them and I thought that was important. We have a lot of NFL experience on our staff and I thought that was important."
Being well-conditioned is something Smart witnessed from observing Scott Cochran at Alabama.
The Bulldogs' coach said the team's hire of Scott Sinclair was good and that he's hired a great staff as well. "Attack The Day " is Georgia's mantra when it comes to conditioning and all have bought in.
"Our student-athletes at Georgia have responded well to the new expectations," Smart said.
"We're driving them in the weight room. These kids have come to work and work hard."
Comparisons are both loved and hated by many. People need a good barometer to judge success on, rather than allowing someone to test the waters on their own. Mark Richt, who was Georgia's head coach for 14 seasons (2001-15), created an environment that was guaranteed 10 wins a year.
Despite the lofty expectation placed on the Georgia alumnus, Smart said there is no competition between him and Richt—who is now at University of Miami and he anticipates moving forward.
"First, I would like to say Coach Richt is a good friend of mine," he said. "I respect Coach Richt and worked for him for a year and respect the man he is and what he stands for."
As far as gaining the loyalty from Richt's players, Smart said you earn it by the way you behave and perform as a coach. "Every kid I've been around as a football player, they want their coaches to make them better as men and as players."
Crimson Tide linebacker Reuben Foster, Tim Williams and Ryan Anderson experienced this first-hand, when Smart decided to stay at Alabama throughout the postseason instead of hoping to Georgia upon being hired. Smart's love for the players earned him a national title in 2015.
"Well, bottom line, it was the right thing to do," he said. "I think you judge somebody on their integrity and their character, and I don't think that I could be judged fairly if I turned my back on some kids who stood out for me and chose to come to the University of Alabama."
Kirby Smart gives his thoughts on recruiting. pic.twitter.com/k2o5JjSKdj

— Stephen M. Smith (@CoachingMSmith) July 12, 2016
Georgia, like Alabama, has its own quarterback competition to figure out. The Bulldogs are focused on getting both Nick Chubb and Sony Michel healthy. Florida coach Jim McElwain got a dose of Saban questions on Monday, and Smart awaited the same fate on Tuesday morning.
While McElwain took time to choose his words, Smart knew exactly what he wanted to say.
"What drives Coach Saban is that he wants to be the best," he said. "I've learned so much from him as a coach, as a person, as a man, as a leader. He will coach for a long time. I do believe that. He's passionate about it. He's very healthy and he takes care of his body."
Smart will have to contend with two other Saban assistants (McElwain, Will Muschamp) to win the SEC along with Butch Jones and Tennessee, but the former Tide defensive coordinator is excited at his new position.
Stephen M. Smith is a senior analyst and columnist for Touchdown Alabama Magazine. You can "like" him on Facebook or "follow" him on Twitter, via @Smsmith_TDALMag.