Stephen's Report
Vols' coach Butch Jones anticipates high expectation, expects team to finish in 2016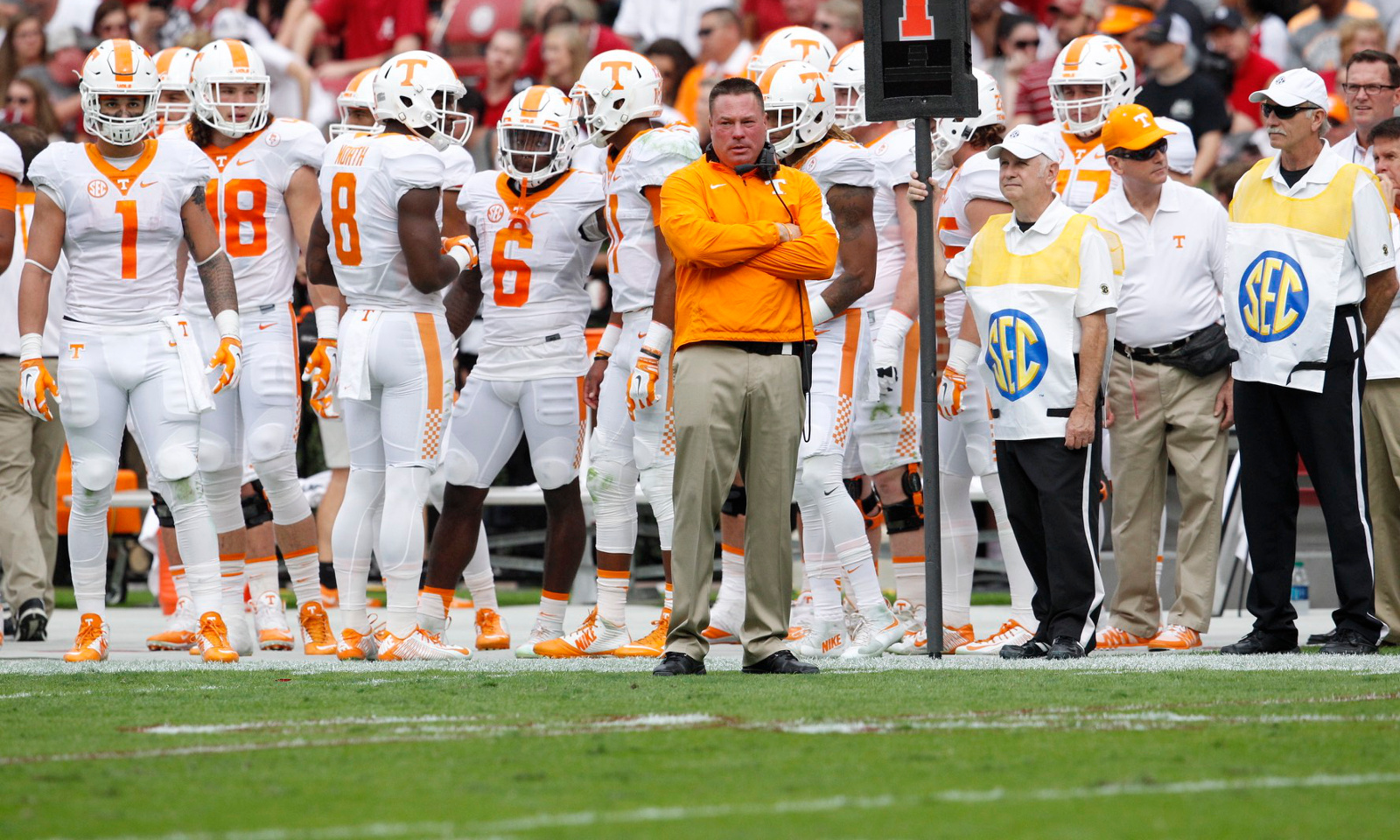 HOOVER, Ala.| Tee Martin, Jamal Lewis and Peerless Price all have one thing in common.
They were three players that witnessed Tennessee Volunteers football close the deal in 1998, by winning both a Southeastern Conference championship and a national championship.
With the quality of players returning this season and Butch Jones entering his third year coaching, Volunteer fans are as energetic as ever about the upcoming fall in Knoxville.
Coach Jones took the podium on Tuesday, addressing the media on one aspect for 2016… closing out games. A 9-4 record is a winning season and a bowl season by all standards, but it's not enough when one could have been even better. All four of Tennessee's defeats in 2015 came on a combined score of 17 points. It possessed the lead in meetings with Florida, Oklahoma and Alabama, until its defense ran out of gas in the fourth quarter—resulting in the losing efforts.
"We have talked about making critical plays at critical moments of the game," Jones said.
"You look at all the great players. Why are they great players? Because they make a play when it matters the most to lead their team to victory, so we really talked about that."
A strong finish begins with a good start. Tennessee's first seven games of the season will be against programs that combined for 70 wins, and participated in bowl games a year ago. Jones and company will have to travel to play Texas A&M, Georgia and South Carolina, but its two primary rivals within the SEC will face the Vols at Neyland Stadium, Alabama and Florida.
Tennessee had a 20-7 lead in the third quarter before Florida got moving.
A 63-yard touchdown strike from Will Grier to Antonio Callaway with 1:26 remaining in the fourth quarter gave Florida a 28-27 lead. The Volunteers would miss a field goal as time expired.
Running back Jalen Hurd had a good outing for Tennessee against Alabama, rushing for 92 yards and a touchdown on 18 carries. Jones' group had a 14-13 late in the fourth quarter; however, it's defense could not stop Jake Coker, Calvin Ridley, ArDarius Stewart, O.J. Howard and Derrick Henry.
Henry capped off the game with a 14-yard touchdown run, delivering the Tide a 19-14 win.
Quarterback Joshua Dobbs, who enters his second year as a starter, is one of few experienced signal callers in the SEC. He's accounted for 4,635 all-purpose yards and 43 touchdowns in two seasons and per Jones, Dobbs did not make the travel team as a freshman (2014) against Florida.
"When you look at the definition of a student-athlete, it all starts with Josh Dobbs," Jones said.
"When you look at engineering, you look at his curriculum. You look at the time demands placed on him from an academic workload and being the starting quarterback for the University of Tennessee, we always talk about the quarterback position at Tennessee, that's a global position and he's done a great job."
Part of being able to finish games entails some wide receivers developing chemistry with the quarterback. Tennessee has had problems at the receiver position with Marquez North not reaching his full potential, Alton "Pig" Howard being dismissed and Von Pearson shedding off-field issues, nevertheless, Jones did mention a few names that are bonding with Dobbs.
"Josh Malone is a young man who we really felt, by the end of the year, and was doing some really good things for us," Jones said. "Preston Williams is another young man and Josh Smith has played a lot of football for us. He [Smith] also helps in the leadership of that position."
Controlling the line of scrimmage is another way to win close games. The Volunteers return both Derek Barnett (defensive end) and Jalen Reeves-Maybin (linebacker) to its front seven on defense; however, it's sophomore defensive tackle Shy Tuttle that Jones wants to see healthy.
"Shy is a young man that will be about 50 percent to 75 percent training camp," Jones said. "We'll see how that goes. The exciting thing is that he starts the running process next week, but he did study a ton of film. Shy is very explosive, does a great job with using his hands."
With all the hype surrounding Tennessee football for this season, Jones still doesn't feel to pressure to win right now. He said it's all about the compound effects of building a program.
"The expectations will never be greater than what we place on ourselves internally," Jones said. "And I think, when you look back, it's like I told our coaching staff when we broke for summer vacation, you need to enjoy this."
"I'm not talking about complacency. You'll never see complacency in our building, but sometimes we live in an instant gratification society and we want things now."
Dobbs, Reeves-Maybin and cornerback Cameron Sutton all came to Tennessee around the same time. All three came to Tuesday's SEC Media Day session with Jones and all expect to have a strong year. Volunteer fans believe it's 1998 all over again, but can this group close out games?
Only time will tell.
Stephen M. Smith is a senior analyst and columnist for Touchdown Alabama Magazine. You can "like" him on Facebook or "follow" him on Twitter, via @Smsmith_TDALMag.