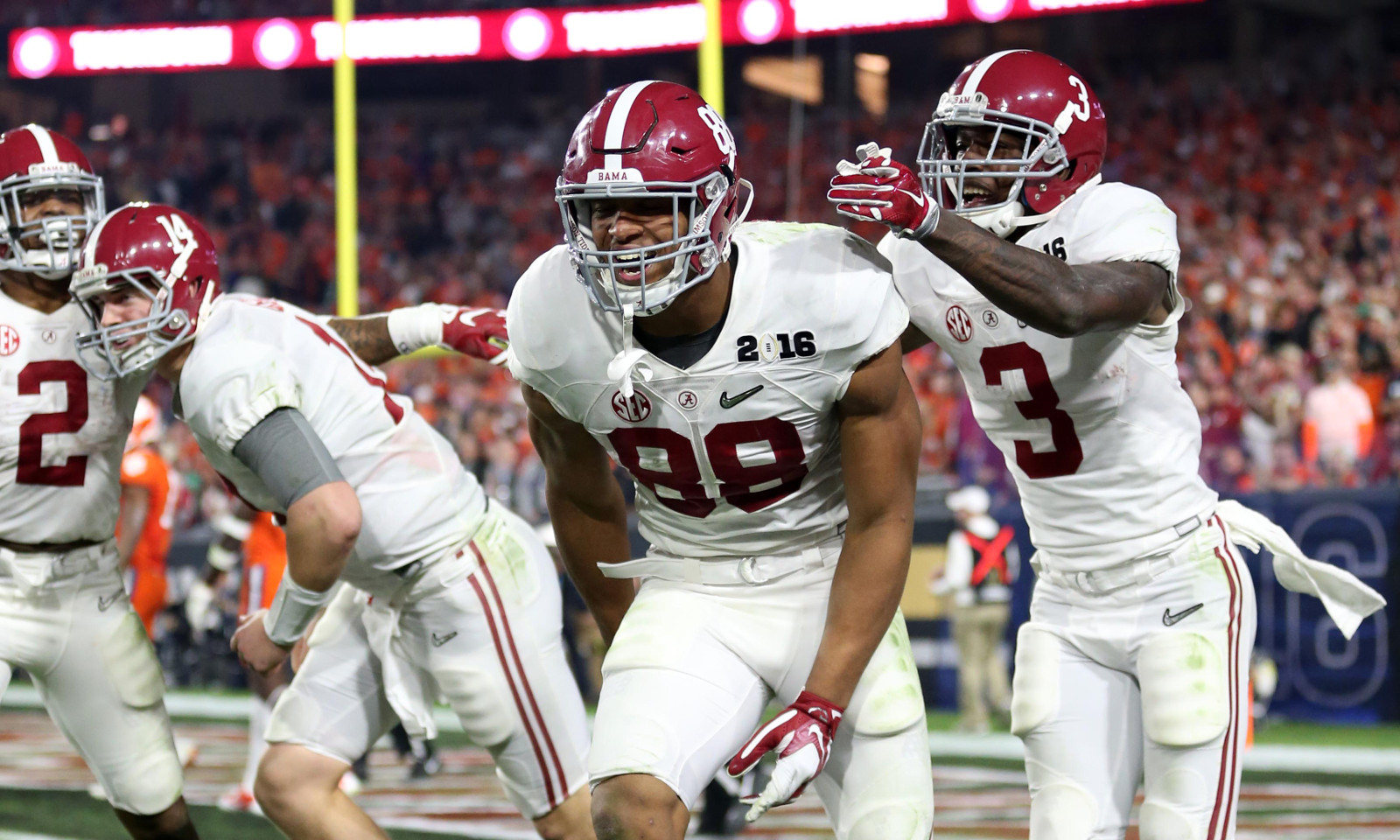 HOOVER, Ala.| All fourteen school and coaches within the Southeastern Conference are special, but it means something more to fans when Nick Saban and Alabama arrives at SEC Media Days.
One of the players that accompanied Saban to Hoover was tight end O.J. Howard. Howard, who didn't register a touchdown all of 2014 and the 2015 regular season, finally came full circle in the College Football Playoff. He totaled eight receptions for 267 yards and two touchdowns, with much of his damage done on the biggest stage… the CFP national title game against Clemson.
Patience has been a virtue for Howard. The 6-foot-6, 251-pound senior was a five-star athlete upon enrolling in the Crimson Tide's vaunted 2013 recruiting class. He put up strong numbers as a freshman (14 catches, 269 yards, two touchdowns); however, it has been a working progress for Saban in putting the full package together for Howard. The Prattville, Alabama native became a much better blocker in 2015, guiding Derrick Henry to a 2,000-yard rushing season.
Saban credits Howard as being "an outstanding, yet unselfish player." Despite collecting just 335 receiving yards on 33 catches in the 2015 regular season, Howard found ways to better the team.
"He's contributed to our team in a fantastic way," Saban said on Howard.
"It doesn't always get recognized because it seems like it's always recognized on how many big plays you make or how many passes you catch. And he had several really big games for us."
After having a bowl-game record performance against Clemson (208 receiving yards), Howard had a chance to forgo his senior year and declare for the 2016 NFL Draft. The rangy tight end decided that earning a degree and an opportunity to play for another national championship was more important, as he was one of seven juniors that returned to the Tide's roster for another year.
Calvin Ridley, ArDarius Stewart, Robert Foster, Cameron Sims and Gehrig Dieter (graduate transfer) all expect to touch the ball this season, but Saban anticipates Howard being able to stretch the field more.
"I think he's definitely someone who's a threat and should be developed as a threat in our offense and should be used as such," Saban said. "We want to feature all of the players on our team that have a chance to be successful, and O.J. Howard should be a guy that should certainly create mismatches and do some good things."
Howard added nine pounds to his frame this offseason, going from 242 to 251. If he can improve his route running to go with his blocking, freakish size and pass-catching, 2016 will be special for him.
Stephen M. Smith is a senior analyst and columnist for Touchdown Alabama Magazine. You can "like" him on Facebook or "follow" him on Twitter, via @Smsmith_TDALMag.