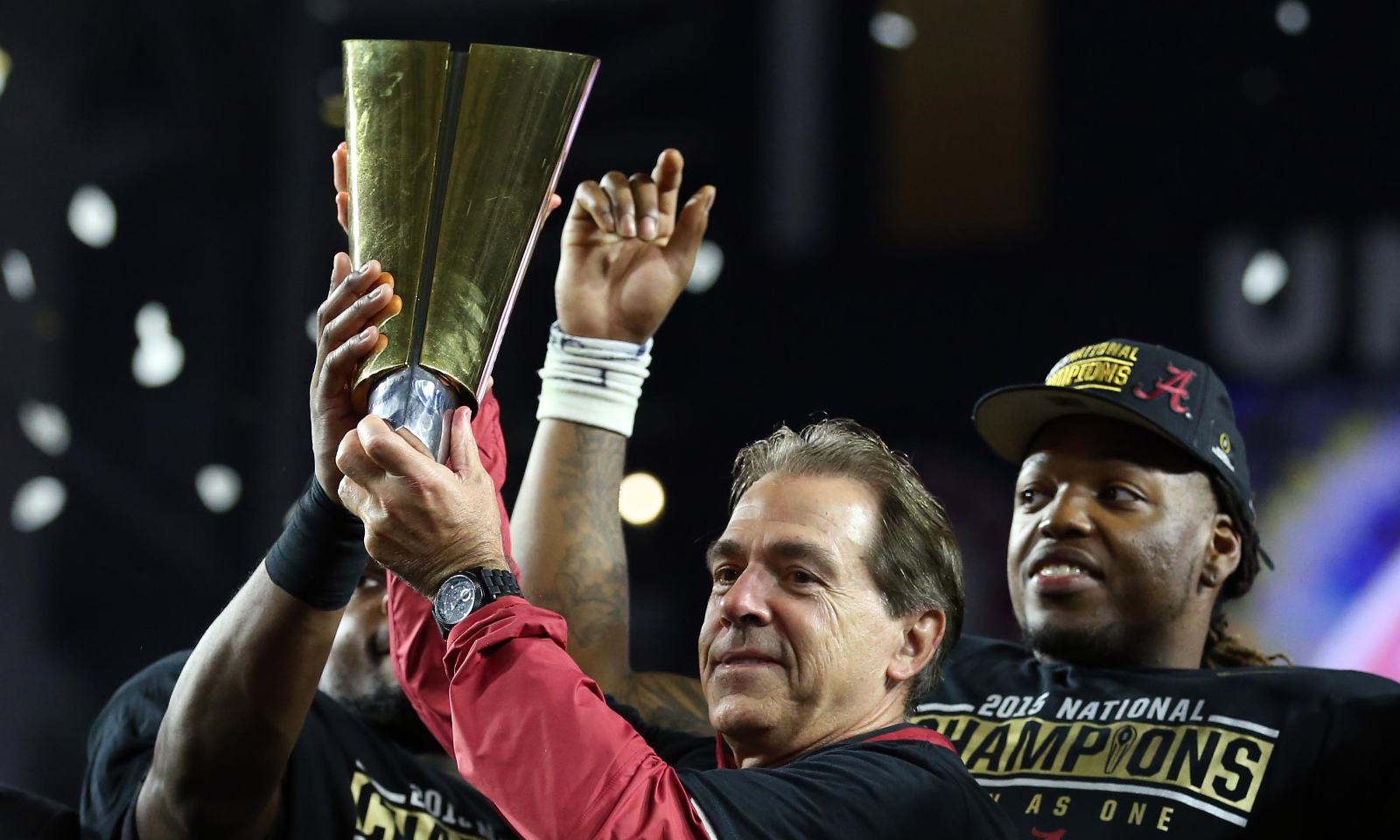 The lobby of the Hyatt Regency was packed on Wednesday morning and that means just one thing.
It was time for Nick Saban and Alabama at SEC Media Days. The head coach was joined by seniors Jonathan Allen,  O.J. Howard and Eddie Jackson. We highlight the four main talking points from the Tide's morning in Hoover.
1. Saban-Finebaum Feud
After Nick Saban had given his opening statement, questions started coming in from the media members but it was once the coach got on a TV set when things got heated.
Saban was on air with the SEC Network crew as they discussed the situation involving Cam Robinson and Hootie Jones. Saban pushed at the fact that if the players had done something wrong, they would have been charged with something. Finebaum obviously did not agree with that statement, calling it "debatable."
"Do we condone the behavior? No," Saban said to Finebaum while on air. "But you're innocent until you're proven guilty in this country regardless if you get convicted in the media or not, which is what you're doing."
According to AL.com, Saban had a few choice words for SEC Network's Paul Finebaum. During a commercial break, the Crimson Tide coach was overheard giving a "four-letter tirade" toward the prestigious radio host.
Saban and Finebaum are still going. Maybe they're making up now. pic.twitter.com/SkLbeDrZXk

— Caleb Turrentine (@CalebTurrentine) July 13, 2016
It was good by Saban to stand up for his players but it was also good work by Finebaum to make sure he asked the right questions and pushed to find answers. Saban continuously says he does not care about any backlash from the media but it will be interesting to see if this has any effect on the situation around Robinson and Jones.
2. Pruitt takeover
Jeremy Pruitt is taking over as Alabama's defensive coordinator after Kirby Smart took the head coaching job at Georgia. Saban and the players faced many questions about the change but they didn't seem too worried.
"If you're doing something wrong, he's not going to kiss your butt," Eddie Jackson said of Coach Pruitt. "He is going to let you know. But he also is going to let you know when you are doing something good, the things you can fix to become a better player."
Jonathan Allen also said that the transition has been smooth, saying that the scheme is not too different. The senior defensive end says that it is about the system that Saban has had in place since he got to Alabama.
Pruitt eases in to a great situation that has experience returning and plenty of depth behind them.
"I wouldn't say that I'm the voice of the defense," Allen said about the team's depth. "Obviously I'm one of the voices but honestly there are a lot of leaders on the team, such as Eddie Jackson, Reuben Foster and Dalvin Tomlinson. So I wouldn't say that I'm the only voice."
3. Going Back-to-back
After beating Clemson in January, Nick Saban quickly began to focus on the 2016 season and how the team could go back to back.
"I think our team knows that's last year," O.J. Howard said. "This team hasn't done anything yet. We're a new team. We have to establish ourselves. Everyone is working hard and no one is complacent."
The tight end continued by saying the newer players have been buying into 'The Process' as the older players move into leadership positions.
Allen also talked about the team's hunger for the 2016 season. The defensive end said that the players know they have to be hungry or they won't start. There's no complacency when each player has to work hard to prove he deserves to play.
4. Quarterbacks
Coach Saban probably did not receive as many questions on the quarterback situation as you would have expected.
"Somebody's got to win that job," the head coach said. "Somebody's got to win the team. You know, that has not necessarily happened yet."
O.J. Howard was asked about the position but he didn't give too much on that battle because there probably isn't much to say. The tight end says they hasn't been much to see and they haven't been working on the entire playbook so far.
In fact, the Alabama players may have talked more about Clemson quarterback Deshaun Watson than they did about their own guys at the position.
"Watson is a great player," Eddie Jackson said. "He is one of the best athletes that we faced all year. He's a big guy, and you can try to contain him. He's athletic ability did some things that we couldn't stop. He's a good player and we tried to contain him to the best of our ability but he had some great plays."
Jackson intercepted Watson once in that game but the Heisman finalist may get another shot at Alabama this season, as Clemson is one of the favorites to make it to the College Football Playoff this season.