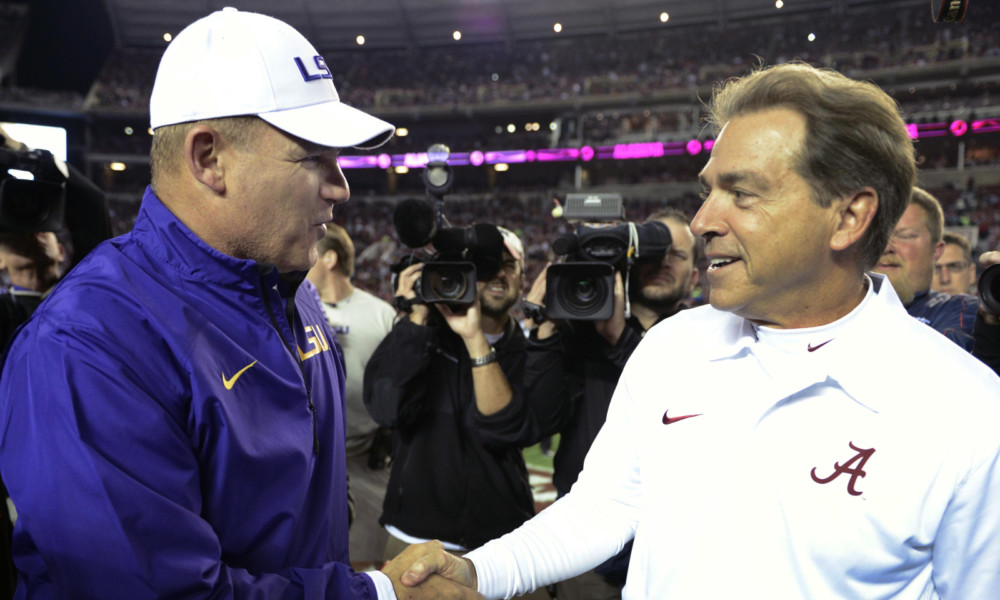 SEC Media Days concludes today at the Hyatt Regency in Hoover. You can see live updates throughout the day here that will include the best quotes, photos, tweets and more. The Thursday schedule for the Internet/Radio media room is below.
9:25 – South Carolina OL Mason Zandi                                              10:45 – LSU C Ethan Pocic
9:35 – South Carolina DE Marquavius Lewis                                      10:55 – LSU CB Tre'Davious White
9:45 – South Carolina Head Coach Will Muschamp                        11:15 – Ole Miss Head Coach Hugh Freeze
9:55 – Ole Miss TE Evan Engram                                                             11:25 – South Carolina WR Deebo Samuel
10:15 – Ole Miss QB Chad Kelly                                                                 11:45 – LSU RB Leonard Fournette
10:25 – Ole Miss DT D.J. Jones                                                                 11:55 – LSU Head Coach Les Miles
---
LIVE UPDATES (all times CST)
12:17 –  Les Miles caps off Media Days with a great Les moment.
"YOU SIR. STEP BACK." – Les Miles telling us his line from his movie role as a police officer

— Caleb Turrentine (@CalebTurrentine) July 14, 2016
12:14 – Miles gets a question about a holiday but avoids talking about the celebration too long. He says Thanksgiving should be about chewing your food and relaxing. The Tigers play Texas A&M on Thanksgiving this season.
12:08 – Miles talks a little bit about Fournette's performance against Auburn last year and how he feels about this year's rivalry game. (For the record, I have Auburn winning that game.)
12:06 – Miles says he was not changed by the whole situation at the end of last season. He says he will always coach the team… until he doesn't.
12:04 – Miles says that he felt he was comfortable with the position he was in before the Texas A&M game last season. He said the only thing on his mind was the passion for LSU and the players.
11:58 – Fournette said he just has to work harder to be better than last year. He said his only goal is to win a national championship.
11:56 – Fournette talks about the Soney Michel and Nick Chubb injuries. He said he reached out immediately to Chubb after his injury and was heartbroken for them. He said he prays that they can continue to heal fast.
11:54 – Leonard Fournette talks about his younger days when he was a little overweight and had to play the offensive line. He says it helped push him to be better as an athlete through middle school and high school.
11:41 – Freeze ends by talking about his respect for Les Miles. He says he hated what Miles and Richt had to go through at the end of last season. He says you have to keep in touch and have respect for each other,
"Phone calls. Les doesn't text very well." – Freeze says on his communication with Miles
11:37 – Freeze says that schematically their offense has a better chance of getting big plays against a defense like Alabama. He says he likes the challenge and has made sure his players have that same mindset. He says Coach Saban told him after the game that Ole Miss took the game to Alabama.
"We got a few breaks that you need but we made some too.'
11:32 – Hugh Freeze says he likes that his running backs are below the radar and says he is really excited about the abilities of the skill and leadership of the position.
11:28 – Samuel speaks on the player-run practices at South Carolina but he says they don't do anything differently just because the coaches aren't present.
11:26 – Samuel says he needs to be a leader in the receiver group and wants to make sure he can be the next big name receiver from South Carolina.
11:23 – Ole Miss Head Coach Hugh Freeze is up next. He's eight minutes late and Deebo Samuel beat him to the room so he's getting to go first.
11:01 – White says he's chased down Fournette a few times in practice but it's tough to take him down.
11:00 – Tre'Davious White says he enjoys talking and is looking forward to the media. Then he immediately gets a question about relations between African-Americans and police in Baton Rouge.
10:55 – Pocic says he likes the challenge of opponents packing the box to prevent the run game. He mentions that Texas Tech did it a few times by packing 10 defenders in the box and they had to bite down and see if they could do the job.
10:50 – LSU All-American center Ethan Pocic is now in the room and is talking about the offseason surgery he had on his hip.
He was asked to share "something absurd about Leonard Fournette." He took some time but just talked about how good he was playing. I say you can just watch video of the guy.
10:29 – People are counting on us today. This is a lot of pressure.
Bring us on home, @TDAlabama. pic.twitter.com/V5hQy098Fn

— TexAgs (@TexAgs) July 14, 2016
10:26 – Jones also gets a question about beating Alabama in consecutive years. He says it is about the mindset that the coaches instill on the program. He says they are taught to play every game like it's the Alabama game.
10:21 – Kelly says the only goal is to go 15-0 with a national championship.
10:19 – Yup.
"The less you think, the better you play." – Chad Kelly, probably explaining the tipped pass touchdown against Alabama last season

— Caleb Turrentine (@CalebTurrentine) July 14, 2016
10:14 – Kelly gets a question about beating Alabama in consecutive seasons. He says it starts with the coaching staff preparing the team well but it comes down to the execution.
"We just had better execution than they did." – Chad Kelly
10:12 – Quarterback Chad Kelly has arrived and has already addressed the loss of Laquon Treadwell. He says they have a great group of receivers for the season and they've worked hard to be ready for the season.
9:58 – Ole Miss TE Evan Engram has entered the room. He is one of two tight ends I have on my All-SEC ballot.
Engram says that making sure a scheme was in place to get him the ball. He said that was a part of his decision to return this season.
9:52 – Coach Muschamp says he has always turned the offense over to the offensive coordinator. He says they aren't going to be perfect in their scheme their first year. He says they have to make adjustments to the players they have in order to win now.
9:49 – Muschamp says all of his antics and emotions on the sidelines are calculated. He says he uses it for motivation of a unit or a player.
9:47 – Muschamp says freshman QB Jake Bentley will be in the quarterback competition and will get every chance that the returning guys have.
9:44 – Coach Muschamp is in the room and we jump straight to questions. He first talks about Lewis, calling him a quiet guy. Muschamp says he has a strong work ethic and earns his teammate's respect.
9:38 – Mason Zandi talked about Marquavius Lewis being a "quiet leader." The defensive end is really living up to that during his interview with the media.
Lewis on Leonard Fournette: "He's an excellent back. He's good."
9:32 – Oh, Will…
Muschamp asked if he broke a finger at Auburn last year: "I get frustrated sometimes. I don't remember the situation. I blackout sometimes."

— AUBlog (@AUBlog) July 14, 2016
9:25 – Zandi talks about the good impact that Muschamp has made in his short time in the program. He says the new head coach has helped him with personal growth.
9:21 – Mason Zandi has entered our room and we are ready to get things started. The offensive lineman says the competition in practice has helped him grow. He says last year gave the team a "disgust for losing."
9:14 – Coach Will Muschamp is up at the main podium. He's not even going to try to beat Spurrier at Media Days.
WM: "I am not as entertaining as (Spurrier)…There is only one Steve Spurrier in life and I'm not him"

— Garnet and Black Attack (@GABAttack) July 14, 2016
8:40 – I'm flying solo here at the final day of SEC Media Days. Today features LSU, Ole Miss and South Carolina. The excitement will get underway in less than an hour.