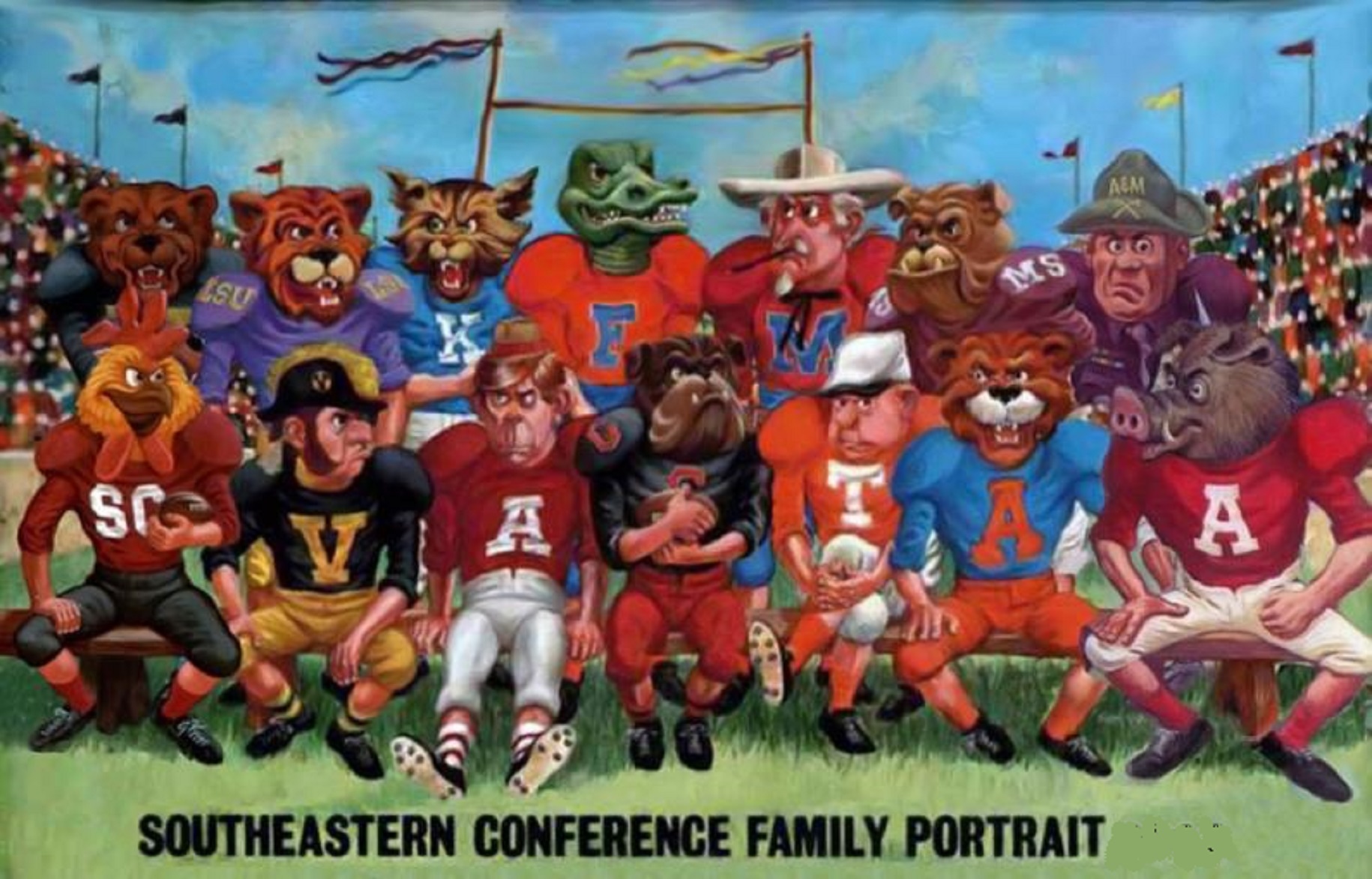 See if you agree with the pair of pigskin prognosticators who the most accurate forecasters of football in all media! Enjoy it and share it with your friends.
Larry's Losers in the SEC – Week One – 2016
By: Larry Burton
Well sports fans the week we've waited so long for is now at hand and while some will celebrate the teams that win, Old Bacardi the Wonder Dog and I will just keep on listing the losers and prognosticating the poor people who populate that poll.
As of this writing, everyone is tied for first place, expectations are still high and no one is looking forward to be the first to take that bow to the bottom, but for every winner, there has to be a loser and that's where we come in. For over a dozen years now, nobody else in print, radio or television has come close to our picking percentage and we plan on another year of near perfect predictions.
I was on vacation last week in San Antonio and New Orleans and when I got back, the pigskin pickin' pooch and I were surprised to find we agreed on all these picks. So without further ado, let's just jump in this process and start separating the winners from the losers. And we'll start in the East.
South Carolina at Vanderbilt – Will Muschamp's new new name could be Colonel Clucker as this excitable coach goes from being fired from Florida to one year at Auburn to back in the big time, this time around with those Carolina Cluckers.
When Steve Spurrier flew this coop, he didn't leave a lot pecking pullets in positions that could place them in prominence. So Muschamp's first job is to find the folks with the biggest peckers to punish the people that get into these chicken fights with them.
With a team having so many problems, you'd think this would be too much to overcome, but as they say in a lot of places in the SEC, thank God for Vanderbilt, the only school with more problems to overcome than these crazy Cluckers from the Carolinas. Larry's loser – Vanderbilt
Missouri at West Virginia – Mighty Mo ain't so mighty no mo and they travel their Tabbies to the Appalachians to to take on the Mountaineers. The men from Missouri are taking on a new coach but the biggest problem is they're taking on a lot of new players too.
But on the other side of the ball, or field to be exact, is a coach who's comfy in his confines and building a better team each year, Dana Holgersen and these Mountain men are aiming to skin themselves a cat and start this season off right with a win over a usually good SEC team.
New coach Barry Odum isn't really new, but he's in a new job. Since taking over the top job from his defensive coordinators post, he's been too busy get the new job down to get the players in he needs to make his new plans work, so I'm afraid the SEC's first loss will be: Larry's loser – Missouri
Southern Miss at Kentucky – Mike Stoops is hoping his Kentucky Kitties quit acting like mildcats and get a little wild this year. He's been pulling the talent in, but it hasn't been translated into wins so far.
As for the Southern Miss Eagles, they've been grounded for a while now. Remember when these South Mississippi men used to be good? Neither does most of America. Since they got rid of Jeff Bower, they've just bowed out of being good.
So that means a pick of pack is an easy one as the Kitties get off to another fast start before falling apart later on. Larry's loser – Southern Miss
Appalachian State at Tennessee – Appalachian State used to be a giant killer, but lately, they're not even a slight pain the butt to the big boys. Head coach Scott Satterfield isn't really a nationally known name, in fact he still has to show his ID get into football games at home, so this game doesn't look good for a starter for his boys.
This is supposed to be the year that Tennessee gets it all together, but till they beat just one of their big rivals, the pigskin pickin' pooch and I are gonna think of them as just another also ran team. I'm about as impressed with head baller Butch as I am that new check out girl at the grocery store. She doesn't know how to win big games either.
And the boys in Vegas have these Mountaineers as a 23 point dog and we just think that while that could be possible, this could be closer game than most think. Larry's loser – Appalachian State
UMass at Florida – McElwain's marsh men take on the Minutemen from Massachusetts and coincidentally, that's how long this game will be a contest. Mark Whipple is on his second tour as head coach of these men and he will be about as effective as guiding them to a win in this game as Mr. Whipple who squeezed the Charmin.
This is one of the cupcake opening week wins that the SEC gets blasted for and this one will live up to the billing as these Gators gobble up these guys and turn them from Minutemen to minute men. If you don't get this joke it's "mine oot" men, meaning small.
Oh well, some things just work better on radio, but just for the record, Larry's loser – UMass
Georgia vs North Carolina at the Chik Fil A Kickoff Classic in Atlanta – Last year the team from the Tarhills came within one play of possibly making it to the big time and they have a lot of those same folks returning, so they're hoping for a big time win to get them back in the conversation for a top team again this season.
Meanwhile, the Kirby Smart era begins and the red clay clan that flock that field between the hedges are hoping that this is the man who can get them over the hump and start taking home titles instead of always waiting for next year.
This could be a close game and these dogs are gonna be a great team by season's end, but the real question is how will they start? Well this is a game that will answer that question. In a nail biter, Larry's loser – North Carolina
And now for the West.
UCLA at Texas A&M – Jim Mora brings the Bruins down to Texas to aggravate the Aggies. They plan on taking home a nice win from an SEC team and head back west with a hot start and little swagger.
Meanwhile, coach Kevin knows his seat is getting hotter with each loss so he's planning on upsetting the big bad Bears with a hot as fire offense and a stingier defense than that new bartender at our favorite eatery is with the booze in my rum and Coke.
Folks, we've had lots of sleepless nights on this one and finally just flipped a coin, but we had to flip it four times to come up the verdict we sort of pull for, because when in doubt, go with the home team. So Larry's loser is UCLA.
 South Alabama at Mississippi State – Joey Jones, the head coach at South Alabama, knows a thing or two about beating these Bulldogs from Mississippi, but he learned it in a Crimson uniform and these Jaguars aren't Crimson Tiders.
Dan Mullen kicks off his ninth season as the Bully boss and this is going to be a tough season for him breaking in a new quarterback and bunch of other puppies.
But this cupcake of a game will certainly help him turn some of the pups into snarlers and will certainly help him pad that win count. Larry's loser –  South Alabama
Ole Miss vs Florida State in Orlando, Fl. at Camping World Stadium – One of the top teams in the ACC plays one of the middle tier teams in the SEC and the boys in Vegas see this as a close one.
Hugh Freeze always seems to start hot and then chill out as the season goes on and he's hoping that incinerating these Indians will put him up in the national standings to stay this season.
But Jimbo Fisher has other plans and put two coats of warpaint on his pupils for this one. While it could be a close one like Lost Wages thinks it will be, we're both agreeing that it's more than likely a Seminole slaughter. Larry's loser – Ole Miss
Clemson at Auburn – Last season, a team from Alabama ruined the dream that Dabo had of winning the whole shebang and though it's a different team, he's gonna take it out on their little brother in bucketfuls.
Last season the Gus Bus had one flat tire after another and coach Malzahn knows that it sure would cement his place on the plains more than a big win in this one, so he's gonna razzle his dazzle and try and catch this Kitties overlooking these worn Eagles.
Now once again the boys in Betting City see this as a one TD kind of game, but we think this cat fight is gonna be very one sided and Gus's smoke and mirror offense simply goes up in smoke. Larry's loser – Auburn
Louisiana Tech at Arkansas – And back we go to a cupcake kinda game. La Tech brings their flea bitten Bulldogs into Little Rock hoping that they can go hog wild and upset this pack of Pigs.
But Brett Bielema ain't about to get blindsided by these bunch of Bulldogs and he's gonna make sure these puppies don't just go to the pound, but get pounded by the Piggies.
And that's just what will happen in this blowout as the bow wowers get bowled over and blown out. Larry's loser – Louisiana Tech
Wisconsin at LSU – Last year these bad boy Badgers opened up against Alabama and got their Badger butts handed to them and this year they open up again against another SEC power and can only hope for a better outcome this time around.
But with hope in one hand and BS in the other you are going to wind up with two hands of disappointment if you're Paul Chryst, the Wisconsin coach.
This year Les is supposed to open the offense and this would be a good time to showcase that skill and that's just what we think we'll see. In a big loss, Larry's loser – Wisconsin
Alabama vs USC in Dallas at Jerry's World – New coach Clay Helton brings his tribe of Trojans down to Dallas and hopes to upset Saban's squad and make a statement that the men from Troy are back in the big time.
But this is the big bad boys from Bama and they are gonna let Lane Kiffin run up the score in this one and pay them back for the way they fired him a few years back and left him with his thumb out at the airport.
Lost Wages betting boys see this as 10 point win for Bama, but USC better bring extra towels to dry their tears in this one as it gets ugly fast and ends worse. In a blowout, Larry's loser – USC
Well that's it for kickoff week folks. We'll be back next week to tally to record and put the new list of losers out there for you to compare your own likely list.
So for old Bacardi the Wonder Dog and I, until next week we remain your humble servants of prognosticating perfection.
LARRY HAS BEEN PUBLISHED IN ALMOST EVERY MEDIA OUTLET FOR COLLEGE SPORTS AND NOW PRIMARILY WRITES HERE FOR TOUCHDOWN ALABAMA. HE WRITES IS A COLLOQUIAL AND IRREVERENT STYLE FOR THIS SERIES OF ARTICLES. LARRY'S VIEWS AND SENSE OF HUMOR MAY OFFEND, BUT HE AIMS TO OFFEND EVERYONE EQUALLY. IF HE HASN'T INSULTED YOUR FAVORITE TEAM WITH LARRY'S LOSERS, JUST WAIT. FOLLOW LARRY ON TWITTER FOR INSIDE THOUGHTS AND GAME TIME COMMENTS AT

 HTTPS://TWITTER.COM/LBSPORTSWRITER
THANKS FOR SHARING THE LINK TO THIS STORY ON YOUR FACEBOOK PAGE