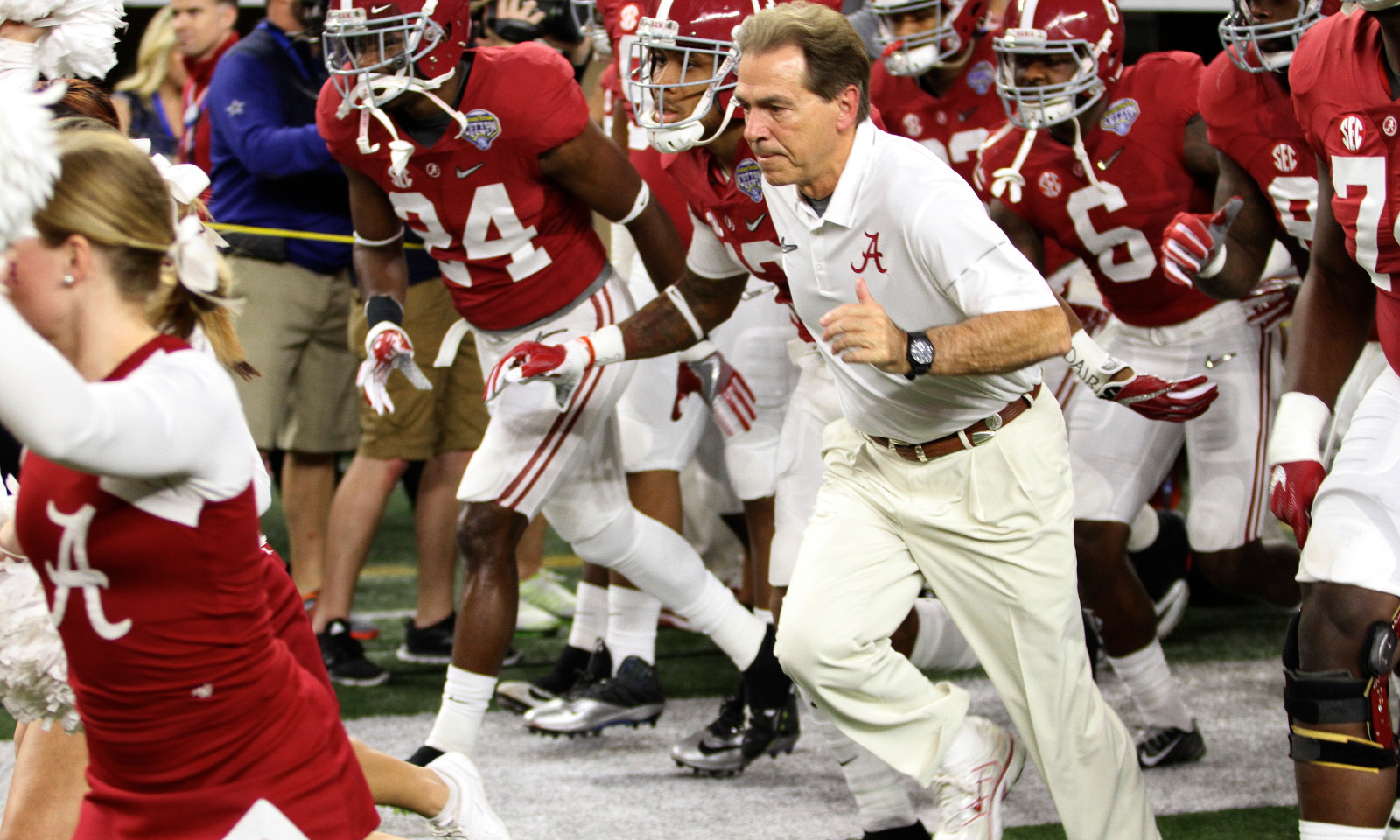 Here is the much anticipated depth chart. Now the fun will be to how long it all stays in this order.
Alabama Reveals Depth Chart for Opener
By : Larry Burton
Though it's something he hates to do, Nick Saban has released the depth chart for Saturday's game and all that mean is that there is a list given to the media and he reserves the right to change it right up until kickoff.
The big news in all of this however is that apparently the starting job for quarterback is coming down to two men, Cooper Bateman and Blake Barnett with Jalen Hurts listed as third. I was never convinced Saban would start a freshman at this important position as it just goes against everything Nick Saban has ever done and has ever believed in. The job is apparently Bateman's to lose which is what he did against Ole Miss last season. Expect to see both Bateman and Barnett in the first game.
I expect Bateman to start and Barnett to win the job. I've said this since before spring ball and I'm still riding that horse until I see otherwise. Barnett simply has a much greater upside and if he can hold down mistakes, the job will be his. That is unless Bateman plays mistake proof ball himself and piles up yardage and points.
I also differ with the second team center. Should Bozeman go down or struggle, look for Pierschbacher to move over from his guard slot, but this is the depth chart we have been given and if history is any indication, things may differ as the season goes on.
Offense
LT: 1. Cam Robinson  2.Matt Womack
LG: 1. Lester Cotton  2.Dallas Warmack  3.Brandon Kennedy
C: 1. Bradley Bozeman 2. J.C. Hassenauer 3. Josh Casher
RG: 1. Ross Pierschbacher  2.Alphonse Taylor  3.Brandon Kennedy
RT: 1.Jonah Williams 2.Korren Kirven
WR (X): 1.Robert Foster or Calvin Ridley 2.Raheem Falkins
WR (H): 1.Calvin Ridley 2.Gehrig Dieter or Cam Sims 3.Xavian Marks
WR (Z): 1.ArDarius Stewart 2.Cam Sims 3.Derek Kief 4.T.J. Simmons
TE: 1.O.J. Howard 2.Miller Forristall or Irv Smith Jr.
TE: 1. Hale Hentges  2.Brandon Greene
RB: (Runs in packages) 1.Bo Scarbrough shares with Damien Harris, 2. B.J. Emmons shares with Joshua Jacobs
QB: 1.Cooper Bateman  2.Blake Barnett   3.Jalen Hurts
Defense
DE: 1.Jonathan Allen  2.Da'Shawn Hand
NT: 1. Da'Ron Payne  2.Joshua Frazier
DE: Dalvin Tomlinson, Dakota Ball
OLB: 1.Tim Williams 2.Anfernee Jennings or Terrell Hall
OLB: 1. Ryan Anderson  2.Christian Miller orJamey Mosley
MLB: 1. Reuben Foster 2.Rashaan Evans 3.Mack Wilson
MLB: 1.Shaun Dion Hamilton 2.Keith Holcombe
Star: 1.Minkah Fitzpatrick 2.Shyheim Carter
CB: 1.Marlon Humphrey 2.Anthony Averett
CB: 1.Minkah Fitzpatrick 2.Shyheim Carter
SS: 1.Eddie Jackson 2.Hootie Jones
FS: 1.Ronnie Harrison 2.Deionte Thompson
SPECIAL TEAMS
PK / KO – 1.Adam Griffith  2.Andy Pappanastos
HOLD – Cooper Bateman 2.JK Scott
P – JK Scott
SN – Cole Mazza
PR – 1. Calvin Ridley 2. Trevon Diggs
KOR – (two returners start together) 1. ArDarius Stewart and Trevon Diggs  2. Xavian Marks  and Gehrig Dieter
Larry has been published in almost every media outlet for college sports and now primarily writes here for Touchdown Alabama. Follow Larry on Twitter for inside thoughts and game time comments at https://twitter.com/LBSportswriter
THANKS FOR SHARING THE LINK TO THIS STORY ON YOUR FACEBOOK PAGE OR A FACEBOOK GROUP YOU BELONG TO, FACEBOOK RESTRICTS HOW MANY PLACES WE CAN POST IT ON, SO PLEASE SHARE!