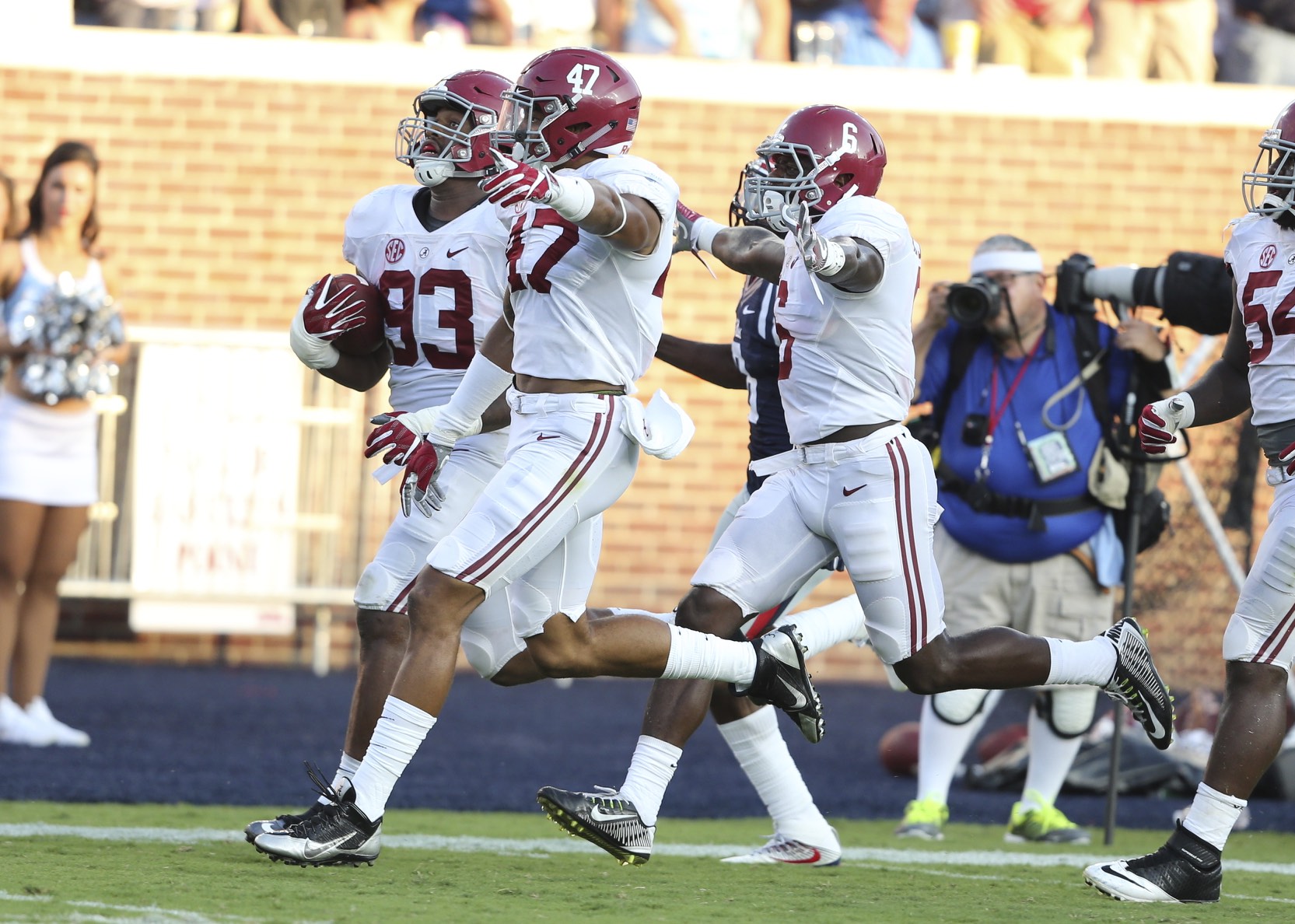 Alabama sure didn't play their best game Saturday, but they learned the best lesson they could have. See what that lesson was and why it could help them the rest of the season.
Bama Wins Despite Sloppy Play, But Learns Much
By: Larry Burton
Let's get the bad out of the way, Alabama's secondary was taken to school and gave up too many big plays and Jalen Hurts looked incapable of throwing a rock in a lake at times missing wide open receivers. Alabama's punter J.K. Scott got off a punt for less yardage once than an old lady could kick from her wheelchair and Adam Griffith, the Tide field goal kicker missed a very makeable three points, all while the offensive line leaked like the Titanic. Then there were the penalties, nine more in fact. This makes this one of the most penalized Alabama teams of the Saban era so far.
The offense for the most part of the game was sucky instead of stellar and if you're an Alabama fan, you have to admit that a defense that gives up 43 points usually loses. Then there was the fumble from Hurts that resulted in an Ole Miss touchdown. In all there were a lot of ugly plays on both sides of the ball that could have cost Alabama the game.
But those bad plays didn't cost them the game.
This Crimson Tide team learned many lessons on Saturday, the biggest of which was never give up. At one point this Alabama team was down 21 points and was seemingly getting blown out, but they didn't panic and they didn't give up. They learned that if they keep their head in the game and do their job, that there's a whole team full of athletes who will all do their part, that you don't have to do it alone.
As a team, offense, defense and special teams all had miserable plays, but also as a team, offense, defense and special teams made some wonderful plays, kept each other up and won the game.
The defense saved the day, accounting for 14 points, all in very unlikely ways. Special teams added 13 points, seven on a sizzling punt return and two field goals from Adam Griffith. You could say they saved the day too. That's 27 points that the other players kicked in on a day when the offense struggled.
But Hurts made many great plays with his legs, the offensive line dominated late when it counted and they needed to run the clock out. Receivers pulled in some big passes. You could say each one of them saved the day also.
They say you learn best from your mistakes, but I'm going to disagree this time and say the Crimson Tide football team learned a lot more from a victory.
Now they say an elephant never forgets, so let's hope this pack or pachyderms remember this lesson for a long time, at least the rest of this season anyway.
Larry has been published in almost every media outlet for college sports and now primarily writes here for Touchdown Alabama. Follow Larry on Twitter for inside thoughts and game time comments at https://twitter.com/LBSportswriter
THANKS FOR SHARING THE LINK TO THIS STORY ON YOUR FACEBOOK PAGE OR A FACEBOOK GROUP YOU BELONG TO, FACEBOOK RESTRICTS HOW MANY PLACES WE CAN POST IT ON, SO PLEASE SHARE THIS LINK.