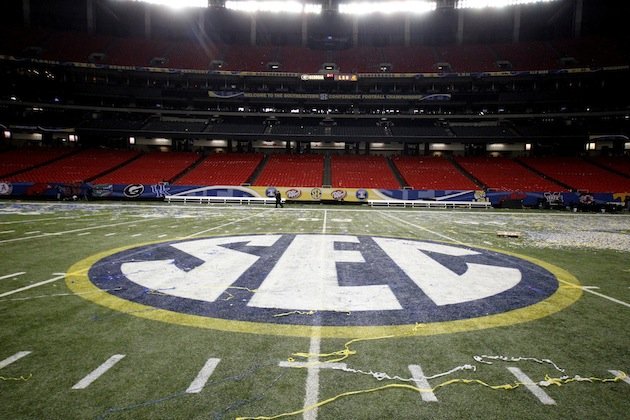 Conference power ebbs and flows each year as do individual teams. How does the SEC stack up nationally and by team? Here is the SEC State of the Union to see for yourself.
Snapshot State of the SEC Union
By: Larry Burton
After five weeks of play in the SEC, the picture is clearing up on just what the "state of the union" is in the SEC and who the haves and have not are both inside the conference and against other conferences.
Starting with the overall state of the SEC as a whole, it's a down year with a lot teams playing mediocre football and overall other conferences are looking like they are trending upward. The top of the SEC still ranks higher than the top of other conferences. But to say the SEC is absolutely the top conference top to bottom no longer is as easy to defend as it used to be.
So the State of the SEC Union is good, but great as a conference.
As for the teams, let's start with the ones in the worst shape with the most work to do in the East, the weakest of the two divisions.
Vanderbilt – The Commodores won't make a bowl this year and more than likely won't win an SEC game, thereby putting them unquestionably in last place. Until they get the offense going, there's little reason to hold out hope that things will change here.
South Carolina –  With one SEC win, over Vanderbilt, it could be safe to say that there won't be another win this season and certainly no bowl game. At least they can be competitive and you can see a glimmer of hope that at least things could be looking up.
Kentucky – Another team that won't make a bowl and just seems to languish year in and year out without showing signs of going upward anytime soon. They had some recruiting, but it didn't translate into wins. Likely to finish with two wins in the SEC.
Missouri – The Tigers are  breaking in a new coach and rebuilding after several stellar years. Missouri has moments where the look good and the future could be bright, with 3 possible SEC wins by season's end, they have a chance of making a bowl game and getting the future off on the right foot.
Georgia – The team I personally picked to win the East just never got it all together yet. They have the pieces in place, but make rookie mistakes. They should have beaten Tennessee, but a penalty and a fluke "Hail Mary" cost them any shot of earning that crown. With 8 to 9 possible wins they will  pose a threat to any team come bowl season and that could add the 10th win, but more than likely, look for 9.
Tennesse – Could easily be number one, but with looming tough games against Texas A&M and Alabama, Tennessee could wind up with two losses and lose the East to a team they beat on the field. If they escape Texas A&M this weekend, it's smooth sailing, if not, they'll hope for another Florida SEC loss. Tennessee is a team dangerous to any team, inside or outside the SEC and has risen to one of real haves not just in the SEC, but in the country. Look for 10 regular season wins and perhaps a bowl game too. 11 wins will mean that indeed, bricks have been laid.
Florida – With one loss to Tennessee and an easier schedule than most of the others in the SEC, if Florida escapes tough games with LSU, Georgia and Arkansas, no easy feat, then they could grab the prize from the team that beat them, Tennessee. But if they lose to one of these three tough teams, then you can put Tennessee back on top due to the tiebreaking win. Despite an easier road that other top SEC East teams, Florida is clearly on the haves in the SEC and the nation and could wind up winning 10 games, 9 for sure, and perhaps a bowl in for a 10 or 11 win season.
Now for the West
It's been said that the worst team in the SEC west is still one hell of a team and that no one outside the conference would want to meet them on the  field. That could be true. The bottom SEC West team would beat many of the SEC East teams and that may be true. With that said, the SEC West does still remain the toughest division of any conference divisions in the country.
Mississippi State – They already have one win in the SEC may wind up with only two due to their brutal schedule, but they are a dangerous team that would win big in another conference. I don't see the Bulldogs making a bowl game and that's a shame because they're really not a bad team.
Arkansas – The Razorbacks got off to a slow start, which is usual and they have no SEC wins as of now and may not end the season with more than two, three at the most. They could make a bowl game this season and make some noise in a bowl game and end up with six to seven wins. Arkansas is one of those teams that wouldn't or shouldn't surprise you though if they go on a streak and win more. You get the feeling watching them that are close to turning the corner to being a have.
Auburn – The Tigers are tired of being one of the also rans in the SEC West and this year's schedule will not help them turn the corner. So far they have one win over an SEC team and were one second away from losing that one. With a killer schedule, they may only win two or three more. The season could end with them looking from the outside in during bowl game time if they lose to Mississippi State or Arkansas. But when the season is over, Auburn will be another also ran and they'll make a tough decision on whether or not Gus Malzahn gets another chance to fix things. Given the fact they aren't looking like a team improving, it doesn't look good.
LSU – Like Auburn, these fans and faculty got tired of being an also ran and fired Les Miles already this season setting the stage for a top hire to take his place and get them back to the top again. With two wins in the SEC already, they may not wind up with more than three. But they will wind up a bowl game for sure but only if they score a win over Arkansas. Watching them play it's hard to believe they won't turn that corner and a big name coach could be just the missing piece they need. They'll end this season with six to seven wins if they pull out a bowl and a win.
Texas A&M – With an impressive start and impressive wins over three SEC teams so far this season and no losses, the Aggies look like one of the haves in the conference and the country. Four more seemingly sure wins over their remaining schedule put them at nine wins and that total could easily grow to 10 to 11. Clearly A&M will pose a threat to 99% of all teams in the country, but they're not in Alabama's rarified air and that's what cost them number one.
Alabama – The gold standard not just of the SEC but the nation, not just this season, but for this decade. With no losses and only one close game, that to Ole Miss, they are truly one of the real haves. Only Texas A&M has a great chance to beat them and Tennessee also has a good chance. Alabama may be on track to play Tennessee twice this season if they win the East and many coach has said the hardest thing to do is beat a good team twice in one season. But if and when that time comes, most suspect they'll find a way.
Conclusion – Overall the SEC is still one of the best divisions and that's unlikely to change for the second part of the season. What could change are the power rankings you see listed above. Several teams are just one great day from their quarterback away from upsetting someone higher up the ranking and scramble the rankings you see here.
But if one was a betting man, this ranking you've just read stands a much better shot of becoming reality that not, but for now, this is the state of SEC union.
Larry has been published in almost every media outlet for college sports and now primarily writes here for Touchdown Alabama. Follow Larry on Twitter for inside thoughts and game time comments at https://twitter.com/LBSportswriter
THANKS FOR SHARING THE LINK TO THIS STORY ON YOUR FACEBOOK PAGE OR A FACEBOOK GROUP YOU BELONG TO, FACEBOOK RESTRICTS HOW MANY PLACES WE CAN POST IT ON, SO PLEASE SHARE!