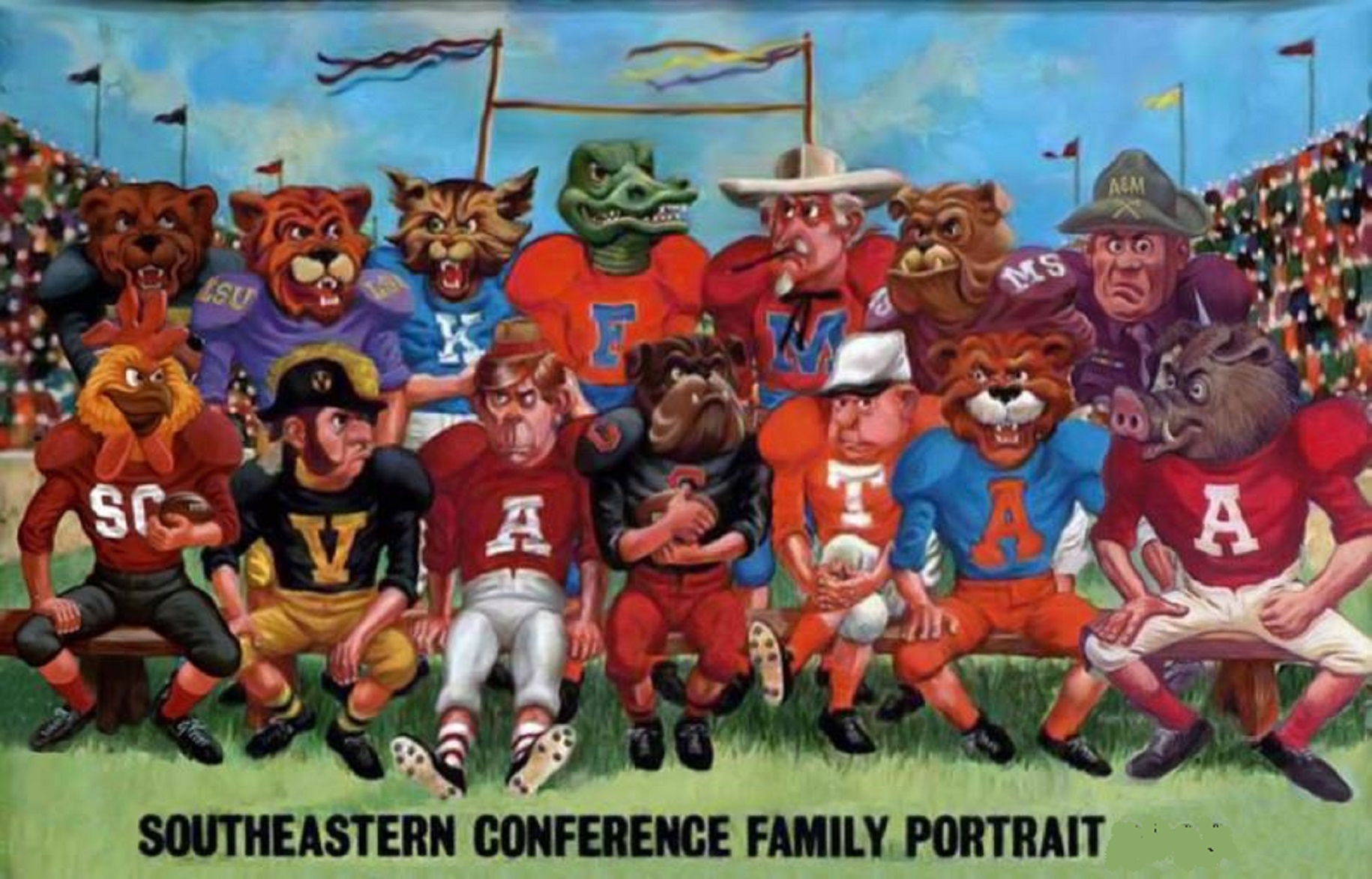 This pigskin pickin' pair of prognosticators are red hot and think they have a handle on this week's predictions. Do you agree? Read and see for yourself.
Larry's Losers in the SEC-Week 6- 2016
By: Larry Burton
Well folks, for 59 minutes and 56 seconds we had another perfect week of picks. Then Tennessee threw that "Hail Mary" and cost us a perfect week. Folks said we were silly for thinking the Vols would fall, but had it not been for a selfish jerk, not the player in particular, but the selfish jerking off the helmet, we would have won it because the Vols QB Dobbs couldn't throw it that far without the 15 yard penalty.
But oh well, no crying in football, so we'll go on to this week. Last week's totals bring us to 43-9 or an 83% average and this week's picks don't seem too sure to help us up that average. There's some games that could go either way like last week, so see if you agree with the guy listing the losers and the prognosticating pug. We think we'll beat all but the very best.
Auburn at Mississippi State – Two struggling teams meet in Mississippi at 11am and while the winner may make a bowl game, the loser is almost sure not to. And while that won't cost the Bulldog coach his job, it will surely cause new real estate plans on the plains.
Mullens Mutts have had a week to rest up and lick their wounds and Dan's hoping the Dogs can jump on this Kitties fast and furiously and send the fur flying.
But with a moving company on his speed dial, Gus ain't about to let his bus get four flats in this part of the country. His troubled Tigers may not have had a week or rest, but the cakewalk they had last week got their juices flowing again and he's hoping they don't take their foot off the gas this week. Well we don't think they will and the War Eagles fly for one more week. Larry's Loser – Mississippi State
LSU at Florida – The other 11am game sees a familiar Tiger and Gator battle and this one's down in the Swamp where the Gators are hoping for a little home Swamp advantage here.
But Ed's Bayou Boys think they know a little something about a swamp too and even the boys in Lost Wages see the Bengals banging heads successfully. Given that they've got a head full of steam after last week's big SEC win, they're thinking they can gather these Gators and smoke some Gator tail before going home.
But with Del Rio back flinging the footballs for the reptiles, we just see an upset brewing here and those Mud Puppy Men come off with a win. That makes Larry's loser – LSU
Tennessee at Texas A&M – Butch Jones brings his Vols down to Texas with a horseshoe up their butt and a box of Lucky Charms to munch on during the trip down and he's hoping that all those miracle comeback wins will just keep coming like tears from their opponents eyes. This one starts at 2:30.
But the Aggies from College Station don't believe in luck and think that they can yank the rabbit's foot out of their hands and kick the horseshoe out of their hiney and end all this luck.
And while both the pigskin pickin' pooch and I have been wrong about Tennessee twice this season, we think we'll finally be right with this one. Larry's loser – Tennessee
Vanderbilt at Kentucky – At 3pm we'll find the Song City Sailors dropping anchor in the Blue Grass State to take on the Kentucky Kitties and this is one that we're having problems picking. One has a great defense and one has a good offense, so it could really go either way if one gets rolling.
The Commodores are rough and ready on defense, but score less than a pimply nerd at a single's bar on Saturday night and you don't win much if you don't score. But Mason's men think they can do better against a softened Wildcat and turn them back into Mildcats.
But we think that Cats will stumble across the goal line at least a time or two more than these sinking sailors and that should be enough to get them a rare SEC win. Larry's loser – Vanderbilt
Alabama at Arkansas – The night games start at 6pm and the first finds the Big Pigs with trunks taking on the little pigs with tusks in the Pig pen in Fayetteville.
So far this season these Swine have been in Hog heaven for most of the year with just one bad bump in the road and that one was on the road, so this little piggy stayed home this time and plans on giving this pack of pachyderms a rather rude reception and catch them looking ahead to Tennessee.
But Saban's Tuscaloosa tusked ones don't overlook much and they're planning on punishing these Pigs and keeping their playoff hopes alive and well. So while some little Piggies will have roast beef, these little Piggies will have none and instead of going "We We We" all the home, they'll be screaming something unprintable here in their own home. Larry's loser – Arkansas
Georgia at South Carolina – Finally at 6:30, the final night game finds the Red Clay Hounds sniffing out the Carolina Cluckers in Columbia and both these teams need to turn around a season quickly going South.
Now coach Muschamp is hoping the roosters show up and not the hens this week, because he knows it's going to take some powerful pecking to dent the domes of these Dogs to slow down their offense while trying to fly the coop to the goal line a few more times than they've been doing in the past.
But we'll be very surprised if this isn't all Dog from beginning to end and could be one that get's ugly fast if the Chickens keep laying an egg on offense. And that's just what we think will happen and that makes Larry's loser – South Carolina
Well that's all for this week's predictions folks. There's about three games that we're going to be watching while holding our breath. Yes, we think some could be real barn burners and we just hope our winning percentage won't get scorched.
You never know when an untimely penalty, a fumble at a bad time or just a lucky "Hail Mary" will ruin your day, we sure didn't in a few games like that this year. So we can't wait to come back next week and tally up the totals and either crow about the good results or eat crow for the bad.
Till then, clean that TV screen and get ready for the rumbles. Now darn it dog, where are my house shoes? You promised to fetch them for every night for a week if those Georgia Dogs lost, so hop to it.
LARRY HAS BEEN PUBLISHED IN ALMOST EVERY MEDIA OUTLET FOR COLLEGE SPORTS AND NOW PRIMARILY WRITES HERE FOR TOUCHDOWN ALABAMA. HE WRITES IN A COLLOQUIAL AND IRREVERENT STYLE FOR THIS SERIES OF ARTICLES. LARRY'S VIEWS AND SENSE OF HUMOR MAY OFFEND, BUT HE AIMS TO OFFEND EVERYONE EQUALLY. IF HE HASN'T INSULTED YOUR FAVORITE TEAM WITH LARRY'S LOSERS, JUST WAIT. FOLLOW LARRY ON TWITTER FOR INSIDE THOUGHTS AND GAME TIME COMMENTS AT

 HTTPS://TWITTER.COM/LBSPORTSWRITER
THANKS FOR SHARING THE LINK TO THIS STORY ON YOUR FACEBOOK PAGE