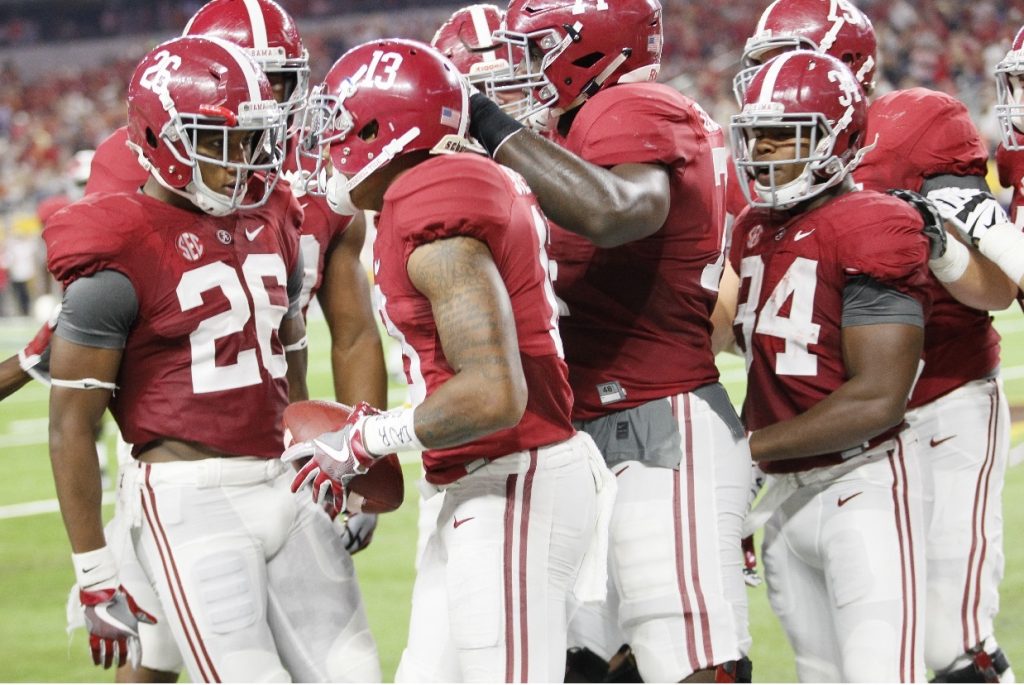 Most teams would be content to continue doing whatever got them to the #1 ranking, but this Alabama team is one who is still evolving and striving for better play. Are they succeeding? Read and make up your own mind.
Alabama is Still a Team Evolving and Getting Better
By: Larry Burton
The voters in all the polls, people who know and understand football all say as a group that this Alabama team is at least in this part of the season, the best team in America by a wide margin.
The scary things for teams down the road however, is that this is a team that is evolving and getting better each week in many areas. Now the only real question is, how much better can they get and what are the places that need the most improvement.
The running game, despite having their two season starting stars not hitting on all cylinders because of injuries, is still improving each week. It almost seems that anyone in Crimson handed the ball is finding a way to gain yardage, move the chains and keep the opposing offense on the bench.
The offensive line that quite frankly didn't look good at the first of the season, is now protecting the quarterback better, opening holes and simply dominating the line of scrimmage.
Receivers who dropped balls earlier are now in mid season form, but most of all the quarterback who started slow this season with his arm is now showing the savvy of a veteran in making good decisions and protecting the ball.
In the first game he completed just 54% of his passes and had an interception to 64% in the second game, 61% in the third game, 66% in the fourth,  then dipped to 61 in the fifth before jumping to 76% in the last game. But like I've always said, you can use statistics to argue either case, but that's where you'd be wrong in this case.
While completion averages may look good, his play looks better. In interviewing AJ McCarron once, he told me Saban's philosophy is that sometimes the best and smartest throw you'll make in a game is throwing it out bounds on a play, not taking a sack, not risking an INT and putting yourself in a worse position.  Hurts is learning and applying this to his game now.
He's more relaxed, not missing wide open receivers and is clearly protecting the ball more than earlier. But still, Hurts is a work in progress and Kiffin hasn't had a quarterback at Alabama with this much talent and upside so you can bet he'll keep polishing him like a diamond until he shines like one.
On defense Alabama's front lines are as good and solid as any team in nation and are the number one team in the nation against the run. There's not much left to evolve there. What is evolving is the defensive secondary.
With the transfer of Maurice Smith and the suspension of Tony Brown, the secondary needed to piece themselves together early on and it showed. Now with Brown back from that suspension and youngsters having gotten some playing time during that period, it's time to start to see them coming together.
Though they've shown glimpses of greatness at times, they've also been routinely burned. Just this past week, one of the SEC's best quarterbacks, Austin Allen, put up 400 yards of passing against the Tide.  Overall, Alabama is ranked as having the nation's 61st best unit out of 128 teams. That's barely staying in the top 50%.
And it's clear to see that only Saban's post season speeches but his demeanor on the sideline, that he's seen plenty he doesn't like. That only means that he'll turn up the heat on the secondary in practice and in the film room. They will get better, they always do it seems.
But this is a defense that scored eight touchdowns in six games so far, a stat that leads the nation. In fact, in talking about evolving, they got two in their last game, which is their record per game so far this season.
The long and short of it all is very simple, they are indeed one of the, if not the best team in the nation, but they aren't content to stay that way. To a man, everyone thinks they can be better, will be better and that must send chills up the spines of everyone else.
Larry has been published in almost every media outlet for college sports and now primarily writes here for Touchdown Alabama. Follow Larry on Twitter for inside thoughts and game time comments at https://twitter.com/LBSportswriter
THANKS FOR SHARING THE LINK TO THIS STORY ON YOUR FACEBOOK PAGE OR A FACEBOOK GROUP YOU BELONG TO, FACEBOOK RESTRICTS HOW MANY PLACES WE CAN POST IT ON, SO PLEASE SHARE!