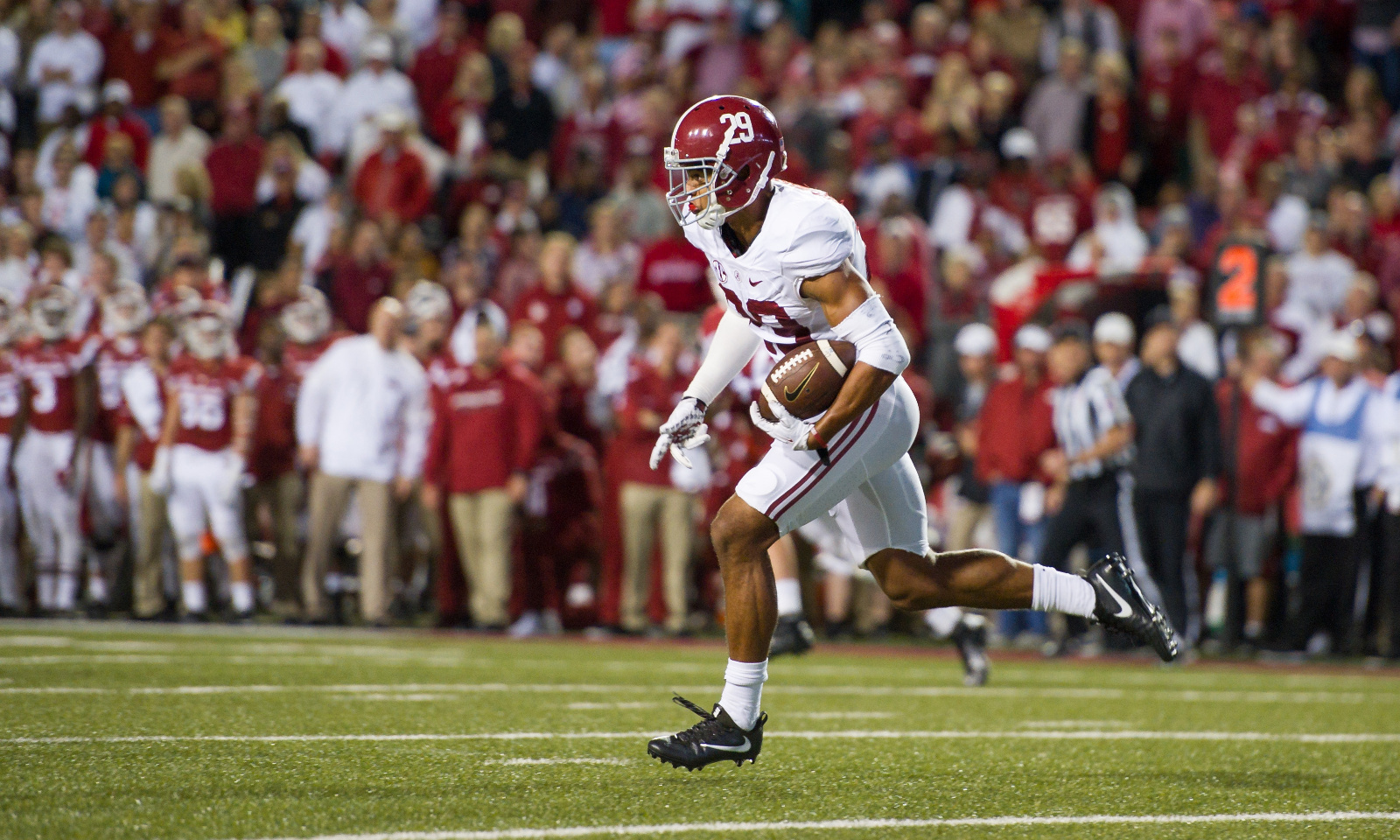 TUSCALOOSA—NFL Draft experts will have their boards ready for 2017.
A short-term memory is something Alabama coach Nick Saban, his staff and the players all love about cornerback Minkah Fitzpatrick. His emotions were held in check last year as a true freshman, despite some moments when he was out of place on the field. The sophomore entered this season with the same mindset, and it was evident last week against Arkansas. Razorbacks' signal caller Austin Allen attacked Fitzpatrick twice in the second quarter, resulting in plays of 11 yards (Austin Cantrell) and 57 yards (Jared Cornelius). After hearing his coach express disappointment in the secondary, Fitzpatrick locked in for the second half.
The former five-star defender and New Jersey (Old Bridge) native victimized Allen, during Arkansas' second possession in the third quarter. While defensive lineman Dalvin Tomlinson applied pressure, Fitzpatrick broke to the ball and collected his first interception of the season. His effort gave the Crimson Tide the ball back, after the Hogs forced a pick off Jalen Hurts. Alabama cashed in on the opportunity with an 18-yard touchdown drive, capped off on a four-yard pass from Hurts to wide receiver Calvin Ridley. Allen would encounter the same issue on the Razorbacks' following possession, as Fitzpatrick baited him into throwing another pick.
Regardless of giving up over 200 yards rushing, Donald W. Reynolds Razorback Stadium was still rocking going into the fourth quarter. Trailing 42-24, Allen navigates Arkansas downfield on a 62-yard drive.
Coach Bret Bielema saw his group use 6:52 of the clock, to get inside Alabama's 20-yard line. Just when Razorback fans expected to score, a horrific trifecta took place. Allen air mailed a pass into double coverage, allowing Fitzpatrick to nab his third takeaway. This interception, however, ended with points on the scoreboard. He followed Eddie Jackson out of the end zone and coasted for a 100-yard touchdown return.
Alabama's Minkah Fitzpatrick Takes 3rd INT 100-Yards For 6
Fitzpatrick delivered Alabama its ninth non-offensive score on the year and sixth on defense.
"He [Fitzpatrick] had a fantastic game," Saban said after Saturday's contest.
"Making those big plays are certainly something that certainly has an impact on the game. The 14 points that the defense scored was significant, and Minkah made three big plays."
Fitzpatrick's three interceptions set a new career-high for him, and also tied a school record for most in a single game. His 100-yard return touchdown off an interception broke a school record, which was previously held by former Tide defensive back Mark McMillian (98 yards, 1991).
During player interviews, Fitzpatrick said it was Eddie Jackson who initiated the touchdown.
"When I caught the ball, I turned around and Eddie was right there," he said.
"He kept telling me to come on, and I followed him to the left side. There was nothing but green to the left side, so I took the opportunity and followed him."
Jackson got both blocks on Fitzpatrick's 100-yard pick six, including one on Austin Allen as he scooted into the painted grass. He collected his first multi-interception game in 2015, picking off Texas A&M's quarterback Kyle Allen twice for 88 yards and two touchdowns in a 41-23 win.
Fitzpatrick credits the first takeaway to waking the Tide's defense in the second half.
"We needed a turnover," Fitzpatrick said. "That play boosted the morale of the defense."
Alabama's version of Tyrann "Honey Badger" Mathieu finished with five tackles and two pass breakups, to pair with three interceptions. He earned player of the week honors from Alabama's coaching staff, the Southeastern Conference and Walter Camp Football Foundation.
Stephen M. Smith is a senior analyst and columnist for Touchdown Alabama Magazine. You can "like" him on Facebook or "follow" him on Twitter, via @Smsmith_TDALMag.