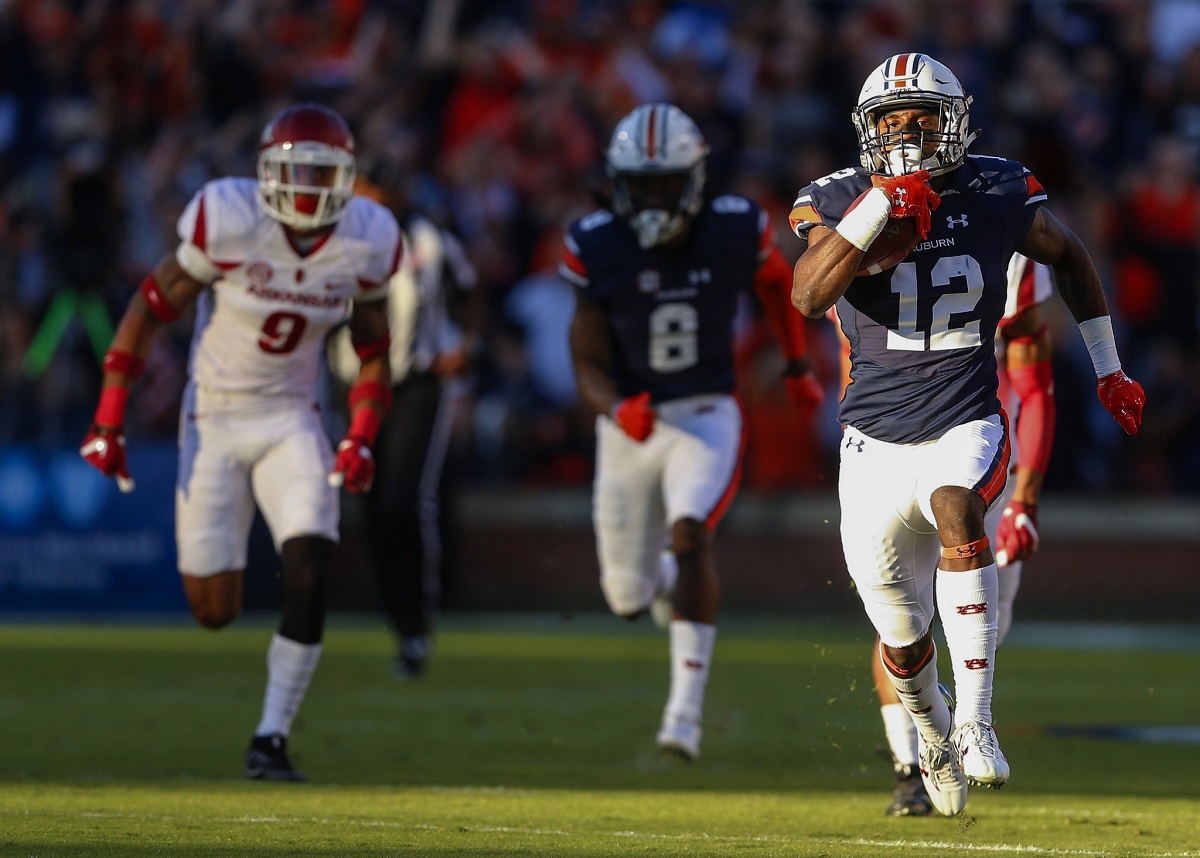 Does the big win Auburn just had over Arkansas send a huge message to the Alabama Crimson Tide? Read and see what you think.
Auburn's Big Win Over Arkansas Sends Tide a Message
By: Larry Burton
Auburn 56 – Arkansas 3. That wasn't just a score. That wasn't just a message to the Razorbacks. That was a message to both Alabama and their fans that they'd better not celebrate their win over #6 Texas A&M too much, because that might not be their toughest end stretch game.
Alabama defeated Arkansas a few weeks ago by a score of 49-30. That's bad news for Alabama fans for three reasons. First of all Auburn beat them by 53, Alabama by just 19. Second, Arkansas put 30 points on the Tide but only scored three on Auburn. Lastly, Auburn is getting hot, gaining confidence on both sides of the ball at just the right time to have a shot at defeating their biggest nemesis.
Now for the bad news for Auburn fans. Saban will use that for getting his team ready. Secondly, after years of studying football, I've learned that comparing games against common opponents don't mean as much as you think. Lastly, Auburn will find that Arkansas is not Alabama and what they were able to do against the Razorbacks won't translate into what they can do against Alabama.
But it will drive interest in what could have been a ho hum Iron Bowl. Auburn fans will be energized, the Tiger players will be more hopeful and the media will really play this game up now.
Alabama will enter the game more than likely still undefeated and Auburn should come into the contest with two losses at the best and three as the most. The game will be played in Tuscaloosa and that doesn't help Auburn either.
Las Vegas will no doubt make Alabama at least a 10 point favorite, but what happens in the game is the reason we watch them. It is the Iron Bowl and anything is possible.
Alabama's statement back to Auburn is simple. "We have some business to take care of first, but we'll see you in November!" As a backup they could say, "And didn't the Aggies beat you?"
Larry has been published in almost every media outlet for college sports and now primarily writes here for Touchdown Alabama. Follow Larry on Twitter for inside thoughts and game time comments at https://twitter.com/LBSportswriter
THANKS FOR SHARING THE LINK TO THIS STORY ON YOUR FACEBOOK PAGE OR A FACEBOOK GROUP YOU BELONG TO, FACEBOOK RESTRICTS HOW MANY PLACES WE CAN POST IT ON, SO PLEASE SHARE!