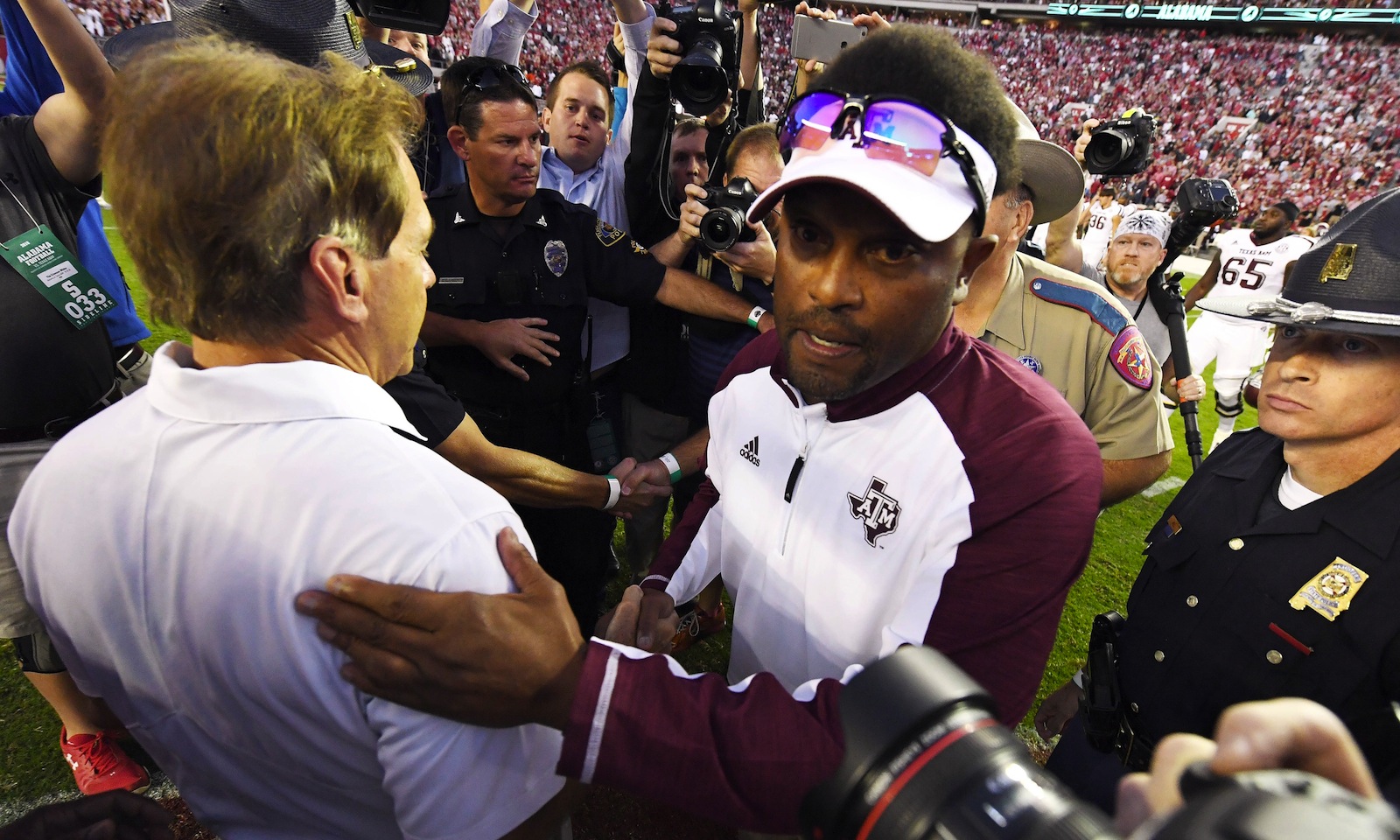 Texas A&M was the last top 10 team on the Tide's schedule, so does their 19 point win over a legitimate #6 team make that win a coronation?
Was Today's Tide Victory a Coronation?
By: Larry Burton
For almost three quarters it was close because Alabama was being very "unAlabama". There were too many trips into scoring territory and too few points. The defense was giving up big plays and scores too and things just weren't going very Alabama.
Then an unforeseen hand reached out and grabbed an invisible gear shift and Alabama suddenly sped off after changing gears.
The defense that had been giving up scores suddenly tightened up. On the play following a Trevor Knight scramble that resulted in a first down in Alabama territory and the score 20-14. A&M seemed on the march to take the lead back, but the gear was shifted.
On the next play Knight completed a pass for a two yard loss and the defense just changed. The next play Tim Williams, Alabama's speed sack machine, beat his defender and sacked Knight for another 14 yard loss. You could just see the momentum swinging and after years of studying football, feel it in the air.
The next play perhaps sealed the game. With A&M also feeling the Tide's momentum shift decided to do something safe, just hand the ball off, get what you can, punt and come back the next series after things have cooled off.
But with the Tide this hot, nothing can be called by Texas A&M that is safe enough. So when Knight handed off to his running back Keith Ford, Tim Williams was on him like a flash, almost getting there the same time as the handoff. What should have been another losing play turned into much more a nightmare for the Aggies. Williams dislodged the ball and Johnathan Allen scooped up the ball and scored.
In just over a minute the game changed. It looked like the Aggies were going to drive one in again, take back the lead and momentum in the game with a 21-20 score. Instead Alabama's defensive touchdown streak continued and the Tide went up 26-14 and the game was now no longer in question. Until then the Alabama squad were just going through the motions, now they were finally on fire.
It wasn't just the defense in gear, the offense caught the fever and piled on another touchdown on their next possession and with the score now 33-14 and with over 12 minutes still remaining, all 100 thousand plus people in that stadium knew this game was over.
And such was the case.
With Alabama beating a team who certainly deserved their #6 ranking by 19 points, the question now is, with no remaining top 10 teams on their schedule including the SEC Championship Game, was this win a coronation for the Tide to the third straight College Football Playoffs?
If it wasn't, it sure felt like it, sure looked like it and perhaps is reality. Sure there are tough games remaining. Auburn has been looking tough lately, LSU is never a pushover and the SEC Championship Game isn't a given although the Tide sometimes makes it look that way.
But if this wasn't a coronation game, it sure looks like one when you look at the remaining schedule. Now the trick for Saban is to make sure his players don't feel that way too.
Larry has been published in almost every media outlet for college sports and now primarily writes here for Touchdown Alabama. Follow Larry on Twitter for inside thoughts and game time comments at https://twitter.com/LBSportswriter
THANKS FOR SHARING THE LINK TO THIS STORY ON YOUR FACEBOOK PAGE OR A FACEBOOK GROUP YOU BELONG TO, FACEBOOK RESTRICTS HOW MANY PLACES WE CAN POST IT ON, SO PLEASE SHARE!