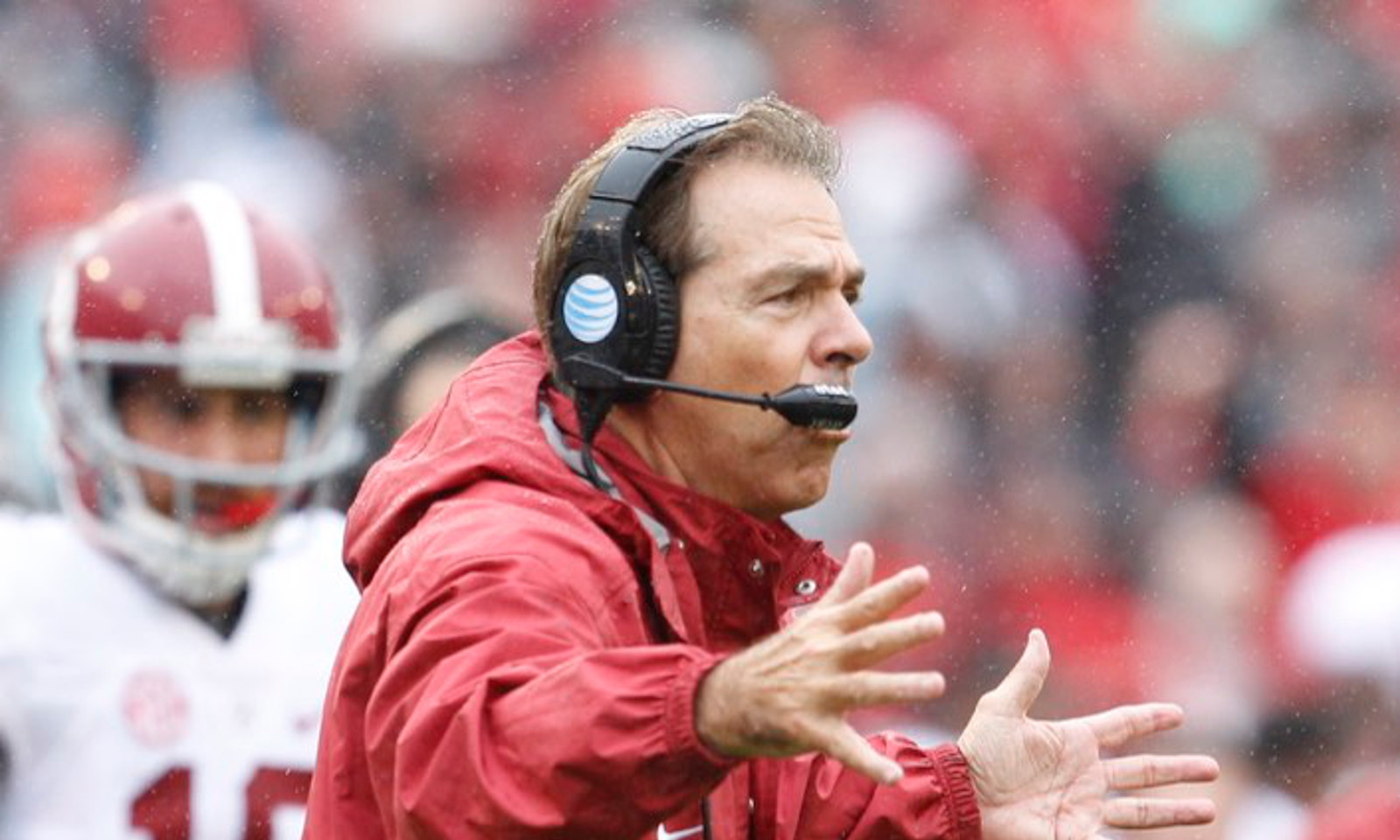 In 2007, college football saw one of the weirdest seasons in its history. We saw eight different teams ranked second in the AP Poll throughout the season and three different teams ranked first in the last three weeks before the bowl season. In the final five weeks of the regular season, 10 different teams were ranked in the nation's top six. With all of that, we finished with a 2-loss champion that was still clearly the best team in the country.
Alabama fans probably do not want to see a lot of chaos in the final weeks of the season but this 2016 college football season is set up for plenty of madness in the final weeks of the season. We are not at the level of the 2016 season just yet but it is possible that we get there.
So I'm here today to create that chaos. We want to see how much (realistic) chaos we can make for the final month before the College Football Playoff is announced. We will take a week by week look at the best games in the country and try to predict the committee's top six teams  after the chaos.
Week 11 – 1. Alabama, 2. Clemson, 3. Michigan, 4. Washington, 5. Ohio State, 6. Louisville
Just so we can focus on the Power 5, let's start with a Western Michigan loss at Kent State on Tuesday night to kick them out of the undefeated ranks. I do not see a lot of madness ensuing in this week but we can surely find some upsets. I'll take Iowa to return to last year's form and put together a performance to knock off Michigan. I'll also take two Big XII upsets with Texas beating West Virginia and Baylor knocking off Oklahoma to end its shot at a playoff return.
Week 12 – 1. Alabama, 2. Clemson, 3. Washington, 4. Ohio State, 5. Louisville, 6. Auburn
Michigan and Wisconsin are just barely on the outside looking in on this one. There are not a lot of great games this week but there is definitely enough to make a difference in the rankings. Houston hosts Louisville in what could be one of the best games of the season on Thursday night so let's give Greg Ward Jr. and the Cougars the edge in this one. Wake Forest has managed to put together a good season and they get to host Clemson so let's give their defense some credit and say the Tigers get upset. I'll also say Wisconsin's lack of offense catches up with them in a loss to Purdue.
Week 13 – 1. Alabama, 2. Washington, 3. Ohio State, 4. Michigan, 5. Auburn, 6. Penn State
Things are already looking weird in those top six but not weird enough. So I know this will not make many of you happy, but let's give Auburn a road win in the Iron Bowl. We have to pick one in "The Game" so I'll take the Buckeyes to beat Michigan. I'll take Colorado to beat Utah and win its PAC 12 division. Washington State hosts Washington in the Apple Cup and I'll take the Cougars to win that one because Mike Leach's craziness will always bring chaos.
Championship Week – 1. Ohio State, 2. Auburn, 3. Alabama, 4. Clemson, 5. Penn State, 6. Colorado
Washington is just barely on the outside but it's clear its schedule is not good enough to afford a loss. Championship Week will have a major impact on this year's playoff so let's take a look at each matchup. PAC 12's championship game, in this scenario, will be 2-loss Colorado facing 2-loss Washington State. I like Colorado because I can call them the Buffs so let's go with the Buffs. The ACC will be 1-loss Clemson against 2-loss Virginia Tech, which could be in the top 10 at this point in the season. So let's go with the Hokies. The Big Ten championship game will be a 2-loss Nebraska with a 1-loss Ohio State. So you better believe that we are going with the Cornhuskers in that rematch. And the SEC Championship Game will be 2-loss Auburn against 3-loss Florida which is a clear win for the Gators.
So there's your chaos and let's see what the final College Football Playoff rankings would look like.
10. Clemson (11-2) – ACC runner up, losses at Wake Forest and vs. Virginia Tech
9. Oklahoma State (10-2) – Big XII Champion, losses vs. Central Michigan and at Baylor
8. Michigan (10-2) – losses at Iowa and at Ohio State
7. Virginia Tech (11-2) – ACC Champion, losses vs. Tennessee and  at Syracuse
6. Ohio State (11-2) – Big Ten runner up, Losses at Penn State and vs. Nebraska
5. Penn State (10-2) – losses at Pittsburgh and at Michigan
4. Washington (11-1) – Loss at Washington State
3. Colorado (11-2) – PAC 12 Champion, losses at Michigan and at USC
2. Nebraska (11-2) – Big Ten Champion, losses at Wisconsin and at Ohio State
1. Alabama (11-1) – Loss vs. Auburn
---
So yes, there's a lot up here that is probably not going to happen but you can make a case for every loss on that list. The best part about this could be a classic matchup of Nebraska and Colorado in one semifinal and what seems to be an easy national championship path for the Crimson Tide.
Chaos is fun but most of this likely will not be happening so make sure you're subscribed to Touchdown Alabama Magazine and find my full article on each team's chances to make the final four.
Caleb Turrentine is a columnist and contributor at Touchdown Alabama Magazine. He also does work for Alabama's team page at Bleacher Report. Follow him on Twitter, @CalebTurrentine.