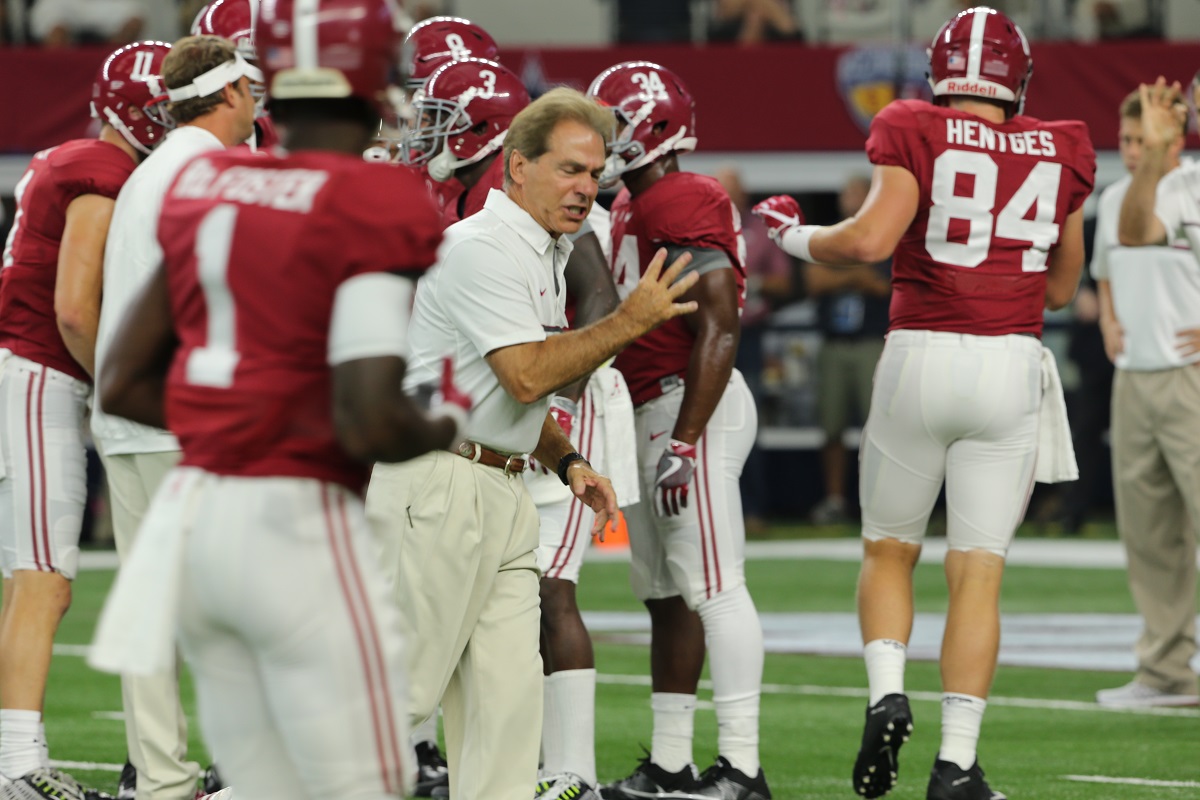 While many see the multitude of upsets this weekend as throwing the college football world into chaos. There's always Alabama, on top and winning.
College Football World Thrown Into Chaos This Weekend?
By: Larry Burton
Number two in the nation Clemson falls to a four loss Pittsburg team. Number three Michigan falls to a four loss Iowa team. Number four Washington loses to a thee loss USC team. Besides Alabama, the only other undefeated team in the top 25 is the Western Michigan Broncos. How's that for chaos?
Three of the four teams that the "great minds" of college football placed in the top four slots to compete in the playoffs all lost to teams which simply aren't considered great by any stretch of the imagination. Other top ten teams fell to teams that were considered big underdogs. It seems nothing is going by any sort of rational plan this season.
But before you have a nervous breakdown trying to figure out what is sanity in this wild crazy season, simply look at the top of the standings and take a deep breath. The team that started in first place is still in first place and is only getting better as the season goes on.
Next week could be just as wild for the other teams that are simply planets rotating around Alabama's bright rays.
The likely top four teams may now include Ohio State, maybe Louisville in the third spot and you may see Michigan and Clemson fighting for the number four spot. But if all win out, Clemson has the tie breaker over Louisville to go to the ACC Championship which in turn should place them back over Louisville, not to mention that Ohio State and Michigan still have to play and one of them will be gone for good from any discussion.
So who are the likely four teams now that will appear at the end of the season? Seriously, who knows and who cares, this season is simply Alabama's to lose at this point and no one appears ready or able to beat them. Yes there are some who are willing, but one of three in the ready, willing and able category doesn't get you many wins.
What was unthinkable earlier in the year is going to be a reality this post season. There are going to be some two loss teams in the College Football Playoffs. This is a year that will quiet the fans who want an expansion of teams to compete in the playoff process because there simply aren't more than four team who look capable of winning it all. In fact, as previously stated, none of the four who will make the playoff look capable of beating Alabama.
In fact and quite the contrary to an expansion of the playoffs, by the end of the season most may be wondering why bother with three other teams in the playoff, just send the one who wins the top of the other teams to be Alabama's sacrificial lamb for the anointment game. Yes, some may actually miss the old BCS format this season of just letting number one and two duke it out and be done with it.
So while the college football playoff may seem unpredictable, it is just the opposite. This is and has been Alabama's season all year long it seems. This season will end as did last season, with Alabama hoisting the national championship trophy and Alabama being the favorite to repeat once again.
So really, there's no chaos in college football this season. Things have gone exactly as most sportswriters have said it would go all season long, with Alabama winning yet another national championship. The only thing nobody could predict was how all the teams below Alabama would fall into place.
Larry has been published in almost every media outlet for college sports and now primarily writes here for Touchdown Alabama. Follow Larry on Twitter for inside thoughts and game time comments at https://twitter.com/LBSportswriter
THANKS FOR SHARING THE LINK TO THIS STORY ON YOUR FACEBOOK PAGE OR A FACEBOOK GROUP YOU BELONG TO, FACEBOOK RESTRICTS HOW MANY PLACES WE CAN POST IT ON, SO PLEASE SHARE!