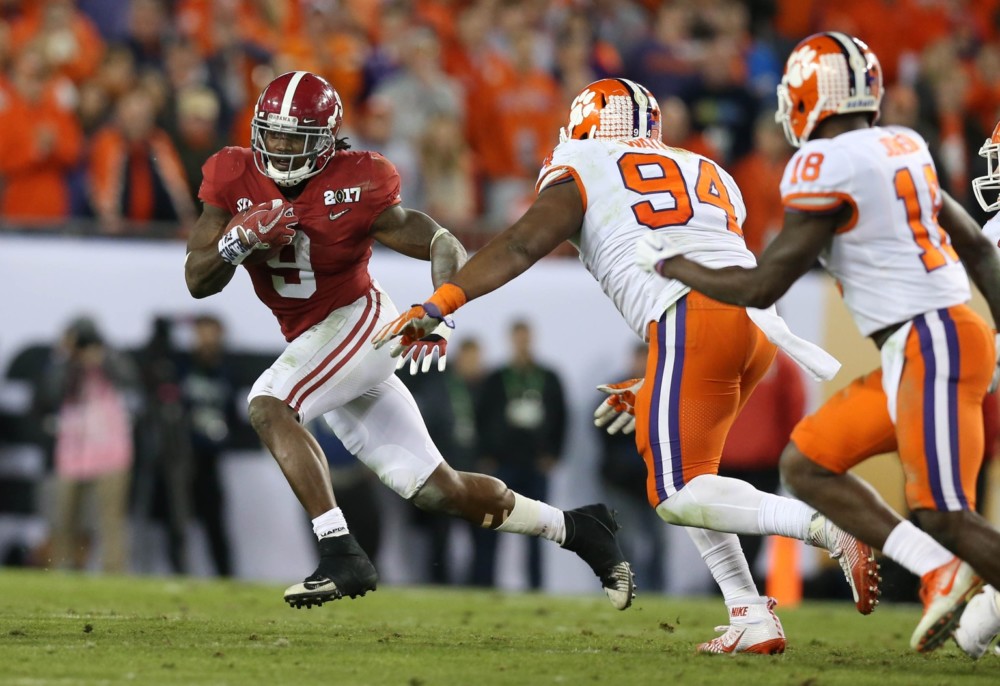 Alabama found out just how difficult it is to go 15-0 in a season on Monday night. The Crimson Tide fell to Clemson 35-31 in another national championship instant classic.
With the Tide leading 24-14 entering the final quarter of the season, Clemson scored three touchdowns in the final 15 minutes. Deshaun Watson threw the game winning touchdown pass to Hunter Renfrow with one second left in the game to give the Tigers a 4-point victory.
The game was Nick Saban's first loss in a national championship game. It was also the first time that one of Saban's Alabama teams blew a double-digit, fourth quarter lead. The loss snapped Alabama's 26-game winning streak, which dated back to September 2015.
Alabama could not get enough production on offense to put the game away early on. The Crimson Tide recovered two fumbles inside Clemson territory but only came away with 3 total points.
Jalen Hurts was 2 minutes away from being the hero for Alabama but his 30-yard touchdown ran came a bit too soon. The freshman quarterback finished with 63 rushing yards on the night but only completed 13 of 31 pass attempts for 131 yards.
O.J. Howard was trying to play a the hero role again, scoring a 68-yard touchdown in the third quarter to give the Tide a 10-point lead.
Alabama's defense had no answer for Watson in the fourth quarter. The Heisman runner-up was named the game's Offensive MVP after throwing for 420 yards and finishing with four total touchdowns.
Alabama finished with 221 rushing yards but Peach Bowl MVP Bo Scarbrough got hurt in the third quarter and the offense never looked the same. The Crimson Tide was outgained by 135 yards and went just 2-for-15 on third downs in the game.
Caleb Turrentine is a columnist and contributor at Touchdown Alabama Magazine. He also does work for Alabama's team page at Bleacher Report. Follow him on Twitter, @CalebTurrentine.