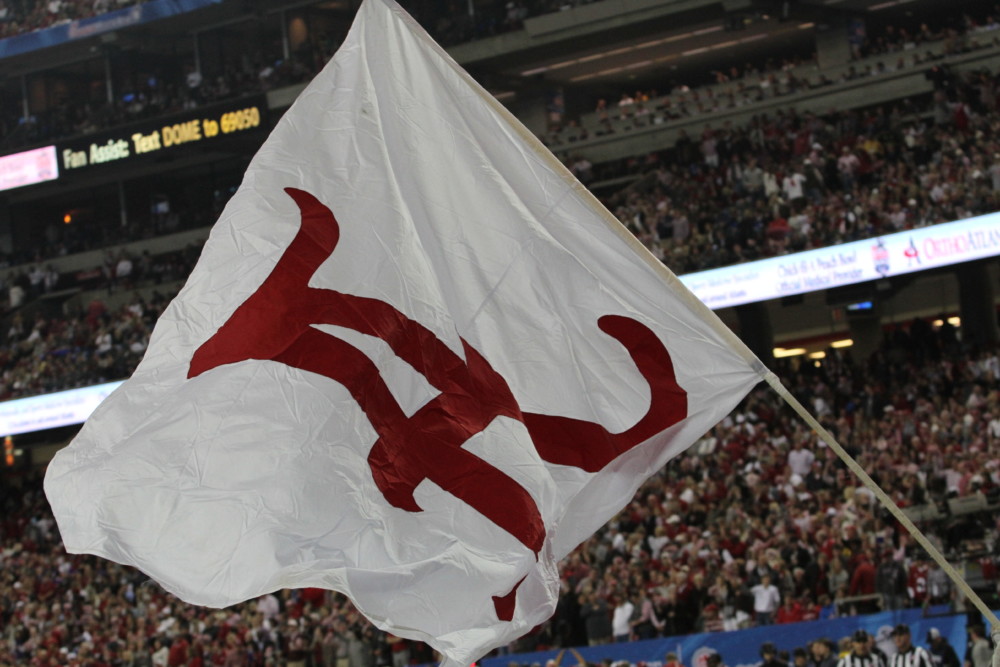 It's worth one look back at last season and a quick look ahead at this point to see the direction of Alabama football and celebrate it for what it is. Read and see if you agree with article.
One Last Look at 2016 Then On To Next Season For Alabama
By: Larry Burton
Though it's now been many days since the ending of the 2016 season, the pain of losing that national championship was only softened by two statements I heard from the coaching staff before the 2016 season even began.
The first statement was, this team has the chance to make it the playoffs this season. They are a great bunch of kids with a great mindset and we are expecting them to play with a lot of speed and passion. But as good as things look for 2016, things look even better for 2017. That it the year I see us taking it all and running away it.
The second was shorter and sweeter but just as the first, talked about the 2017 season. It was that this was going to a young team this season who would play a lot of great teams this teams led by players who will be in their final year and it could be a tough to hope to win them all. But what they'll learn and the experience they'll get will make Alabama the team to beat in 2017 when they're young ones have come of age.
The first statement proved true, this was a team with speed and passion and they did make the playoffs. The second was more to what really happened. Alabama had to beat a senior quarterback Chad Kelly who had already beaten the Tide twice. Then they'd have to beat another great senior quarterback, Joshua Dobbs at Tennessee. Then there would be a possible matchup with Clemson again against Deshaun Watson, who most felt would be the nation's best quarterback this season and certainly proved it to most of us, who would be in his final season.
That was a lot to hope for and Alabama was just seconds away from doing all that. Writers far more gifted and coaches who are smarter than I will all argue for years what Alabama could have done differently and won. Personally I think the game was lost because of two running plays we could have run anytime in the fourth quarter and didn't that could have ended the game a minute earlier.
But the wisest and and most gracious thing to say, was the best team on that day won the game by doing what it had to do to win. That is what winners do. That is why Alabama won the 2015 championship and Clemson did this season. One finished and one did not.
This upcoming season however gives Alabama that fire that they may have needed in the closing minutes of this past season, a hunger to finish. Last year Clemson players walked off the field watch Crimson clad warriors waving in the confetti filled air and celebrating. This year it was the Alabama players who watched that ending in reverse, remembering their own joy in joy in winning it and now the pain of coming so close and losing it.
I expect that to drive them back this year to finish it all once again. That is the long and short of it for last season and a quick look ahead. On a personal note I appreciate all the fans who were with us here at Touchdown Alabama last season and for the folks there giving me some much needed time off for some medical issues and recovery time at the end of the year.
I expect to be stronger and better like the Tide and like you, our wonderful fans who make all this possible, I am looking forward to see what this team will do this next season. I was asked a beachside cafe in Vietnam just before the National Championship Game was played for a personal prediction. I told them I had already picked Alabama in close game. But I said with a grin and believe this with all my heart, "But no matter who wins this one, Alabama will be back next year to stand and fight it out again in the playoffs and Clemson will not. We have proven that it doesn't matter who's at quarterback, running back of whatever, we are team built around a team concept, not a team that's built around one star."
And that is why I like our chances next season and for many more to come. Now on to 2017.
Larry has been published in almost every media outlet for college sports and now primarily writes here for Touchdown Alabama. Follow Larry on Twitter for inside thoughts and game time comments at https://twitter.com/LBSportswriter
THANKS FOR SHARING THE LINK TO THIS STORY ON YOUR FACEBOOK PAGE OR A FACEBOOK GROUP YOU BELONG TO, FACEBOOK RESTRICTS HOW MANY PLACES WE CAN POST IT ON, SO PLEASE SHARE!