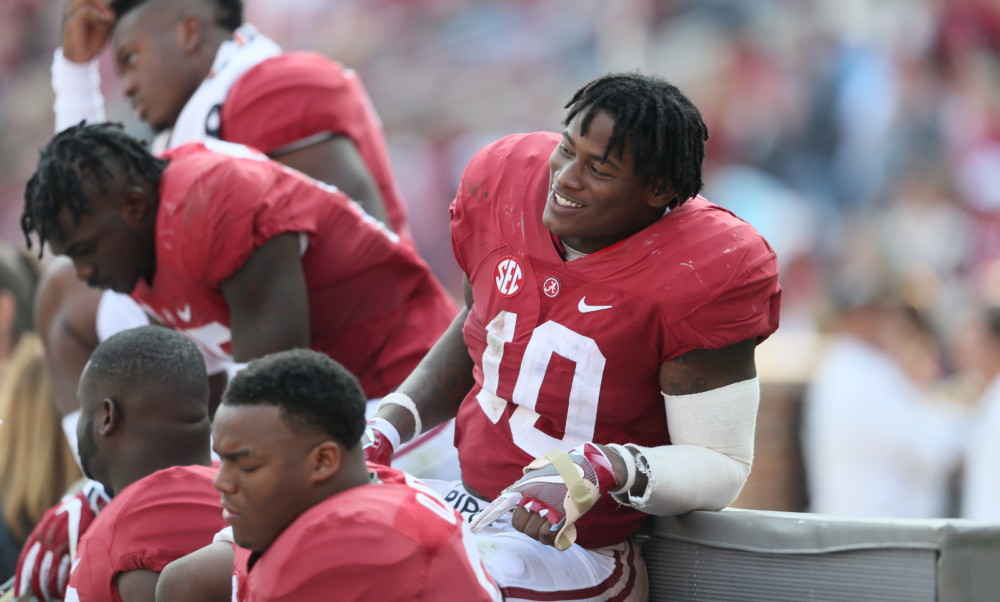 Rule No. 1 of Alabama football… Never attack marquee players.
Reuben Foster's incident at the NFL Scouting Combine last week could have been handled a lot better, but at the end of day, he apologized for his actions and displayed maturity. Since the incident, the 2016 Butkus Award winner has been focused on the next phase of his career. While he did not fully participate at Indianapolis or the Crimson Tide's pro day, media pundits wanted more information on why the mishap transpired.
In speaking with cornerback Marlon Humphrey, offensive tackle Cam Robinson and tight end O.J. Howard on Wednesday, the trio provided nothing but positive things concerning the inside linebacker.
"Reuben is one of the most natural leaders and motivators that I've ever been around," Robinson said. "He's someone that makes you want to play better. He's a great teammate and person."
As for Humphrey, the two-year starter said he did talk with Foster on the situation.
"He told me that it was a slight misunderstanding, so I hope what happened does not have people perceive him as a bad guy," Humphrey said. "He's a great teammate, a loving person and always finds time to help me."
During Howard's statement, he told the press that the combine can be frustrating.
"I haven't talk to Reuben about it, but I know he's a great guy," Howard said.
"With you going to bed so early and waking up so late, lines are long at the hospital. When you have guys pulling on you it can be stressful. There is no telling what happened because I wasn't there, but I understand."
After a moment away from NFL personnel, Alabama coach Nick Saban shared his take on Foster.
"Reuben's been a great player for us and we've never had issues with him," Saban said.
"I think that anyone who thinks that what happened at Indianapolis should affect this guy's future in the draft is being very short-sighted. He's played for four years and has been great leader, signal caller and teammate."
Saban continued with: "If you are looking for a great teammate to be on your team, Reuben is your guy. If you are looking for a candy striper to be nice to everyone at the hospital, probably not."
Stephen M. Smith is a managing editor and columnist for Touchdown Alabama Magazine.  You can "like" him on Facebook or "follow" him on Twitter, via @Smsmith_TDALMag.