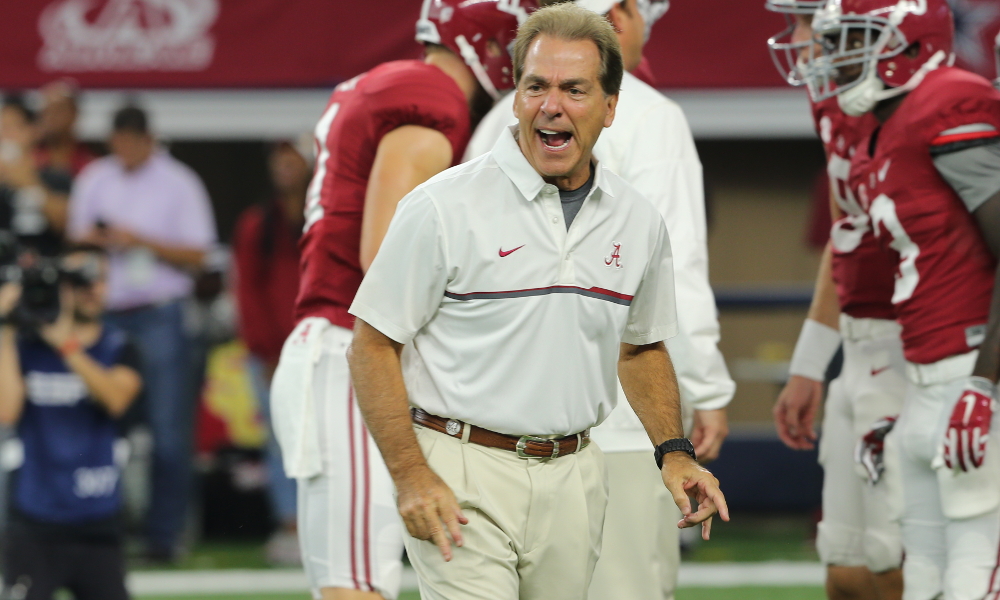 Alabama and Nick Saban's history could be so different if it weren't for one or two defining moments. Read and see if you agree that this was one of those moments.
The Greatest "What If" in Saban's Time at Alabama
By: Larry Burton
Being not only the oldest writer, but maybe the most nostalgic writer at this Magazine, I spend a lot of time looking back at the history of the Alabama football program. Lately I was asked what the most important moment in Alabama football has been in the Nick Saban era and without hesitation offered my two cents worth. After reading this article, I'd like to know if you agree with me on what the greatest "What If" moment has been in the Nick Saban at Alabama era.
The date was October 24th, 2009, I remember it so well because it was the day before my 52nd birthday, being the third Saturday in October, it was of course Tennessee week and Alabama was just over halfway through a schedule that had folks thinking that this could be the season that something great could happen.
It was a very tight game, a defensive struggle. Tennessee had a new coach, Lane Kiffin and his father Monty Kiffin seemed to have an answer for every offensive move. There was a lot of anxiety on the Alabama bench, all throughout the stadium and even in the press box where I covered the game for Touchdown Alabama Magazine.
As the forth quarter was coming to a close Alabama held onto a very fragile lead of 12-3 and I decided to change my venue from the press box to go down on the field and register the electricity on the bench and the crowd that much better. This was after Mark Ingram made the first fumble of his career with 3:29 left to go giving Tennessee the ball deep on the Alabama side of the field. All my senses told me this game was about to shift and get to nail biting time really quick.
The air down on the field was indeed electric. Following the fumble, Tennessee drove for their first touchdown of the day with a minute and nineteen seconds left. Everyone in the stadium knew the onside kick was coming. Alabama put their best hands on the front line but when the ball was kicked, a Vol player hit Julio Jones, who was positioning himself to field the ball and it bounced by him and was recovered by Tennessee.
With time running out and Tennessee with no time outs, they drove the ball from about mid-field down into Alabama territory. The Vol bench was empty, every player on the sideline was urging on the offense. On the Alabama sideline, every Bama coach seemed to be talking into their headphones, every player was glued to the game. Mark Ingram kept looking toward the ground shaking his head in disbelief that his fumble had put them in this position. Fans in the stands both in Crimson and Orange were all standing, all yelling even the hair on the back of my own neck was standing straight out. The electricity I had come down the field to record was indeed electrifying.
With four seconds left to go, after spiking the ball, Daniel Lincoln, a junior from Ocala, Florida walked onto the turf to attempt a very makeable kick, dead in the center of the field that would upset the Tide. Early in the day the Tide had already dodged two bullets. One Vol field goal attempt fell short and the second was blocked by Terrence "Mt. Cody" as the kick took off low and hit Cody in the armpit. Lincoln had made one successful kick from 24 yards out and now had the chance to atone for the two missed chances and be the hero of the day and not the goat.
With three time outs, Saban used one to ice the kicker and give him extra time to worry over it. Then the reset, the snap was good, the kick was smooth, but once again, Cody made the play, this time by skying that big 350 body that could dunk basketballs into the air and slapping the ball with his big mitt. The jump and the swipe of arm and hand as well as the timing all had to be perfect and they were. As the ball ricocheted off his hand, time expired and Alabama had escaped a game that could have cost them so much.
While Vern Lundquist's call and the CBS footage is forever burned into your brain, here's what it looked and sounded like in real time from video I shot from the field just after this kick. Hear the crowd and see Nick Saban turn back to thank the crowd for their noise and part in helping the Tide pull this off. It's as if Saban felt that his was "that big moment" that would finally change his program.
2009 Alabama/Tennessee after the final seconds on the field
Let's consider the what ifs here for a moment if Cody jumps one second too early or one too late, if his swipe at the ball misses or if he sticks up the wrong hand.
FIRST – Alabama would have never have never gotten to play for the 2009 National Championship. An Undefeated TCU, Boise State or Cincinnati would have taken that spot. Nick Saban would have never gotten that first championship at Alabama and the momentum would never have jump started with that program. Instead Nick Saban would have started his career at Alabama with a 7-5 first season in 2007, an 11-2 season in 2008, and another disappointing season in 2009. Three years into his time at Alabama he would have been branded the overpaid coach who always loses the big one and can't put together a real championship team. Key recruits wouldn't flock to be part of that and recruiting may not have been the same at Alabama and without those players, would Bama have won those later championships? We know they went 10-3 in 2010, so now Saban's gone 4 years with no championships and reached the limit he's spend with most previous teams. So does he leave Alabama now?
SECOND – Does that victory propel Tennessee to the limelight now? Does Kiffin's success cause Tennessee to offer him a contract that keeps him from leaving Tennessee for USC? Does it keep him there and make him, not Nick Saban, the new IT coach in the SEC and swing recruits that way? It may also keep Kiffin from ever being the offensive and quarterback coach to three straight first year quarterbacks at Alabama who greatly benefited from his teaching there.
THIRD- Does that loss to Tennessee demoralize Alabama so they also lose a close game to LSU later in the year or other games? That would have put LSU up against Florida in the SEC Championship that year and put another feather in Urban Meyer's hat and it would have been Florida, that year's pre-season favorite to play for another championship after beating LSU. That would have made Meyer, not Saban the best SEC coach and swayed even more recruits away from Alabama. Maybe Meyer decides it's his legacy to stay at Florida and it's Florida, not Alabama who then rules the SEC for years to come. Maybe those mysterious chest pains wouldn't have happened with Saban not coming in to rule the SEC.
While all of this talk of what could have happened if the block was not made is purely speculation, one thing is certain. That blocked kick is definitely the biggest "What If" moment in the history of Alabama football.
We do know what it DID do. It gave the team a belief that destiny was their side, that this was a special team who could do anything, that they did go on to win a national championship and did jump start the return of glory years to Alabama. That was some "What If" moment indeed.
Larry has been published in almost every media outlet for college sports and now primarily writes here for Touchdown Alabama. Follow Larry on Twitter for inside thoughts and game time comments at https://twitter.com/LBSportswriter
THANKS FOR SHARING THE LINK TO THIS STORY ON YOUR FACEBOOK PAGE OR A FACEBOOK GROUP YOU BELONG TO, IT SUPPORTS OUR ENDEAVORS AND HELPS KEEP MOST OF THIS SITE FREE, SO PLEASE SHARE!