Stephen's Report
Alabama-Florida State game to feature Calvin Ridley versus Tarvarus McFadden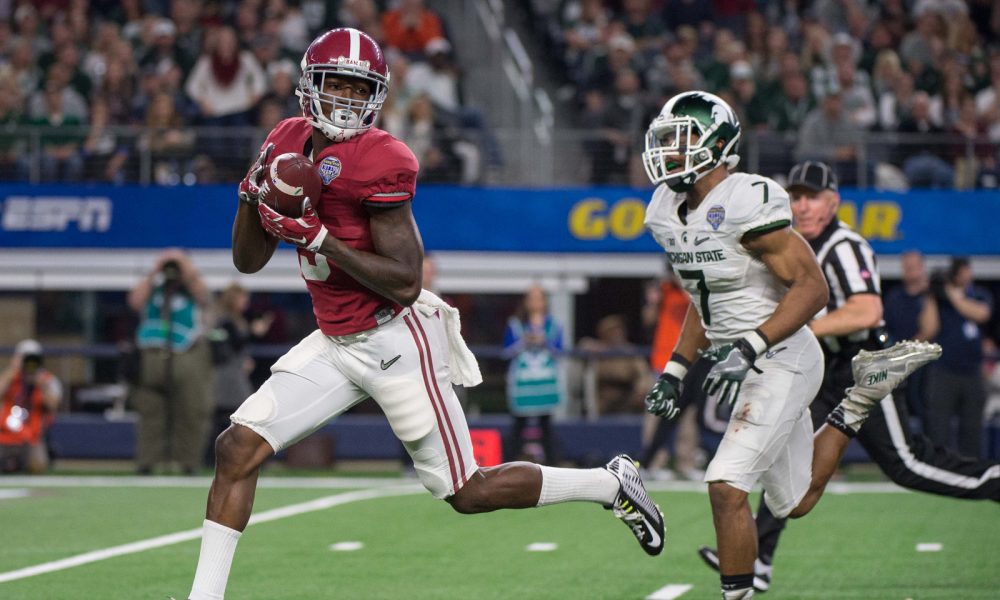 One of the most highly-anticipated games to start the college football season will feature a pair of NFL-caliber defensive backs versus a lethal wide receiving unit.
John Thrasher, president of Florida State University, ruffled some feathers on Friday with a strong statement via Twitter. 
So college president's are talking trash now? 😑 #DontPokeTheBear pic.twitter.com/R3yE2jRGVG

— Touchdown Alabama (@TDAlabamaMag) August 25, 2017
Words mean little to Nick Saban, especially when the Alabama head coach is a perfect 7-0 in season opening matchups. The Crimson Tide has outscored opponents 264-104, while averaging 38 points a game.
Losing a pass rusher like DeMarcus Walker to the National Football League is difficult; however, Florida State returns a defensive secondary that can present a lot of problems. 
Juniors Derwin James and Tarvarus McFadden anchor the back five.  
Size isn't an issue with neither player (6'2″ and taller), but a slight question mark goes toward the health of James' left knee – which he tore the lateral meniscus during week two of last season. 
He looked good in spring practice and has progress through the summer, but his movements in defending an opposing receiver may be monitored. A combination of Kyle Meyers, Trey Marshall and Nate Andrew also return; nevertheless, James and McFadden are the key names. 
Calvin Ridley, a native of Coconut Creek, Fla., headlines a roster of game-changing targets for the Crimson Tide heading into next week. Of the junior's 14 career touchdown receptions, five have come with him lined up in the slot (36 percent).  
Alabama's Jake Coker Throws Long TD Against Arkansas | CampusInsiders
The Making of a National Title: Calvin Ridley 59 Yard Touchdown vs. Mississippi State (Prime Sports)
Seeing how McFadden is 6-2; it would not be surprising if he demands Seminoles' head coach Jimbo Fisher to have him mirror Ridley the entire game. On one hand, it is ideal to have your best coverage cornerback on the opposition's prime time weapon but how much safety help will be needed to limit Ridley?  
A microscope is crucial for this matchup, especially if Ridley makes quick work of McFadden early. This allows the Jalen Hurts to Ridley connection to be even stronger or if Florida State choses to bracket him, it opens the door for Robert Foster, Cam Sims, Jerry Jeudy, DeVonta Smith and Tyrell Shavers among others.  
Offensive coordinator Brian Daboll's work with tight ends comes in to effect as well in this situation.
While Ridley and Foster should draw much of the coverage, Miller Forristall, Hale Hentges and Irv Smith Jr., have the potential to sit in the middle of zones and make plays.  
Remember Michigan State in 2015 Cotton Bowl? 
Spartans' head coach Mark Dantonio carried an elite secondary into AT&T Stadium to face Alabama in the College Football Playoff, but quarterback Jacob Coker torched it for 286 passing yards and two touchdowns. For a group that create 15 interceptions that year and won a Big Ten Conference title, Coker hit on 25 of 30 passes – 83.3 percent – including eight to Calvin Ridley. 
Coker to Ridley 50 yard bomb for touchdown - Cotton Bowl
Since the Tide does not call many four wide sets, whomever lines up without the threat of McFadden or James on its head should be the matchup that Daboll attacks.
Although a large number of NFL Draft analyst consider James to be better than Minkah Fitzpatrick, the 6-foot-3 safety will have his hands full of Tide play makers and it may be worse if he has to help on Ridley.
Stephen M. Smith is the managing editor and senior writer for Touchdown Alabama Magazine.  You can "like" him on Facebook or "follow" him on Twitter, via @Smsmith_TDALMag.