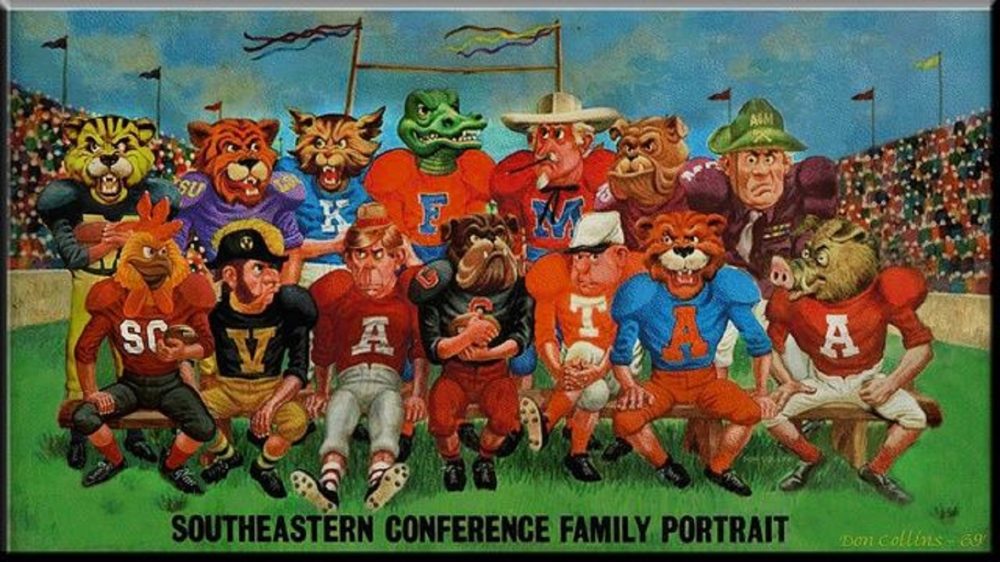 So you think you know football? Match your wits with the pair of prognosticators and see how you stack up against a pigskin pickin' pooch and his pal.
Larry's Losers In The SEC – Week Four – 2017
By: Larry Burton
Well folks, we thought we had done well picking Vandy to upset K-State, but in the 14 years of writing this article, four wrong games in one week is the record.. The vanquished Vols couldn't kick a field goal and lost us that one, Missouri is always our misery, the Carolina Cluckers broke their streak and the leg of their best player and cost us that one and LSU had too much cajun kool aid while Mullen's Mutts were all jacked up on Red Bull. It just wasn't a fun week or watching the wars.
Our overall average dropped from a B to D with this past week's woes and overall we're almost on life support with a 27-9 record.
The dog was so upset he made me write, "Missouri is NOT a good team this year" one thousand times so I could finally forget that good first week they had. But so far there a few on again / off again teams so listing the losers ain't no laughing matter this season. But don't worry folks, we're going to persevere and prognosticate like pros this week and try not be eaten alive by the upset bugs again this week. With all the excuses and apologies now made, let's just dive right in.
Alabama at Vanderbilt – Nick Saban takes his pack of Pachyderms on the road this week to play in a stadium about the size of their dressing room back home. But these Sailor for Song City are saying that with stadiums, size don't matter.
Now these Commodores have avoided the major storms of the season so far and at 3-0 including a win over a top 25 team, they are sailing full steam ahead in this contest with the Crimson clan.
But while they've avoided bad storms so far without a scratch, hurricane Bama ain't huffed and puffed and blown their ships down until now and while all that Vandy hope is great, old Bacardi and I just hope they keep the life jackets handy. Larry's loser – Vanderbilt
Auburn at Missouri – Now here are two teams that are underachieving in a big way in 2017 and when the Tiggers from Auburn travel to corn country for a meet up with the miserable Missourians, somebody's gonna come out looking just a little better.
Now misery, thy name is Missouri, they started off hotter than a Chevy SS 396 on a Saturday night only to pooter out like a VW Beetle out of gas. They've cost us some errors with our picks so far and we have now officially lost faith in these losers.
So the good news for Auburn is that while they still suck on offense, they won't seem to suck so bad against these Midwest Tigers, so the South Alabama Siamese will come off with a much needed win making Larry's loser – Missouri
Syracuse at LSU – The Orangemen are coming down to Cajun country and hoping to avoid being squeezed by the orange clad Cats from the bayou.
Now these New Yorkers are hoping to kick a Kitty while it's down and it's harder to get more down than this clan of Cats after the total meltdown in Mississippi last week.
But it's hard to keep a good Cat down and these boys play their best ball in the bayou, so you can bet your buck that this team won't suck and that'll make Larry's loser – Syracuse
Mississippi State at Georgia – Boy oh boy, what a battle of Bulldogs we'll be watching as the Mississippi Mutts meander down to take on the gang from Georgia. Now three weeks ago, I'd have bet the house that this wouldn't be the game it's going to be or that Mullen's Mutts had more than just a fighting chance to prevail in this party.
And while both Bacardi and I think that this could be a thriller, we see one pack of pooches that just looks to be a killer and unfortunately for the Hounds between the hedges, it ain't them and that makes Larry's loser – Georgia
Florida at Kentucky – Here's another contest that preseason you wouldn't have thought would be one that might determine the fate of the SEC East, but when these Kentucky Kitties fly down to Florida that's just the stakes on the line for this future.
These Blue Grass Bengals are riding a three game winning streak and are thinking they can pile up more points than these Reptiles have been recording and if it gets into a track meet, that's just what will happen.
Last week we picked this gaggle of Gators to be toppled by Tennessee, but too many missed field goals gave them the chance to grab a Hail Mary and walk out with win and they're hoping they can ride this newfound football flinging to more victories in the future. Bacardi says a Sunny State defensive demonstration is the difference in this contest and in a close one Larry's loser is Kentucky.
U Mass at Tennessee – The Minutemen from Massachusetts meander down to Knoxville town and hope to play well enough to topple this Tennessee tribe while they're still licking their wounds from getting Gator bit last week.
But Butch's bad boys know that this is a cupcake contest and they still slay these simpletons with a Friday night hangover and that's just what they'll do when this contest gets underway till the last whistle is blown and that makes Larry's loser – U Mass
Tennessee fans don't understand play calling on offense and defense or fashion.
Arkansas at Texas A&M – Here are two teams battling for the bottom at least for now and it's a hard one to call because one looks punch drunk and the other just looks drunk. Neither of these teams are where they thought they'd be this early in the season and when the Hogs travel over to Texas to aim at the Aggies it's a fight to keep from being the worst in the West.
Texas A&M is playing uninspired and the Hogs are just tired, so it's going to come down to makes the plays and who won't blow it in the end.
This could be a total suck fest, but we had to consider three things, the Aggies are at home, they have a talent edge and Coach Kevin's seat is a whole lot hotter than Brett's behind, so we see Larry's loser as – Arkansas
La Tech at South Carolina – This week the bargain brand Bulldogs from down in Cajun country come a calling on the Colonel Sanders Squad in South Carolina.
Now these Bulldogs have had better days and their bite was just as bad as their bark, and they'll hope these Chickens lay another egg this week, but this week all that snarling and snapping won't be inducing a lot of fear in these feathered footballers.
Even without their rockingest Rooster in the hen house, these pullets have enough peckers to pummel this bunch of pound rejects from Ruston and that leaves Larry's loser – La Tech
These Bulldogs won't be raiding another hen house anytime soon.
Well that's it for this week folks. We're gonna spend the time between now and kickoff down in the South 40 looking for four leaf clovers because we just have to start pulling off some perfect picks. So stock up your snacks warm up the set and get ready for the contests to come.
And say a prayer for the pigskin pickin' pooch as his blood pressure has been higher than his number of correct contests and he's been in a fowl mood to boot. As for me, I just roll with the punches and keep to the process, however lately it seems my process is lots of game watching and even more rum and coke. It may not help the picks, but it eases the pain of imperfect picks and a nit picky pug. So till next week, we'll keep studying and you keep reading.
LARRY HAS BEEN PUBLISHED IN ALMOST EVERY MEDIA OUTLET FOR COLLEGE SPORTS AND NOW PRIMARILY WRITES HERE FOR TOUCHDOWN ALABAMA. HE WRITES IN A COLLOQUIAL AND IRREVERENT STYLE FOR THIS SERIES OF ARTICLES. LARRY'S VIEWS AND SENSE OF HUMOR MAY OFFEND, BUT HE AIMS TO OFFEND EVERYONE EQUALLY. IF HE HASN'T INSULTED YOUR FAVORITE TEAM WITH LARRY'S LOSERS, JUST WAIT. FOLLOW LARRY ON TWITTER FOR INSIDE THOUGHTS AND GAME TIME COMMENTS AT HTTPS://TWITTER.COM/LBSPORTSWRITER
THANKS FOR SHARING THE LINK TO THIS STORY ON YOUR FACEBOOK PAGE